Fewer students are successfully completing their courses at Scottish colleges, new figures have shown.
College performance indicators for 2018-19, published by the Scottish Funding Council (SFC) today, show that 65.2 per cent of FE full-time students successfully completed their courses - 0.9 percentage points fewer than the previous year.
Of the 26 colleges in Scotland delivering full-time FE, 17 saw a decline in the proportion successfully completing their course, and only nine had a higher success rate than in 2017-18.
---
In depth: College performance has dropped - but why?
More on this: 'Colleges show there is no wrong path to success'
News: Schools and colleges 'should assess joint performance'
---
Withdrawing from courses
Across Scotland, about 10 per cent completed their course but did not achieve the qualification they were aiming for, while the remaining 24.7 per cent withdrew from their course. Almost 9 per cent of them did so before the funding qualifying date – meaning colleges were not funded for these students.
Success rates ranged from 56 per cent to 75 per cent at individual colleges. The SFC's national aspiration for full-time FE success is that by this academic year, 2019-2020, the percentage of enrolled students successfully achieving a recognised qualification should increase to 73.2 per cent, but today's statistics reveal that in 2018-19, only one small college achieved this, and the sector as a whole was currently sitting 8 percentage points below this target.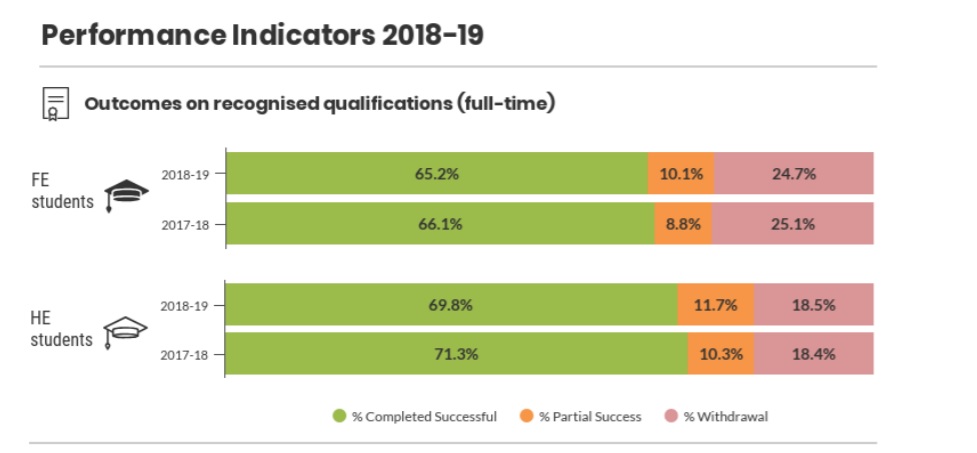 'Unintended consequences'
When it comes to higher education delivered at colleges the picture was similar, with the majority of colleges seeing a drop in success rate in 2018-19. A total of 69.8 per cent of HE full-time students successfully completed their course  - 1.5 percentage points fewer than in the previous year. Almost one in five students withdrew from their course.  
Of the 15 colleges delivering full-time HE courses in 2018-19, five recorded improved pass rates in comparison to the previous year and 10 saw a decline in the proportion successfully completing their course. While success rates ranged from 64.9 per cent to 75.0 per cent, only one college exceeded the 2019-20 SFC national aspiration of 74.4 per cent success. The sector as a whole sat 4.6 percentage points below this target.
Other college statistics also published today show institutions have once again exceeded the Scottish government's target of recruiting the equivalent of 116,269 full-time students. The number of enrolments and the total headcount of student numbers increased by 9.2 per cent and 8.5 per cent respectively in 2018-19.  That means the government's recruitment target has been exceeded every year since 2011, despite declining numbers of young people in the Scottish population as a whole during this period. The report also shows a shift from full-time to part-time study, with a rise of 1.6 per cent in part-time student numbers.
An SFC spokesperson said: "The college sector has demonstrated its strengths in adapting to the needs of the economy, providing increasing opportunities for those already in work to upskill or reskill and once again exceeding the Scottish government's target of 116,269 full-time equivalents.  There are, however, challenges to be addressed in improving attainment rates across the sector.
"There are a number of factors which can impact on attainment levels and so we are engaging with colleges and with our partners in Education Scotland to gain a better understanding of what is driving these results and to identify what actions could be taken to deliver improvements."
'Many positives for the college sector'
Shona Struthers, chief executive of Colleges Scotland, said: "There are many positives for the college sector in these reports and there are also areas where we need to work hard to make better progress. Colleges recognise that there is work to be done to improve outcomes and there is scope for improvements in the national figures for full-time students successfully completing course in further education and higher education courses compared to last year, but hidden within these statistics are real success stories for Scotland's skills and education systems.
"The successful uptake in modern and foundation apprenticeships and the progressive initiatives around widening access – areas in which colleges play a key role in delivering – has changed the nature of student cohorts enrolling in colleges.
"An unintended consequence of these successes is that colleges are taking on more learners without qualifications who are furthest from the workforce and helping those people develop the right skills and qualifications to enter the workforce and progress their careers. This is an essential component of what colleges should be offering and will continue to do so, however, that obviously makes it increasingly challenging to maintain previous years' achievement levels."
Scottish FE minister Richard Lochhead said: "This data shows colleges are once again exceeding our target on full-time equivalent places. With record levels of learning hours being delivered to students with a disability, experience of care or from minority ethnic backgrounds, our colleges are offering everyone the opportunity to gain the skills they need for success.

"In order to better prepare our students for their future, we want to see attainment figures improve. That is why we recently introduced a nationwide College Quality Improvement Hub to focus on improving college learner outcomes."