As a mental health therapist for the NHS, I have worked with many teachers. Teaching is a stressful job: heavy workload, high levels of accountability and the unpredictable nature of working with young people all combine to have a detrimental effect on teachers' wellbeing.
Teachers may not be able to change the nature of their profession, but there are things they can do to help themselves with the mental health problems they face.
I am trained in guided self-help-based cognitive behavioural therapy (CBT), which looks at how our thoughts and actions can keep us in a vicious cycle of low mood, anxiety, panic or stress. I work with people to build up their own "first-aid toolkit" to help them feel more in control of their wellbeing.
One of the tools in that toolkit is a series of simple therapy doodles – I call them "Tidy mind doodles" – which serve as simple, bitesize reminders of how to look after our wellbeing in manageable ways.
I have identified key triggers, unhelpful thinking styles and behaviours that many teachers typically struggle with and created doodles that illustrate coping strategies for overcoming these.
Teacher mental health: The benefits of doodles
So what are some of the biggest issues that teachers face? And how can they tackle them?
Problem one: Poor work-life balance
I hear teachers telling me all the time how they will be marking or lesson planning late into the evening, wake up early to prepare for class, teach all day and come home to more work, leaving them feeling exhausted.
One solution is to look each day at this wellbeing checklist.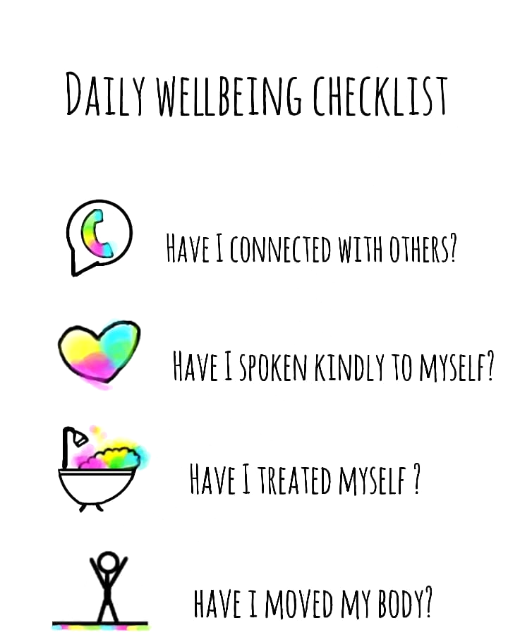 Have you done each of these things today? I know that you feel you do not have time. But you need to prioritise time for you. You can't pour from an empty cup. Look at this checklist and make sure you have taken at least five minutes for each self-care tip. There are 1,440 minutes in a day; you need to carve out time for your wellbeing. Make it a priority. 
Problem two: I am overwhelmed, and don't know where to start
When we are stressed, and feel like we have a hundred things to do, it can be difficult to know what to prioritise, because everything feels like it has to be done today. Use this prioritising tool to help unravel your list and feel more in control of what you need to do.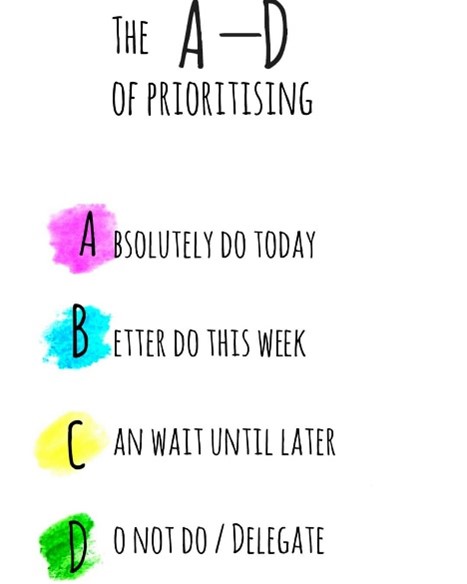 Start by writing your list of things you need to do.
Put an "A" next those tasks that have to be completed today or there will be a negative consequence. These are urgent tasks that absolutely have to be done, such as getting the car MOT sorted on the day it is due. 
Put a "B" next to those tasks that are best done today or better done before the end of the week. If they are not done by the end of the week, they may become an "A" and then you will have lots of "A" tasks to do in one week, which is best avoided. 
Put a "C" next to those tasks that, realistically, don't need to be done today or this week. They can wait until later. 
Put a "D" next to those tasks that, if you really consider it, don't have to be done today, this week or even in the near future. It might be nice for you to get them done – but you do not have to do them. In fact, this may help you to realise that this task does not have to be done by you at all and that it is something that could easily be delegated to somebody else. 
Now, look over your new list and decide what to start with. And if you still feel overwhelmed, this doodle might help. 
Problem 3: I feel like I can't cope
When a task feels too overwhelming, we put it off. The longer we put something off, the more those tasks pile up and the more stressed we become. We don't know where to start, so we don't start at all. Our confidence in our ability to tackle a job reduces and even thinking about that big thing can cause anxiety or stress. 
So, rather than looking at it as one big task, break it down.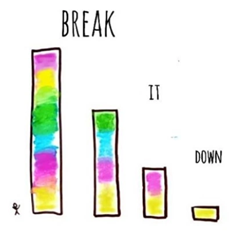 Start small. Imagine you have to explain to a colleague how to do that task; this will help you to make your task really simple. Next, plan out what you need to do: how you are going to do it and what you will need to accomplish this. Set yourself mini tasks of around 10 to 15 minutes and then plan in a break as a reward. It is best to plan smaller chunks of work that you will easily be able to achieve than to try and tackle a huge task that will intimidate you and put you off. 
In this way, by the end of the day, the end of the week or the end of the month, you are going to start to feel more in control as you see the progress you have made.
Natalie Hanley is an NHS mental health therapist. You can see more free Tidy Mind Doodles on her Instagram account.