An "off-roll letter" prepared by an academy for an illiterate parent to sign is among a series of forms being used by schools around the country to get parents to agree to what can be backdoor exclusions.
The existence of the letters, uncovered by a Tes investigation, appears to spell out the mechanics of a growing "off-rolling" problem that ministers are under increasing pressure to stamp out.      
A document obtained through a Freedom of Information request shows Somerset County Council's concerns about a school asking a parent, who couldn't read, to sign a letter saying that they had chosen to take their out of school to educate them at home.
---
Off-rolling: Fears about home education in 1 in 5 LAs
Case study: 'Head off-rolled my child with a sympathetic smile'
Quick read: Heads warn of off-rolling confusion
Analysis: Mixed messages on off-rolling
---
Compiled by the government's admissions watchdog, the Office of the Schools Adjudicator (OSA), the document states: "In a previous year, the LA [Somerset] is aware of an academy writing an off roll, EHE [elective home education] letter for a parent to sign despite that parent being unable to read or write."
Fears about off-rolling 
The existence of pro-forma letters being used by schools to off-roll has been mentioned by the OSA in its latest annual report, as well as in the recent Timpson review of school exclusion, and now Tes can reveal exactly what form these letters take.
In a second case, the following "Elective Home Education" form is being made available online to schools in Devon from a company that runs education services for the county council, as a way of making sure that home education is something that "the parent is choosing to do."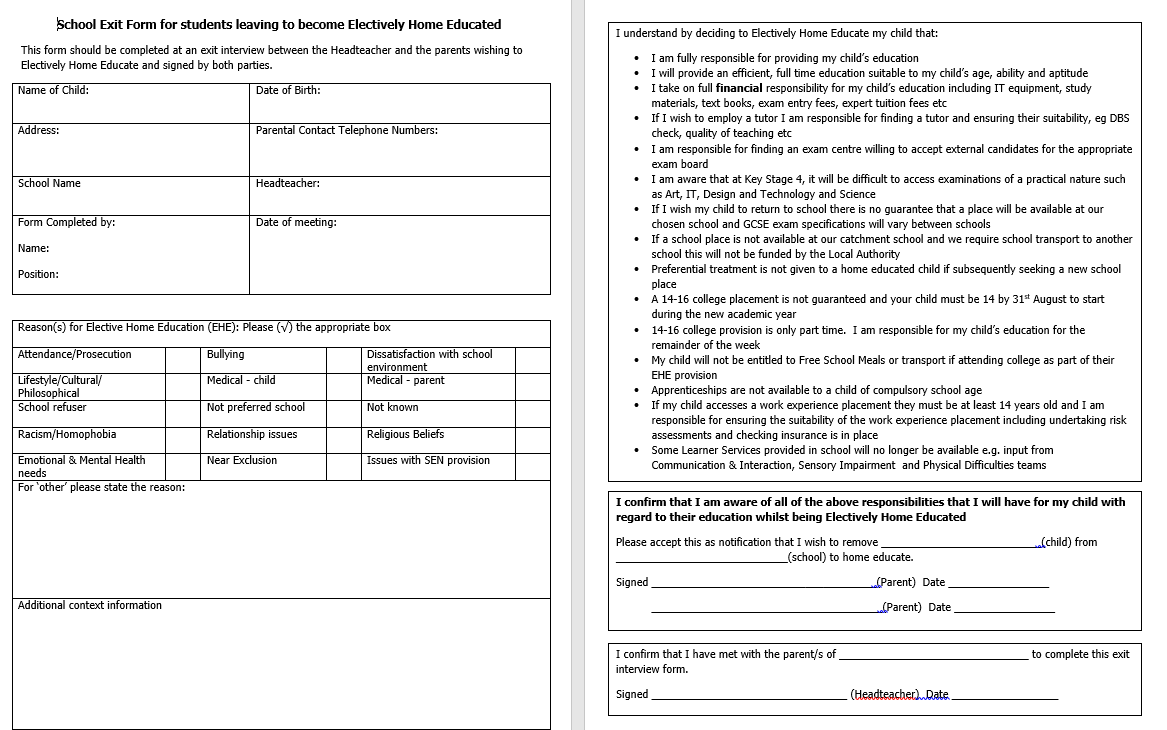 However, one parent who signed the form described it as an "off-rolling" letter and said she crossed out the word "elective" to make it clear that home education was not her decision.
And Mary Bousted, joint general secretary of the NEU teaching union, said "the game is given away" by the fact that one of the boxes on the letter which a parent can tick as a reason for electing to home-educate is "near exclusion".
"One would have to conclude that the bargain being put to parents by the school is that you either remove your child or we will exclude, and that means a stain on the child's character and difficulty of getting work in the future," Dr Bousted said.
Devon County Council didn't comment on the use of the letter. However, it has admitted in a consultation to OSA that some parents have been "nudged" into home education.
Devon and Somerset are among 29 councils across the country that, Tes has learned, reported concerns about off-rolling or a recent rise in home education to OSA as part of a consultation ahead of its annual report.
They also include Suffolk County Council, which reported to the OSA that: "Parents have told us directly that their child's previous school threatened to exclude pupils unless they were withdrawn.
"We are aware of one case where a school representative made a home visit and asked a parent to sign a letter that had already been prepared for them to withdraw their child from the school."
And Tes has learned that Staffordshire County Council is the unnamed authority mentioned in the OSA annual report, when it states: "In a story echoed by other local authorities, one said it is reported by parents that they have been 'coerced' to become electively home-educated with some reported instances of schools preparing a standard letter for parents to sign advising of their intention to electively home-educate.
"Once these parents realise the implications and requirement to home-educate, they can find difficulty in securing a school place."
Philip White, Staffordshire County Council's cabinet member for learning and employability, said: "We have been aware of concerns locally and nationally that parents of some pupils were being encouraged by schools to move their children to home education without a considered debate of the pros and cons and that in some cases schools have given parents pro-forma letters to complete.
"There is no evidence at this point to say that this is a growing trend but when we did discover an example of it we wanted to draw this to the attention of the schools adjudicator."
Edward Timpson, chair of the Child Safeguarding Practice Review Panel, stated in his report: "Even if small in number, there are instances of schools putting pressure on parents and carers to move their child to another school under the threat of permanent exclusion, sometimes using what appear to be pro-forma letters from headteachers to parents and carers…
"To illustrate, one parent reported that 'we were asked to remove him from the school... When I said that we didn't want to move him, I was told that if we didn't he would be permanently excluded and it would be very difficult to then find him another school'.
The review adds that it "also saw evidence of parents and carers with full-time jobs agreeing to sign a letter saying that they will educate at home, sometimes under pressure, or in times of stress, when it is not a task they were able to perform".
A Department for Education spokesperson said: "No parent should be forced to home-educate their child. Informal or unofficial exclusions are unlawful and we have written to schools to remind them of the rules on exclusions.
"We have committed to work with Ofsted to define and tackle the practice of 'off-rolling', whereby children are removed from school rolls without formal exclusion, in ways that are in the interests of the school rather than the pupil. We believe this practice is relatively rare, but we are clear that it is unacceptable."
Devon County Council didn't comment on how widespread the use of the letter was, or whether or not it monitored what schools did with it. A spokesperson said the council would take "significant action" with any school where it feels the decision to home-educate hasn't been a voluntary move by the parents, but said the action would depend on each individual case.