Exam boards have issued warnings over "unacceptable" trading of papers on social media websites such as TikTok, in advance of schools submitting GCSE and A-level grades to boards in June.
The Joint Council for Qualifications has said that it is unacceptable for students to either seek to buy or trade papers online, even if they are in the public domain elsewhere.
---
Related: 'Some exam papers are already on TikTok'
Scotland: Exam questions shared on TikTok 'SQA black market'
News: SQA warns of penalties for 'exam' details on TikTok
---
This year, following the cancellation of exams, students' grades will be assessed by teachers and can be partly based on performance in past papers, provided by exam boards. 
These include papers from the 2020 series, cancelled in the summer last year, with exams held in November.
But on social media websites such as TikTok, students appear to be trading or offering to buy past papers in the hope of familiarising themselves with content that may appear in their mock exams in school.
One account, called "gcse2020papers2020", offers GCSE foundation maths papers and mark schemes from Edexcel, with videos of the entire paper set to music. In one post, the creator promises to make videos that are over 15 seconds long, "so, if it is too fast then (like it, of course) save it and make it slow motion". They add that the most "liked" paper suggestions in the comments will feature in future videos.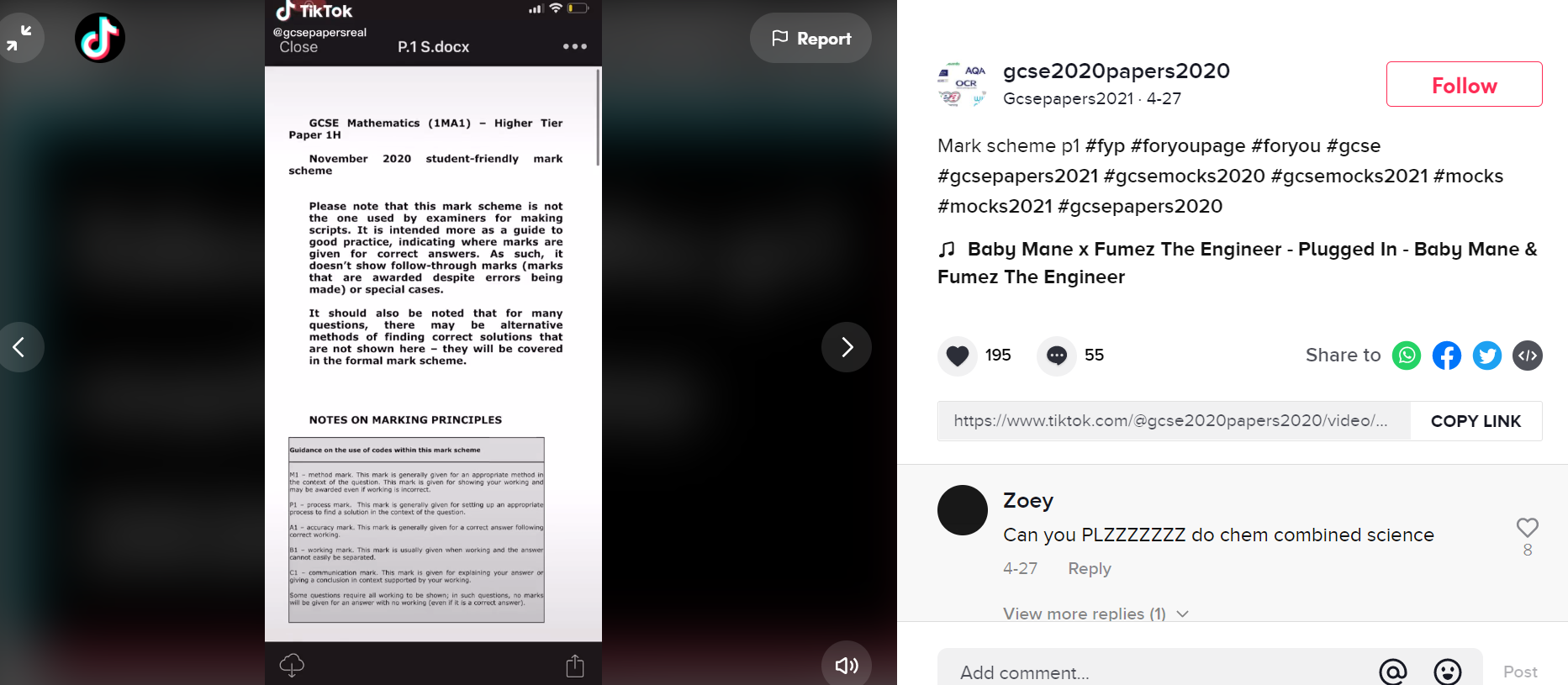 Another account, "gcsepapers2021mocks" offers papers from 2019 for sale for £1, with "£10 for the whole mega link".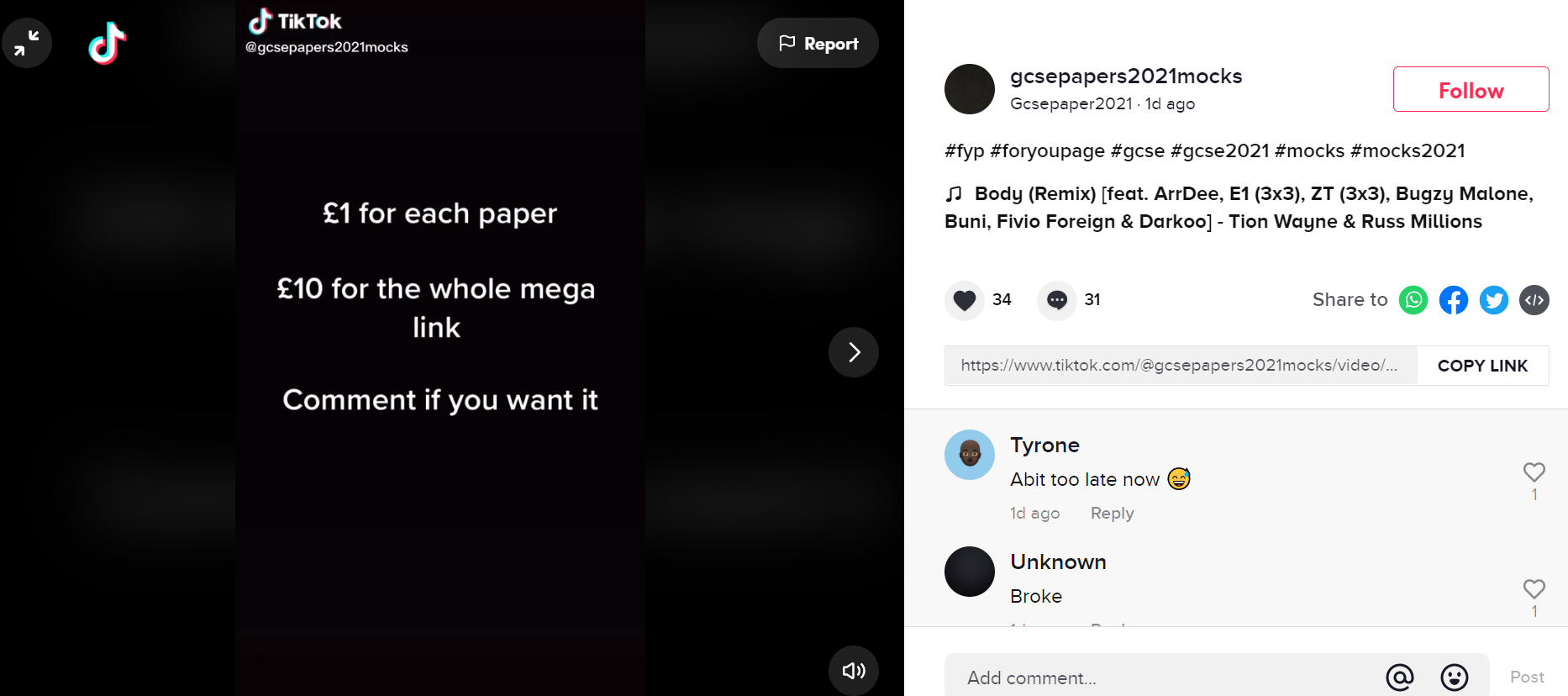 Other accounts offer payment or to trade one paper for another. One account asks for a 2020 GCSE OCR English paper in exchange for all the other papers on their drive, adding "or I can pay if need be".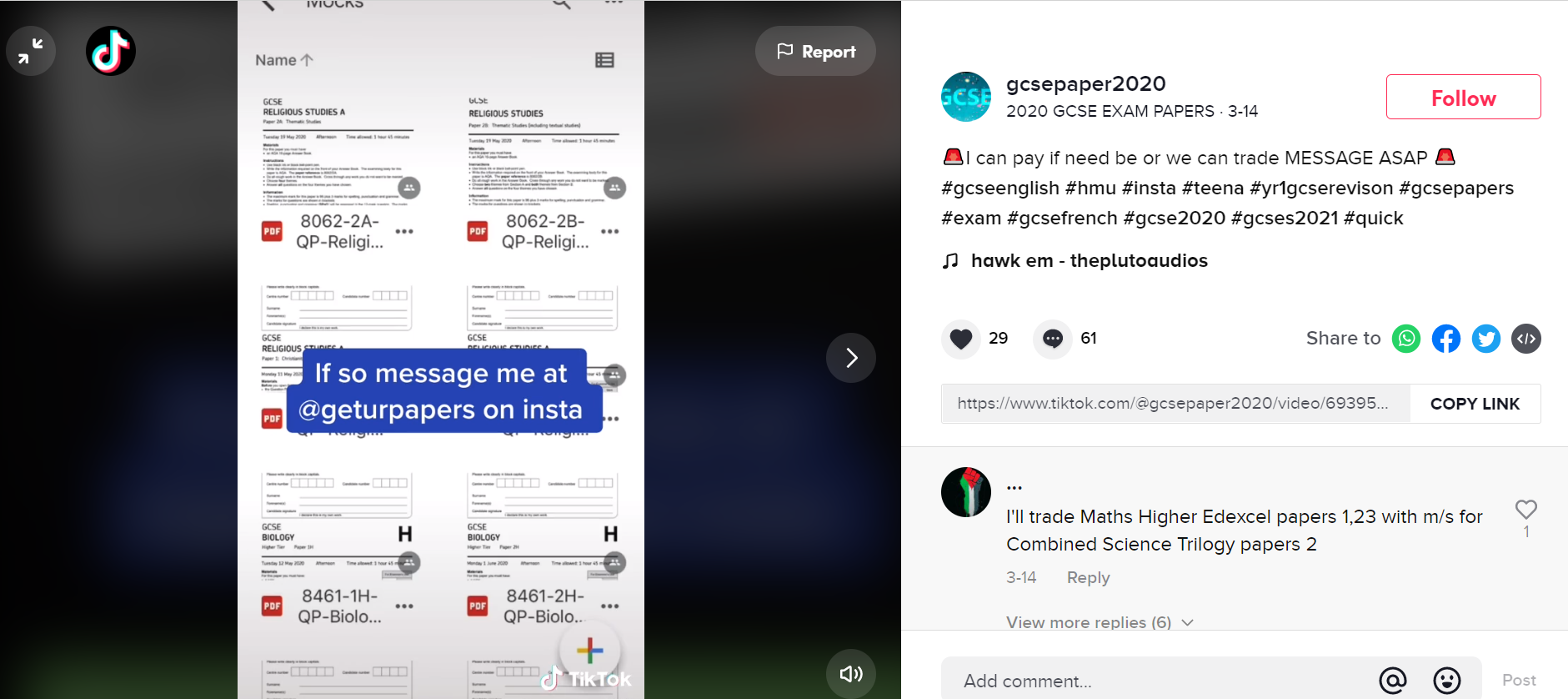 The news follows reports in Scotland that thousands of students are sharing details of assessments on TikTok.
And now exam boards in England have issued warnings over the "unacceptable" practice, after being approached by Tes.
A spokesperson for JCQ said: "Exams are cancelled this year. Instead, teachers will be determining grades from a range of evidence and so there is no advantage to gain for students who are buying or gaining access to exam papers online.
"In line with the release of the JCQ guidance on grade determination, exam boards released assessment material questions that were made publicly available, while their associated mark schemes were securely released to teachers.
"We would strongly encourage students to use only publicly available materials via our websites in addition to those provided by their exam centre. Nonetheless, exam boards regard the sale or exchange of any of our assessment materials as unacceptable and take action to stop this wherever possible."
They added that the assessment materials and papers used for summer 2021 grades had already been sat by students and were already in the public domain, with exam boards using summer 2020 papers for the autumn exam series last year.
And they said that a number of qualifications had included autumn 2020 papers in their assessment materials for teachers in 2021 "in order to meet the requirement of offering questions from three previous exam series".
However, JCQ added that "it [is] unacceptable to trade or sell exam board papers regardless of their availability. Teachers using our secure systems, and students consulting our websites, ensures both audiences can access only authorised and authentic exam board materials – which are subject to copyright."
They said boards would take action to stop this wherever possible, including flagging content with social media platforms.
Ofqual said this was a copyright issue but not an instance of malpractice.
An Ofqual spokesperson said: "Exam boards on 19 April published additional assessment materials for summer 2021 to schools and students, including sets of questions, mark schemes and mapping grids. They included new material and past material either already openly published or previously only available to centres.
"Usually, previously sat GCSE and GCE examination papers are available free of charge on exam board websites.
"However, some are under restricted access on exam board websites, to centres that are approved to take those qualifications. These question papers are under copyright and exam board intellectual property.
"Access is also restricted, partly because doing so aids teachers in providing some control when using the papers as mock examinations, but not because the materials are in any other way secure.
"Any attempt to publish or sell them is a copyright issue not a malpractice issue. The exam boards have advised that they will monitor sites for activity related to the selling of 2019 and 2020 assessment materials and potential copyright infringements in relation to past papers.
"They advised they will report any identified messages/threads/users to the websites identified on the basis of breach of copyright and request the posts are removed.
"The exam boards would also investigate the sale of papers if they received evidence of teacher involvement.