Many pupils in Scotland are using social media platforms such as TikTok to share the content of the "exam" papers they are likely to face this year, Tes Scotland has learned.
These are the crucial assessments run by schools which – despite national bodies insisting that they are not exams – will be used to help determine students' grades in a year when the usual national Scottish Qualifications Authority (SQA) exams have been cancelled as a result of the Covid pandemic.
One post, seen by Tes Scotland on the video-sharing platform TikTok, appears to share the essay questions for Higher human biology – as teachers had warned last week.
By Sunday morning, the post has attracted 15,000 likes and almost 4,000 comments, where pupils go on to discuss questions they will face in a range of subjects and qualifications as diverse as National 5 art and Advanced Higher chemistry.
One contributor says they are "begging" for information on the Advanced Higher biology papers; another asks what topics they should revise for Higher chemistry.
Someone else writes "N5 maths anyone?" and another comment reads "Higher history??!! What's the Germany qs??".
Some of the posts receive dozens of replies, with many giving pointers on the questions likely to come up.
The TikTok thread is branded "the SQA black market" in one post.
Another user says: "literally love how many people r helping each other in these comments".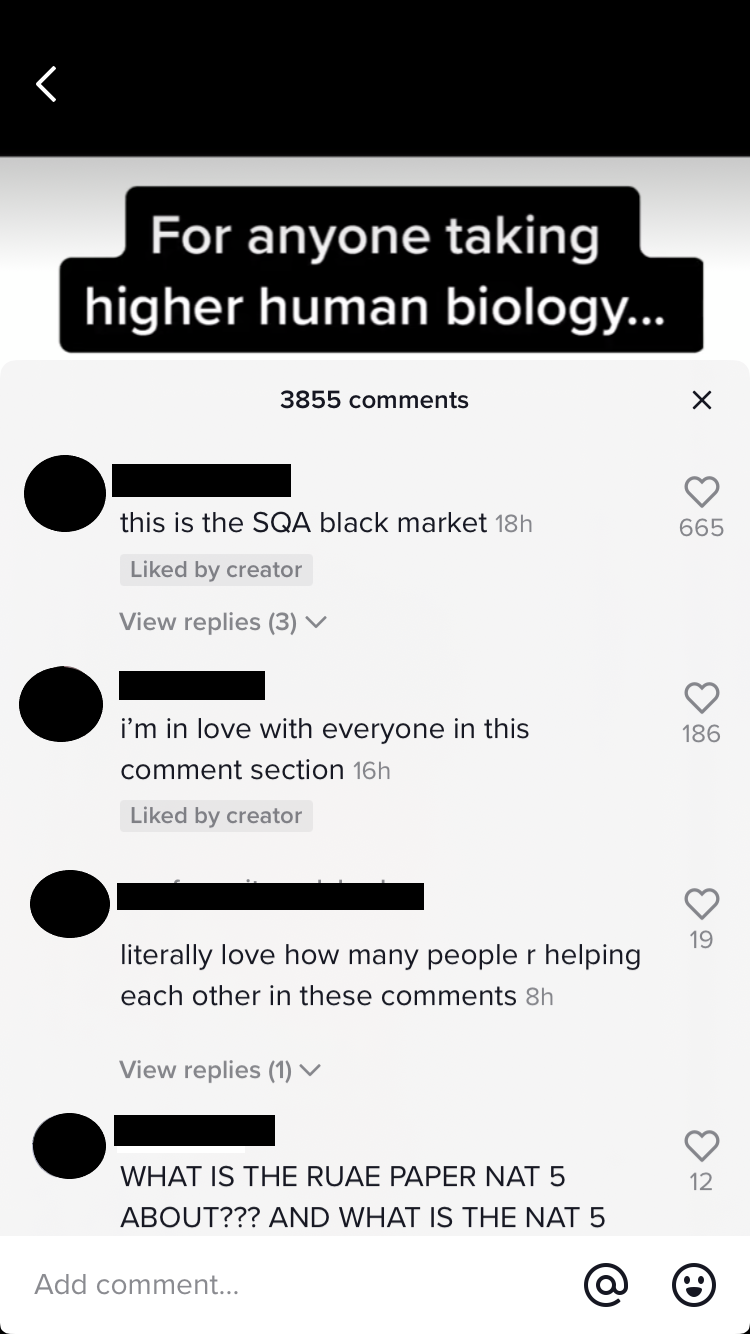 The Scottish government and the Scottish Qualifications Authority have insisted – following the cancellation of the usual SQA exams this year as a result of the coronavirus pandemic – that there is no need to "replicate full formal exams or prelims this year".
However, many schools are using the 2020 exam papers that were never sat as a means of assessing students and this will provide evidence of pupils' provisional results.
The problem is that the approach to assessment this year differs from school to school, which means pupils are sitting the 2020 exam paper, in part or in full, at different times and are therefore able to share the content.
One TikTok comment reads "yous realise we r all sitting different tests", but someone responds that "schools are doing the 2020 official sqa ones".
This problem was foreseen by the SQA, which in its advice to schools said that, if they used the 2020 exam "in part or in its entirety", they should "remind candidates that they must not discuss the content of the paper with anyone, including friends, family or on social media".
In November, the University of Edinburgh's Professor Lindsay Paterson warned that anyone who expected "pupils who sit these pseudo-exams at different times of the year" not to discuss them had "lost touch with reality".
The whistleblower who told Tes Scotland about the TikTok post is an S5 student studying five Highers.
The student said they decided to go public because the information sharing "is unfair to thousands of students", adding: "I believe that this whole shambles has to be publicly addressed."
The student said: "I think I speak for most pupils when I say we're frustrated. We were told that exams were cancelled but I've gone from sitting five exams in the space of five weeks to 14 exams in the space of five weeks. I have to sit 14 exams in 25 school days, and [for] some people [it's] even worse than that!
"It's essentially just unfair on us all. We have to constantly revise for five to six weeks, we still have to go into school as we get no study leave.
"My school is two weeks into the five for these 'exams' and we're already shattered. These assessments are unsustainable.
"Now that questions are leaked it gives some people, including myself, an unfair advantage."
Tes Scotland reported on Friday that teachers had branded the way pupils are to be assessed this year "a shambles" and "utter chaos".
Two teachers said they had heard that pupils were sharing information about papers and questions on social media.
An SQA spokesperson said: "We have asked every centre [that is, schools and further education colleges] to ensure that question papers available from SQA's secure website are treated confidentially and in the same way as other live assessment materials. Centres need to maintain the security of assessment materials for the benefit of learners. We will investigate any potential breaches of security of assessment materials – working with the school or college concerned."
UPDATE: On Monday afternoon, 10 May, it emerged that the SQA had written to schools warning of penalties for cases of assessment details being shared on TikTok.