The question mark over applied generals, the suite of qualifications taken by almost a quarter (23 per cent) of 16- to 18-year-olds, is as big as ever.
The government's line on applied generals – which include qualifications like BTECs and Cambridge Technicals – is that that they are subject to a review of level 3 qualifications.
Challenged on breakfast television last summer, education secretary Damian Hinds said he thinks there is a place for applied generals, but he has since kept quiet. The expectation is that those BTECs which overlap with T levels will be axed, while the remainder will be spared. Official clarification on exactly where the axe will fall, however is still awaited.
In 2017, 209,000 16- to 18-year-olds were working towards applied generals and over half (54 per cent) of those were studying in a general FE, sixth-form or a specialist college.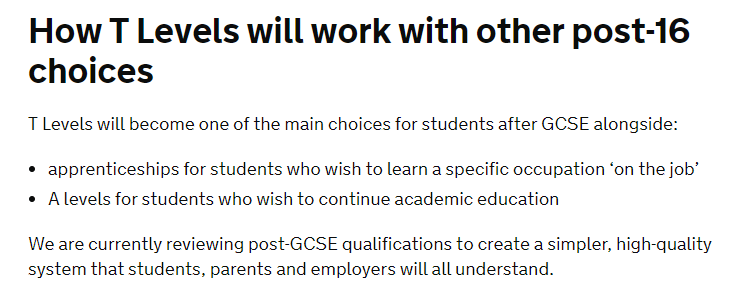 In a recent document on the introduction of T levels, the Department for Education presented post-16 options as a three-way choice: A levels, T levels and apprenticeships.
The document makes reference to the level 3 qualification review: "We are currently reviewing post-GCSE qualifications to create a simpler, high-quality system that students, parents and employers will all understand." But – crucially – there was no named reference to applied generals.
While this is not necessarily an indication of government thinking, it does suggest the question mark over applied generals remains.
One of the key rationales behind the government's technical education reforms is to make choices for 16-year-olds simpler. While adding a fourth option – applied generals – into the equation does not make things massively more complicated, it does eat into the pool of students who might take a T level.
Where will the T-level students come from?
In 2017 84,300 16- to 18-year-olds took a level 3 technical qualification – just 10 per cent of the total. While the government has not yet said how many students it expects to take T levels, a research briefing by City and Guilds and the Association of Employment and Learning Providers suggests that around 180,000 students could end up taking T levels a year.
With the government's focus on apprenticeships and its increasingly distant ambition of 3 million apprenticeships starts by 2020, moving young people from apprenticeships to T levels will not be a government priority.
While some academically-minded young people – and more importantly their parents – might be persuaded to take T levels instead of A levels, it is far more likely that the pool of potential T level students will come from those taking applied general qualifications each year.
'Dumbing down'
Another potential stumbling block for applied generals could be the failure of education providers to switch to new more rigorous versions of the qualifications.  
Applied generals were introduced in 2014 to incorporate a host of level 3 qualifications and meet the DfE's interim requirements for inclusion in performance tables. A new set of applied general qualifications, meeting the DfE's full requirements, were available to teach from September 2016. These qualifications contained at least 40 per cent external assessment.
Figures compiled by the Education Datalab suggest that providers are continuing to offer "easier" legacy applied general qualifications that are no longer included in performance tables. The chief executive of the Sixth Form Colleges Association, Bill Watkin, warned last year that if providers stick with the legacy version, it could risk the government not seeing applied generals as a "rigorous, high-value qualification", at the very time when it is considering the future of this type of qualification.
In December, Ofqual reported it had found "sound evidence of unwarranted grade inflation" with the older-style level 3 BTEC qualifications. With the 2011 Wolf report – with its focus on the "dumbing down" of standards in vocational education – still ringing in the ears of policymakers, the mood music is not great for applied generals.
George Ryan is an FE reporter at Tes