Welcome to the Tes coronavirus liveblog. The outbreak of Covid-19 is an uncertain time for everyone, but schools and teachers are facing unprecedented disruption with schools now closed and exams cancelled.
Here, we aim to help teachers in the UK and in international schools by gathering together all the relevant stories in one place and keeping you updated with the latest news and announcements as and when they happen.
And, as ever, we also want to hear from you. What is different in your school, in your working life, because of the virus?
If you have stories you want to share or information you think should be circulated, then contact us at: william.stewart@tesglobal.com; charlotte.santry@tesglobal.com and Mary-Louise.Clews@tes.com
Private schools' plea to parents over fees
Private schools are urging parents not to withdraw funding as pupils are sent home in an effort to curb the spread of coronavirus, it has been reported.
Barnaby Lenon, chairman of the Independent Schools Council (ISC), told The Sunday Telegraph that private schools are "small businesses" and "in the same boat as everyone else to a certain extent" – meaning continued funding is crucial.
Closures risk 'spike' in child sex abuse
Experts are preparing for a spike in public reports of child sexual abuse on the internet as schools across the UK close during the coronavirus pandemic.
The Internet Watch Foundation (IWF) is concerned children might be at greater risk of being groomed and coerced into making explicit content, given that they are likely to spend more time online in the coming weeks.
Dismay grows over numbers expected in schools
A petition is calling for an immediate end to external assessment in Scotland for 2020, amid growing concern about the number of staff and senior students told to be in schools tomorrow.
There is widespread support for school providing a service to the children of "key workers" and and vulnerable pupils.
But many teachers have criticised guidance in parts of Scotland which told staff and students in the last three years of secondary to be in school tomorrow, so that they can complete coursework or get through new assessments, now that exams have been cancelled.
Later on Sunday, however, first minister Nicola Sturgeon issued a new directive that senior students in Scotland should not be attending school tomorrow to complete coursework.
Ofsted won't judge on 2020 exam grades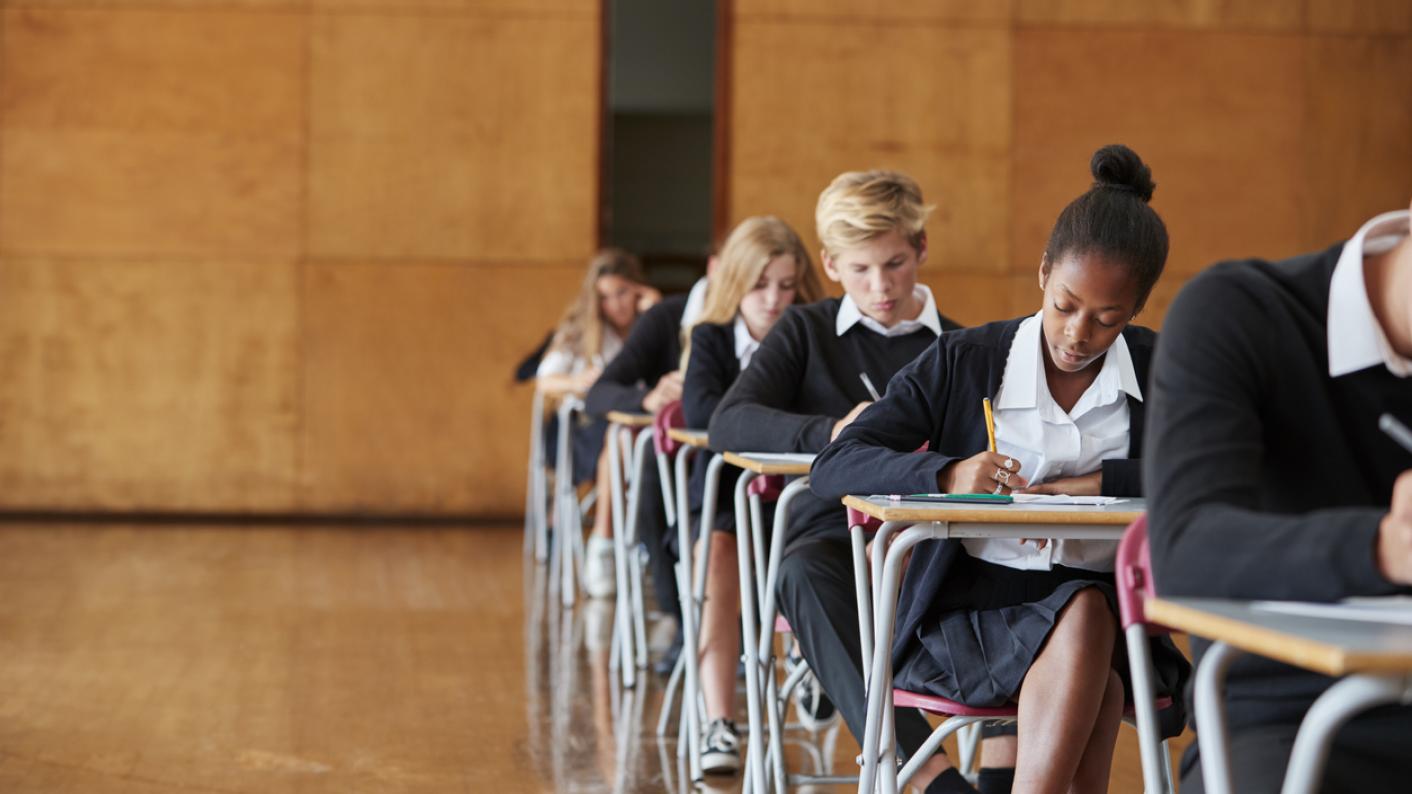 Schools will not be judged based on their exam grades for 2020, Ofsted has said.
The watchdog has confirmed that, if performance data for this year is not published, then it will not be taken into account for future inspections.
This year's exams were cancelled on Wednesday in an effort to curb the spread of coronavirus.
11 of parents' strangest key worker claims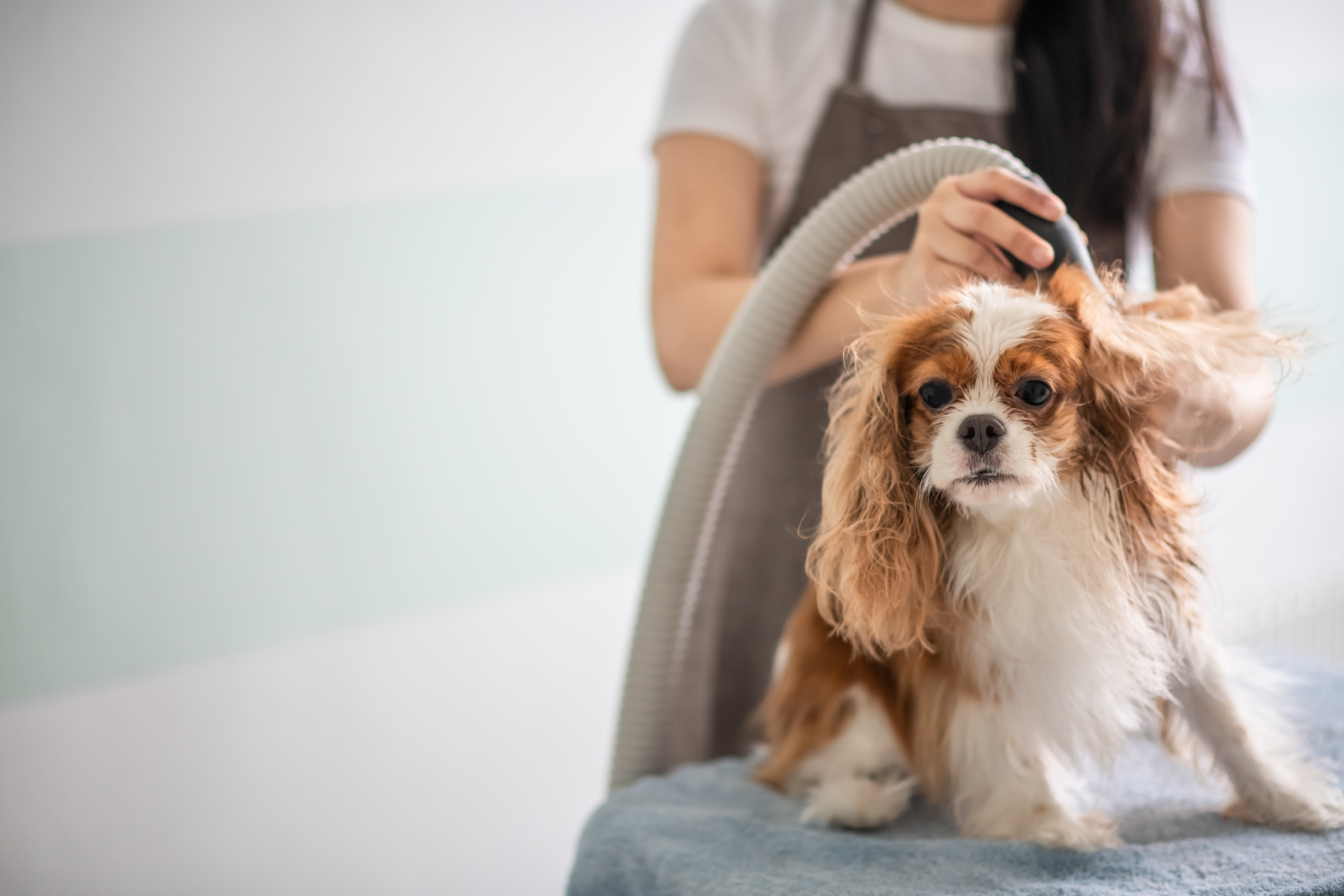 Many parents across the country are stretching the government's definition of a "key worker" in an effort to secure provision for their children, according to headteachers.
Schools have been asked to care for children of a self-employed dog groomer, tanning shop worker and tree surgeon – among others.
Tes has compiled a list of 11 of the strangest requests.
Schools 'struggle' with key workers' pleas
Schools have been bombarded with requests to take in key workers' children, heads are reporting.
The "vagueness" in the government's key workers' list has "increased the risk of school staff getting the virus" – as too many parents are asking teachers to care for their children, say primary school leaders.
Education secretary Gavin Williamson said last night on Twitter: "You should only send your child to school on Monday if you have to, because your work is critical to our Covid-19 response.
"If you are able to keep your child at home, you should."
Teachers in 'shock' over loss of exam marking income
Teachers relying on income from marking exams over the summer have spoken of their shock over the cancellation of this year's GCSE and A level exams, which has left them with no fees.
Teachers can earn up to £1000 for marking exam scripts, and some will rely on this as their only source of income if they are working supply or have changed contract. Some told Tes that they feared they would be unable to pay their bills or provide for their children now they had lost this income.
"It's going to massively affect us," one teacher said, adding that she had been relying on the money to pay bills over the summer. Others pointed out that there was no way they would have had a contingency plan for the "unprecedented" move to cancel exams following the outbreak of coronavirus.
"Majority" of schools expected to stay open and some will have most pupils attending
The DfE has said it expects "the majority" of schools to stay open where needed from next week to cater for children of key workers and vulnerable pupils.
And school leaders have said they expect some schools to see most of their pupils attending.
Read more here.
Teacher assessment of pupil performance will determine GCSE and A level grades this year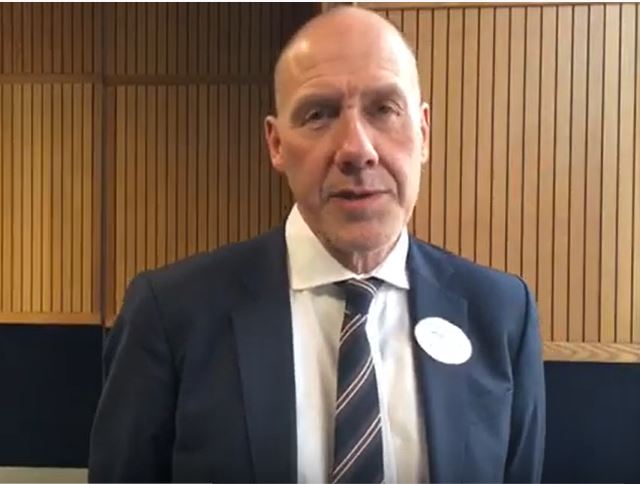 The DfE and Ofqual have revealed their highly anticipated position on how GCSE and A level grades wiil be determined this year - and it will rest on teacher assessment.
Teachers will be asked to award qualifications based on predicted grades and performance overall.
Headteachers union ASCL general secretary Geoff Barton welcomed the move and said he hoped the shift might "point the way to a less brutal system" in future.
Local authority guidance out of step with DfE on LAC children?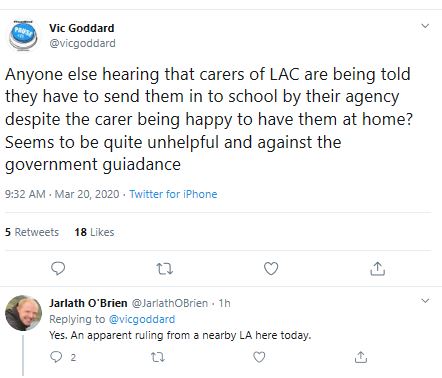 Children looked after by foster carers should be sent to school from next week even if their guardians are happy to keep them at home - or should they?
That's the question being raised by head teachers and others today after some local authorities appeared to advise carers that they should pack pupils off to class as usual from Monday.
The advice was issued before DfE gudiance was published overnight advising that children should be kept home from school "wherever possible."
Coronavirus FAQ - all you need to know on school closures in one place
Teachers have more questions than answers on what happens next as the last hours of school before the nationwide shutdown tick by.
Many have taken to social media to call for clarity on issues from key worker pupil provision to catering for free school meal requirements. We have attempted to answer as many as possible in one handy FAQ here - with the help of the NAHT school leaders' union – which has published its own guidance.
The Tes FAQ  will be updated regularly as and when more information becomes available.
How to cope with online bullying and other safeguarding issues during shutdown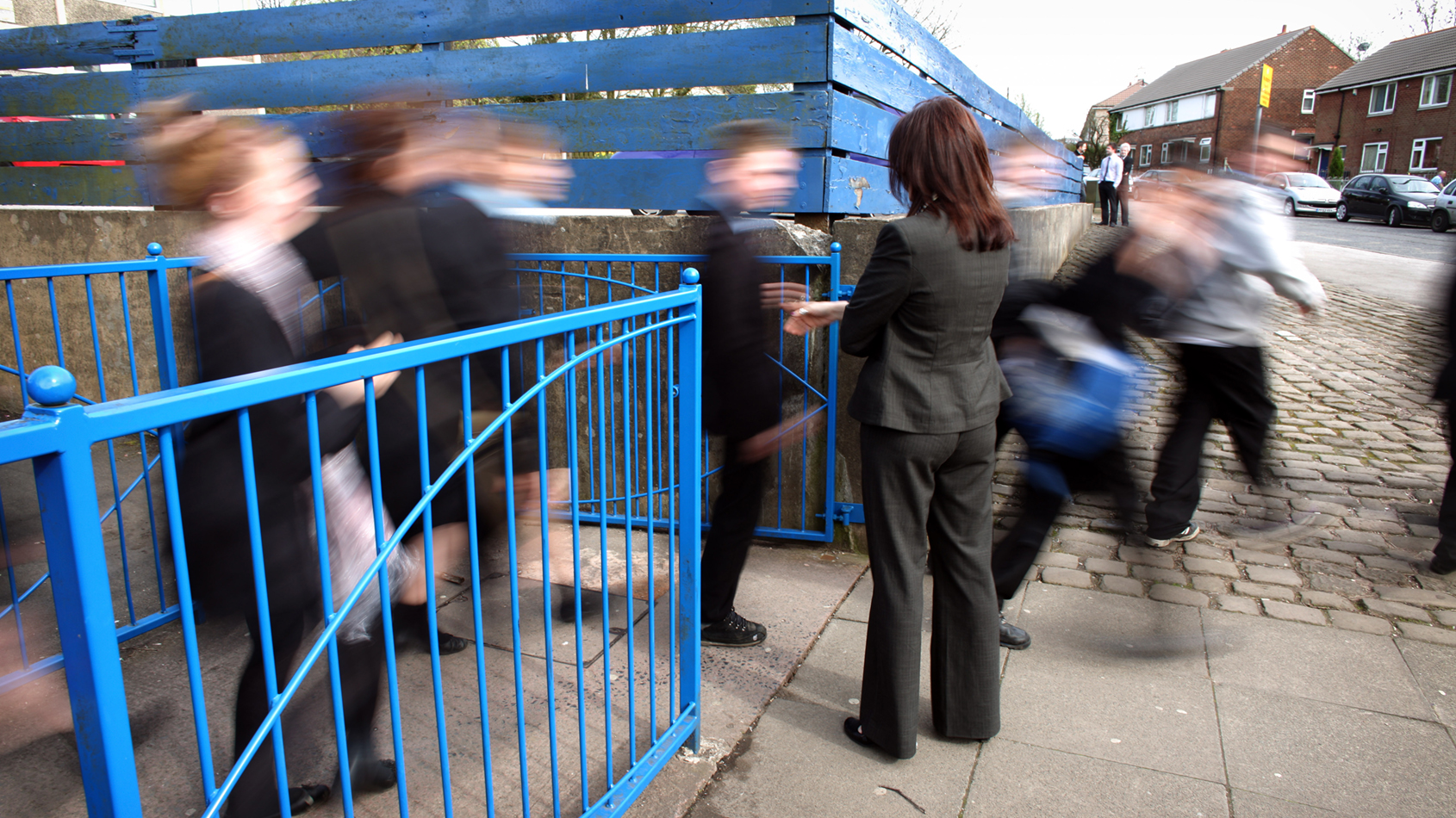 Protecting children has to remain a core focus during any closures or partial closures – both for pupils in schools and those working from home, writes safeguarding lead Ceri srokes.
Read her advice on how schools can prepare to keep in touch with pupils and ensure their safety after schools close today here.
Teachers should be given protective equipment to help them cope with providing a service for key worker children, say unions
Teaching and school leader unions have swung into action this morning in a bid to ensure school staff will be supported and able to cope once they shift to crisis opening mode from next week.
The headteachers union ASCL has warned that schools will be "not able to cope" and "overwhelmed" if children of the key workers identified on the Government's list (published last night) turn up on Monday morning,
Meanwhile the NASUWT has called for teachers to be given priority access to protective clothing and testing to ensure they can continue to support key workers' children and vulnerable pupils after schools shutdown from the end of today.
Will the shelving of GCSEs this year mark the beginning of the end for exams?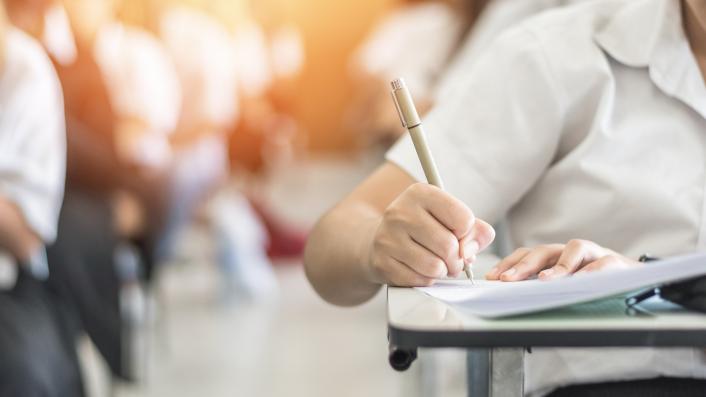 Although the shift in favour of exams since Michael Gove's reforms has been resolute, Tes news editor William Stewart asks if this yeear's cancellation will lead to at least a partial rethink on what some feel is an unweildy and expensive system
Key worker list for schools published overnight after a day scrambling to work out how to operate after shutdown
School leaders finally received the list of key workers whose children they need to stay open for , late last night. 
The list includes NHS workers, food distribution staff, local and national civil servants and other government employees and those working in public service broadcasting.
The news cam after a day that saw teachers and school leaders scrambling to clarify how they will be expected to operate from next week after they close their gates. Guidance on how schools can ensure children who are eligible for free school meals can continue to be fed was sought, while answers on how GCSEs and A level students will be awarded grades after exams were cancelled were being worked out.
Catch-up with yesterday's developments here.