Ofsted has set out in 24 slides how it plans to put the curriculum at the heart of its new inspection framework.
The inspectorate has produced a series of slides explaining its vision for a new way of assessing schools, which gives more weight to what is being taught, rather than the exam results a school achieves.
In the new presentation, Ofsted says the framework will also have an increased focus on off-rolling and reducing workload for teachers and leaders.
The body says that if children have been pushed through "mark scheme hoops" and have not developed a deep body of knowledge, they will struggle in later study.
Ofsted also warns that an industry has "arisen around data", and that what children are learning is coming second to schools delivering performance-table results.
To address this, the watchdog says it is putting curriculum at the heart of the new framework and will assess its intent, implementation and impact.
The slides say Ofsted will ask whether the content of the curriculum has been learned in the long term.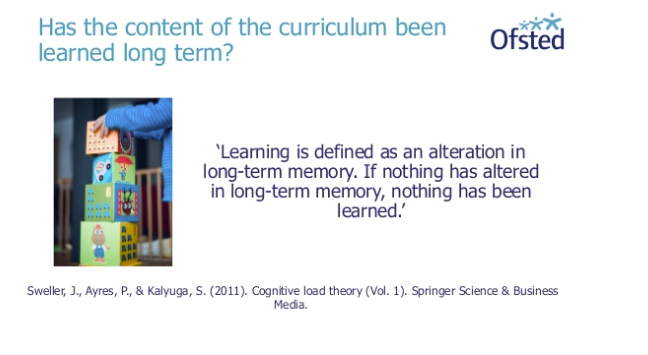 But it also wants to ensure that knowledge "does not sit as isolated 'information' in pupils' minds".
Earlier this year, chief inspector Amanda Spielman said that she did not want a "pub-quiz curriculum".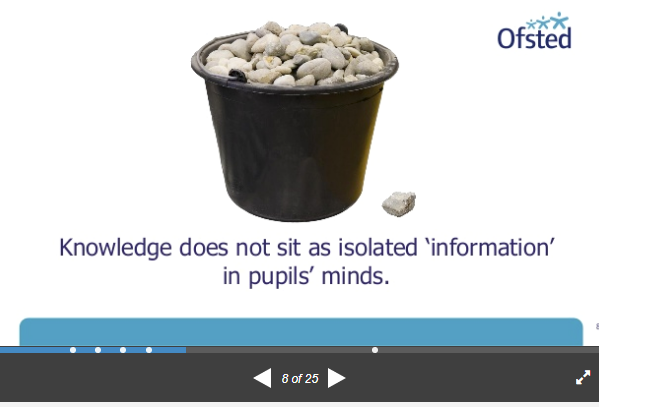 However, Ofsted has faced accusations that its plans show that it favours a knowledge-rich approach to curriculum – something the inspectorate has denied.
The slides outline concepts that Ofsted says are important when discussing the curriculum. It says progress should mean pupils knowing and remembering more, and that knowledge is connected in webs.
The inspectorate also highlights its previous warnings that there is a lack of curriculum knowledge and expertise in schools, and that some schools are narrowing their curriculum, as well as teaching to the test.
Ofsted has visited 23 schools that were said to be invested in curriculum design, as part of its plans.
The inspectorate identified several factors that could be linked to curriculum quality.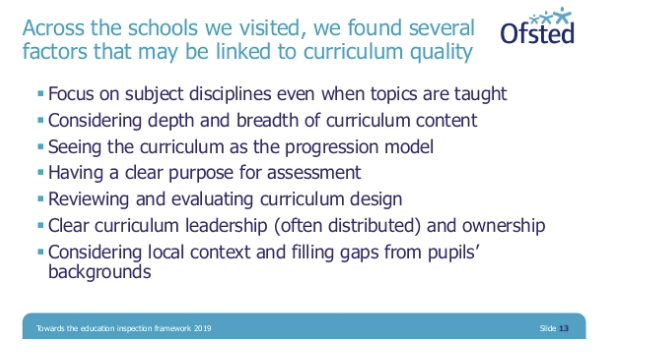 The body will consult on the substance and detail of the new framework during the spring term of 2019, with a final document set to be published in the summer, which will go live in September.