The exam board behind IGCSEs and International A levels revealed today that nearly half of grades given by teachers were changed in its moderation process, with most lowered as a result. 
Cambridge International released more than 950,000 results today to nearly 4,000 schools in 139 countries. 
---
IGCSE results: Pass rate rises in English language exam taken by a third of all pupils
News: A-level students 'expecting the worst'
Exclusive: Teacher grades ignored in most GCSE results
---
"Just over half of the grades awarded to students are the same as those predicted by their teachers. Of the rest, some are higher, but most are lower. The vast majority of the grades awarded are within one grade of the predicted grade," the board said.
"Predicted grades for June 2020 were higher than historical school performance data for the last three years, which is understandable, as teachers want to see their students succeed. The rank orders teachers created were a key part of this process, and have stayed the same throughout the process," it added.
The news comes in the wake of grading controversies with the International Baccalaureate and Scotland's Highers – in which around a quarter of teacher grades were originally changed before a U-turn today. In England, Tes has revealed that as many as 40 per cent of teacher-assessed A-level and GCSE grades could be changed.  
Today, Scotland's education secretary said that all Higher grades which had been downgraded in the moderation process would be withdrawn, after data showed that students from deprived areas were more likely to have had their mark downgraded.
Cambridge Assessment revealed some of its final results today, saying that the proportion of Cambridge IGCSE candidates at UK schools achieving A* to C grades increased by 1.3 percentage points this year compared with June 2019.
In a previous blog published by Cambridge International, the board said that "predicted grades as a whole were higher than historical performance, by about half a grade on average".
The board found that using teacher predicted grades alone would give around 20 per cent of all International A levels A* grades for the 2020 series, whereas in the previous three years about 10 per cent of grades on average were awarded an A*.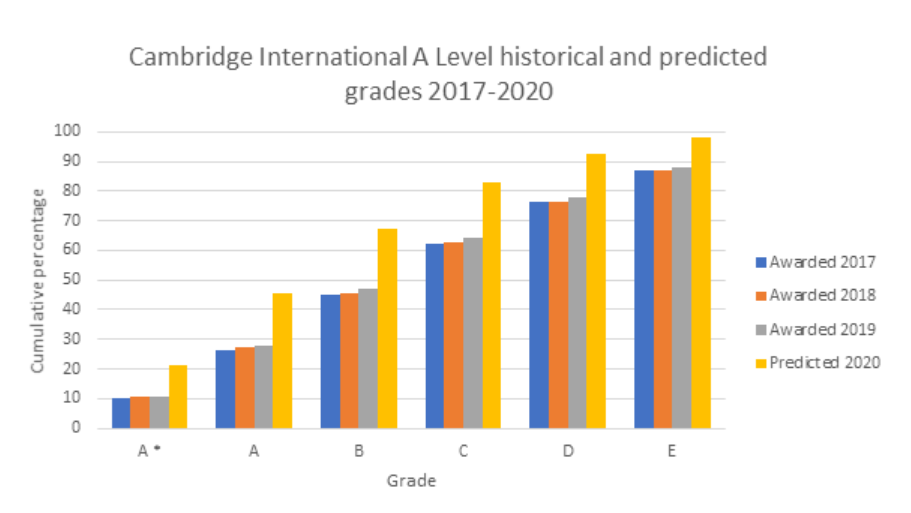 Cambridge said the "risk of unfairness and undermining trust in the grades would be high" if only teacher-assessed grades were used, which was why it made use of a "collaborative system that makes use of teacher's professional judgement, but which also includes a statistical standardisation process".
The awarding process combined teacher-predicted grades and a rank order of students with a "rigorous standardisation process".
Christine Özden, chief executive of Cambridge International, said: "In a unique situation, Cambridge International had to respond quickly so that our global community of Cambridge students stayed safe, but could progress with their education. A key priority was to ensure Cambridge students received grades that are trusted by employers and universities around the world.
"We engaged worldwide with other awarding bodies, governments and universities to develop our process for awarding grades. It works across the many different countries in which we work, and is similar to the process used in the UK.
"I would like to thank our schools and teachers for the huge amount of effort they put into supporting our awarding process for the June 2020 series, which has enabled us to provide students with reliable and trusted grades this year.
"I hope our students around the world can now move forward with their lives, and come through this experience stronger and more resilient, after what has been a very challenging time for everyone."
However, some headteachers were disappointed by grades that they felt did not reflect students' potential.
A senior international school leader told Tes: "We are appalled with the results.
"In short, we were asked to provide evidence and make a prediction on current student performance. However, the main basis of the results was the past three years' performance in that subject as an exam centre.
"Therefore, if we have a strong cohort or strong individuals, they were predicted an A in many cases but were awarded C or even D – one grade down is disappointing, but two is disgraceful."
Analysis of entries also found that the most popular Cambridge International AS and A levels this year worldwide were the English general paper, maths and physics, while the most popular Cambridge IGCSEs were maths, first-language English and physics.