The vast majority of teachers think the government decision to freeze their pay is unfair and will damage their morale, a new survey has revealed.
Nine in 10 teachers who responded to a poll said they felt the government's decision was unfair and more than eight in 10 warned it would damage recruitment and retention at their school.
The new poll by the NASUWT teaching union of more than 7,500 members found that 62 per cent were angry about the pay freeze, and another 30 per cent disagreed with it. 
In total, 93 per cent of respondents opposed the decision not to give the majority of teachers a pay rise in 2021-22.
Responding to the survey findings, the NASUWT's general secretary Patrick Roach has warned today that, in deciding to freeze teachers' pay and announcing it at the end of term, the government had shown "contempt" for the profession.
---
Background: Teacher pay freeze will have 'severe impact', says STRB
Teacher pay freeze: Decision is a 'kick in the teeth'
Controversy: Government signals pay freeze for teachers 
---
The pay freeze attracted controversy when it was confirmed by the School Teachers' Review Body last month, with heads' and teachers' unions branding it an "absolute insult" following the work schools and teachers have done during the pandemic.
In NASUWT's new survey, nearly 9 in 10 teachers – 87 per cent – said that the freeze would have a negative impact on their morale and 90 per cent answered "no" when asked if the pay freeze was fair.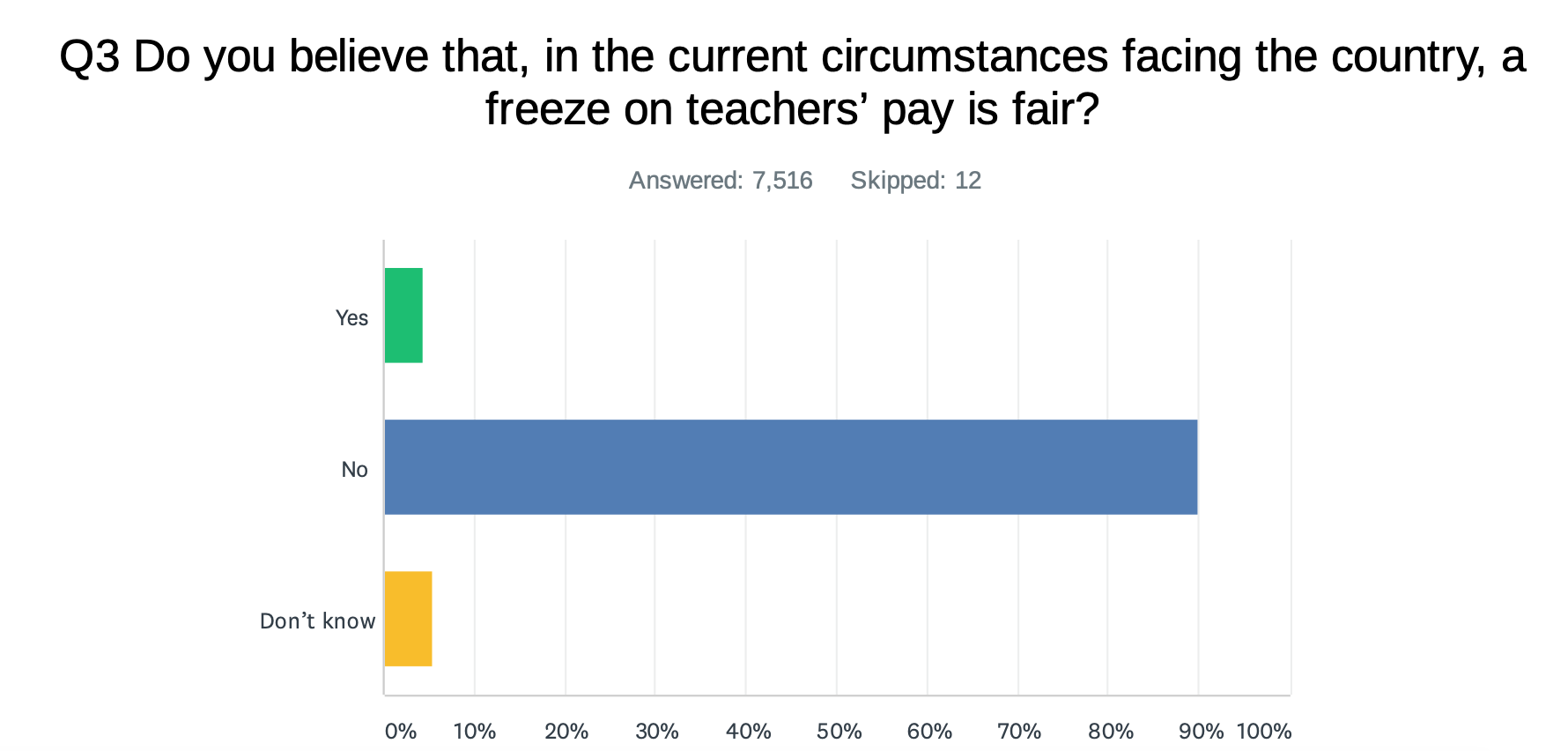 And around half of the respondents – 49 per cent – said that the freeze "makes it less likely that I will remain a teacher". The survey found that 34 per cent said the pay freeze would have no impact on whether they remain in teaching and less than 0.2 per cent said it would make them more likely to remain a teacher.
Dr Roach said: "The pay freeze is a slap in the face to teachers who have faced the most challenging 18 months of their careers when they risked their own health and wellbeing in order to continue to educate and support children and young people.
"And make no mistake, teachers are angry and demoralised at this decision and the contempt it displays for their hard work and the challenging reality of teaching."
The survey also found that 83 per cent of teachers said the freeze would have a negative impact on the recruitment and retention of teachers in their school, while more than seven in 10 respondents (71 per cent) said the pay freeze made it more or much more likely that they would apply for a job outside teaching.
And nearly a third (32 per cent) said it made it more or much more likely that they would apply for or plan their retirement.
Mr Roach said that the government was "in danger of being complacent over teacher numbers".
"We may have seen a rise in the number of applications for ITT during the pandemic but experience matters," he added.
"If existing and long-serving teachers are pushed to leave as a result of the decisions on pay, schools and pupils will lose out on the important pedagogical knowledge and skills experienced teachers bring to the classroom, as well as the vital support and guidance they provide to new teachers."
He cited one survey respondent who said: "Public-sector workers have endured pay freezes and reductions in pay in real terms over the last 10-plus years.
"If it weren't for a genuine passion for education and the wellbeing of young people, I think a lot of people would leave teaching. Give us a decent pay for what we do."
Mr Roach added: "Teachers are tired of being taken for granted by this government, of being expected to accept yet another real-terms pay cut even as their workloads continue to mount and the challenges they face become ever more complex and demanding."
He also criticised the government over the timing of the announcement at the very end of term.
Dr Roach said: "Teachers have stepped up to educate and support children and young people and they will be utterly dismayed that their efforts are valued so cheaply by the government.

"The education secretary has failed to deliver on the investment needed to deliver education recovery for pupils and he now risks a renewed teacher retention crisis in our schools that will further hamper efforts to secure the recovery that children and young people deserve.
"Even the School Teachers' Review Body, which had its hands tied by the government, was at pains to warn in its latest report of 'a severe negative impact' if the pay freeze lasts longer than a year. Our pay survey showed even higher numbers of teachers stating they would be more likely to leave teaching if the pay freeze lasted for two years.
"But, once again, the government has demonstrated utter contempt for the teaching profession by failing properly to reward teachers and by deliberately choosing to delay the release of the pay review body report until the vast majority of schools have closed for summer break."
A government spokesperson said: "We are enormously grateful for teachers' and leaders' hard work during the pandemic, and last year we announced the biggest pay rise for the profession since 2005, with above-inflation rises for every teacher in the country.
"The pause to most public sector workforce pay rises ensures we can get the public finances back onto a sustainable path after unprecedented government spending on the response to Covid-19.
"We remain committed to introducing a £30,000 starting salary for all teachers, and this year to protect the lowest earners there will be a pay award of £250 for all teachers earning less than £24,000 as recommended by the STRB."