Almost all teachers grading this summer's GCSEs and A levels are reporting problems with the process, a Tes survey reveals.
Nearly one in 10 describe awarding the grades in England, under a framework drawn up by Ofqual, as an "impossible task".
In the poll – with responses from more than 2,800 grading teachers – another 50 per cent report "lots of problems" and say there are finding it "very difficult".
A  total of 94 per cent of grading teachers report at least "some" problems with the grades, which must be submitted to exam boards by next Friday.
"There is a mismatch between the guidance given, the degree of responsibility and the culpability of consequence if you get things wrong, which makes the process highly stressful," one head of department said.
---
Workload: Two-thirds of teachers spend at least a week of their own time grading GCSEs and A levels
GCSEs 2021: 'Massive pressure' on teachers over grades
Grading: Should schools be running full mock exams?
Background: Teacher-assessed grades get the green light
---
"We have likened it to being told you have to climb to the top of Mount Everest using a route drawn on the back of a napkin using equipment not technically designed for the job, and the consequences if you choose the wrong way is everyone dies."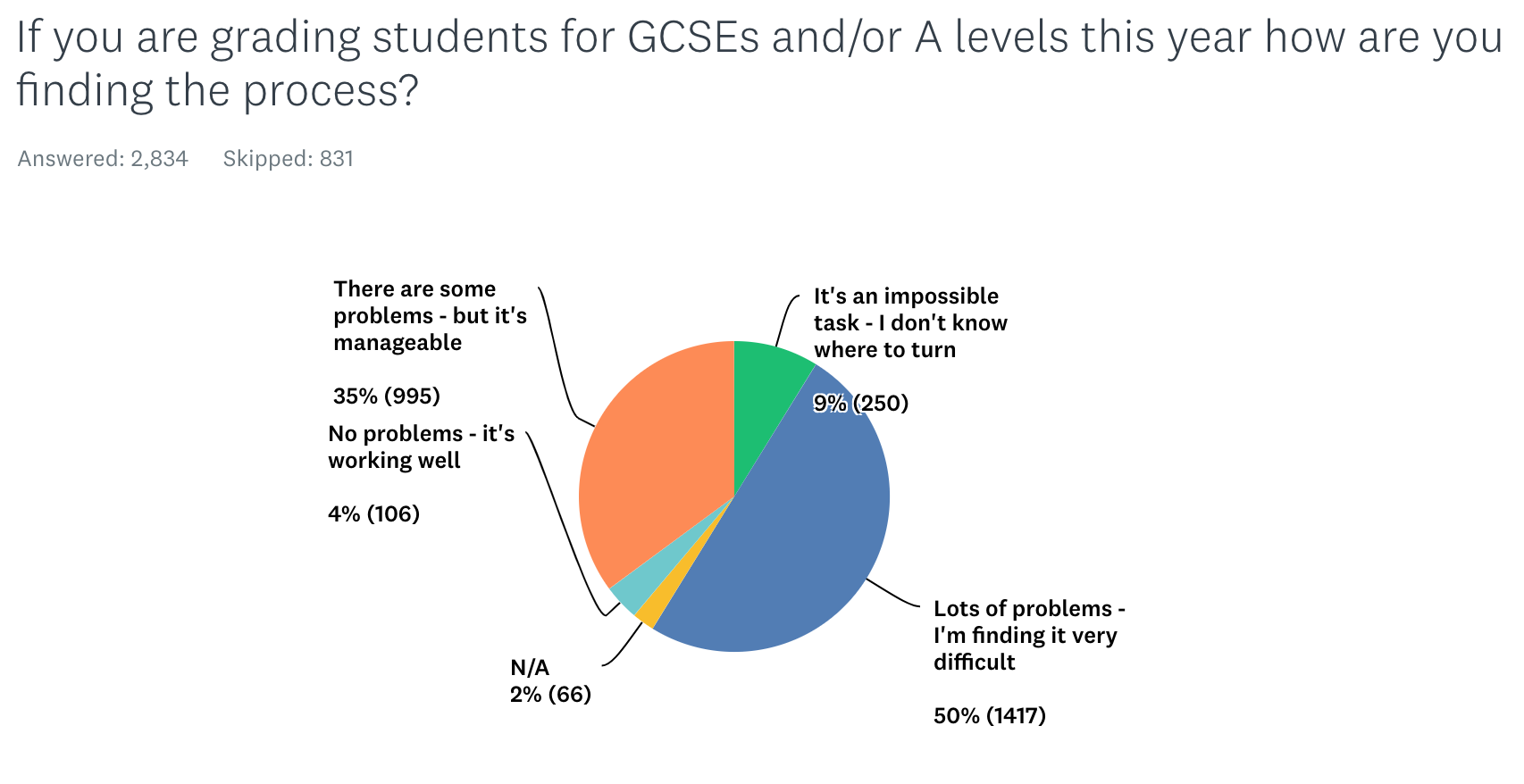 Teachers reported that the grading process this year had been a "huge responsibility", with some citing the "slow release" of guidance from exam boards as a contributing factor in their levels of stress.
GCSEs and A levels 2021: Teachers suffering stress due to grading problems
Others said that the fact schools were using different processes to arrive at grades this year led to fears that the grades could not be consistent between schools, while some raised concerns over how students might "blame" them if they did not achieve the grade they wanted.
Geoff Barton, general secretary of the Association of School and College Leaders, said: "This finding reflects the fact that teachers and leaders have been landed with an incredibly difficult situation at short notice.
"The government should have had a contingency plan in place in the event of public exams being cancelled, but it failed to heed repeated warnings."
A state school languages teacher responding to the survey said: "We are going over and over the marks and the students' work knowing that what we decide will affect our students.
"It's a huge weight of responsibility. It's also knowing that students will potentially 'blame' us if they don't get the grades they think they should have.
"It's also not knowing how to grade fairly, as they have sat exams with reduced content, and it's not a level playing field as students at other schools have been judged differently and in some cases will have had access to online exam board materials as well."
The "arbitrary" nature of the grading process and whether grades could be seen as fair was raised by many teachers.
One English teacher at an independent school said that "knowing that different schools are using different combinations of mock exams results and classwork, as well as using exact questions released by certain exam boards, makes it really difficult to see how fair and consistent the process will be from one school to another or from one area to another".
A state school English teacher said there did not appear to be clear guidance on whether assessments should be closed-book or use notes, adding, "clear and consistent guidelines should have been given by the DfE/government for all schools in the country to adhere to".
"Now we have an unfair system where state schools will fall behind independent," they said.
Many teachers expressed doubts over the burden of responsibility for the profession in arriving at fair grades, which they said contributed to their stress levels.
Some commented on feeling pressure from parents and pupils over the grading process.
"The students seem to genuinely believe that we can just 'pick' a grade for them," an English teacher at an independent school said.
"They complain about having to do additional work/assessments yet aren't happy with the grades they've secured up to now. Parents call most days to ask why their child's grade is so low – like it's somehow the fault of the teacher."
Some also commented on the difficulty of grading students they knew well, particularly if they recognised their handwriting in assessments.
A state school maths teacher said that making the process fair was unachievable, and that the exam board had published the only secure materials with grade boundaries, which led to the school creating its own assessments and grade boundaries instead.
"Appalling conflict of interest in being both teacher and examiner," they said.
"Horrible to have to be the person who denies a student the grade they need for their offer; pressure from school management to move the goalposts a little so more students meet their offers – very hard to maintain integrity during this process."
And others said the guidelines were issued late and changed frequently, which compounded anxiety over the process.
A deputy head of a state school marking maths assessments, who said the process was "impossible", commented: "There is massive tension between the expectation of using brand new grade descriptors, avoiding grade inflation without any definition of the significant discrepancy from historical data which would trigger an external QA [quality assurance] process and the reality of determining grades from a weighted average of our own in-house exam marks. The reality of determining grades with descriptors for a cohort of 260 at GCSE is not realistic."
Workload was also raised as an issue, with one head of English in the state sector commenting that students had produced more than 1,000 pieces of work in the past half term, all of which had been double-marked by a team of five.
An Ofqual spokesperson said: "Teachers have taken on an important task in assessing their students' performance in extraordinary circumstances, on top of the pressures they have been under throughout the pandemic, so we have made this grading process is as manageable as possible.
"Teacher-assessed grades are the best option in the absence of exams, and there is no one better placed to assess their students than their educators.
"The approach is deliberately flexible, to allow for the different experiences of students throughout the pandemic. The exam boards have published guidance and provided for support for teachers as they determine their students' grades." 
A spokesperson for the Joint Council for Qualifications said: "JCQ and the exam boards recognise how much the additional workload and other challenges caused by the pandemic are impacting teachers and the tremendous pressure that they face.
"We are supporting teachers as much as we can as we work to implement Ofqual and the DfE's requirements for the summer series, and to minimise additional burden for schools and colleges as much as possible. 
"Exam boards have developed detailed guidance to support the determination of student grades by schools and colleges this summer. We have also provided thousands of optional assessment questions and detailed grade exemplars and descriptors to help teachers assess their students. This summer's awarding arrangements also allow for flexibility, meaning teachers are able to choose how they gather evidence."
A DfE spokesperson said: "We are grateful for the hard work of all school and college staff to support students and help them receive their qualifications during the pandemic. Many of our policies have been designed with workload in mind which, with union support, we are seeking to minimise as much as possible." 
"Teachers know their students best, which is why we have given schools and colleges the flexibility to determine how best to assess their cohorts, and JCQ and exam boards published extensive guidance to support them with assessments, marking and their judgements."
"There is also robust quality assurance in place for this summer's assessments, including internal checks within schools and colleges, and external checks by exam boards, to ensure that grades are awarded as fairly as possible."