Most teachers do not want to see GCSE exams scrapped following the pandemic, an exclusive Tes survey reveals.
In a poll of over 2,800 teachers grading GCSEs and A levels this year, 59 per cent said they disagreed that GCSEs should be scrapped following the pandemic, while just over one in five – 22 per cent – said the exams should be abolished.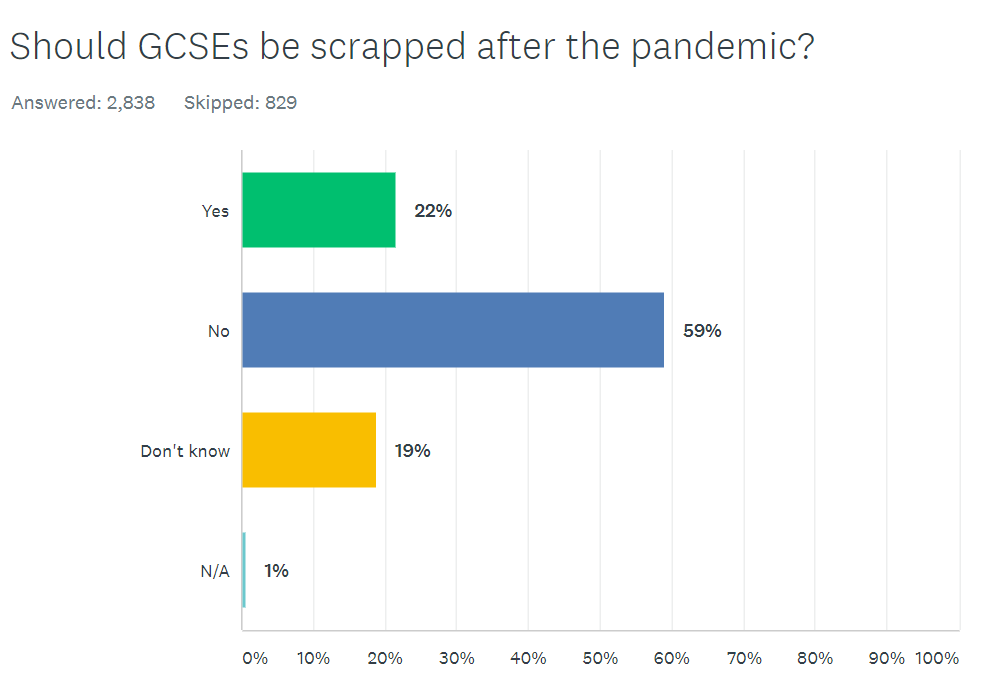 ---
Related: State and private schools in 'movement' to scrap GCSEs
News: We're 'absolutely' keeping GCSEs, says Williamson
GCSEs: Teachers' choice of evidence may be queried
---
The proportion of private school teachers who thought GCSEs should be scrapped was slightly higher, with 24 per cent of over 480 surveyed agreeing they should be scrapped, while 59 per cent said the exams should remain in place.
Calls within the profession to scrap the qualification have been growing throughout the pandemic.
In June last year, a campaign was launched by state and private schools to end GCSEs, with former education secretary Lord Baker branding the qualifications as being based on an "Edwardian" curriculum.
And the group Rethinking Assessment also aims for radical reform of the qualifications.
But teachers' responses to the Tes survey suggest that those who want GCSEs to go are in the minority. Many saw exams as the fairest system of assessment following two years of teacher assessment.
'There is not a better system than GCSEs'
"There is not a better system," a private school maths teacher said.
"Exams are the fairest way for anyone to succeed," a head of science in a private school commented.
And a head of maths at a state school said: "They're not perfect, but they're better than this."
"No, there still needs to be a summative assessment," one teacher commented.
"Expecting schools to pick up this every year would be chaos: workload would be unmanageable in the long term, schools would need extra staff to cope with compliance and quality control, grades across the country would be unfair and be reliant on staff who are not examiners," they added.
But some comments suggested that, while they wanted to keep GCSEs, they would like a more modular form of assessment to return.
"They should be modular and have a coursework element," a science teacher commented.
And others suggested they were not against reforming the qualifications but only if it was done in a carefully planned way.
A deputy head in the state sector said: "No, unless you completely overhaul the current educational system and consider the broader implications of doing so – there are potentially better ways to do things but they require systemic change and policy. If it's done in a piecemeal way and replaced with just another thing, then it's likely to produce a worse outcome."
Earlier this year, education secretary Gavin Williamson told headteachers that the government is "absolutely going to be keeping GCSEs" and that he expected the qualification to be around "for a lot longer".
Responding to the Tes findings, Dame Alison Peacock, chief executive of the Chartered College of Teaching and a member of Rethinking Assessment, said: "It's completely understandable that teachers want to revert to where we were pre the pandemic because there's been so much workload associated with TAGs [teacher-assessed grades] and the prospect of throwing everything up in the air for something completely different probably feels like 'Oh, my goodness – it's one more thing that I can't deal with'.
"But I also think that reform that enables GCSEs or the equivalent to be more equitable, that ensures more young people are able to achieve success, is something that teachers would be sympathetic to."
Sarah Fletcher, high mistress of St Paul's Girls' School in London and a member of Rethinking Assessment, said: "If you suggest 'scrapping' then the question immediately arises, but what next? My opinion is we do need some form of assessment at 16-plus but it should be slimmed down and very much reformed."
Geoff Barton, general secretary of the Association of School and College Leaders, said: "There is a range of views about the future of GCSEs, and it isn't necessarily a binary choice between scrapping them and keeping them.
"The trouble with the current shape of GCSEs, following the government's reforms, is that they are actually more like old-fashioned O levels in that they are very heavy on content and memorisation and assessed almost entirely on terminal exams. This can easily end up with students sitting more than 30 hours of exams during the summer series.
"There is a good case for looking at a sensible set of reforms which use a wider range of assessment methods, particularly in respect of the potential of digital technology, and with a view to improving the accessibility and usefulness of these qualifications to students who struggle the most.
"In particular, we have to do something about the mechanics of the current system, which, in normal times, condemns around one-third of students to achieving less than a grade 4 in GCSE English and maths every year. Unfortunately, the government shows no appetite to deal with any of these issues and appears to be intent on sticking rigidly to GCSEs as they currently stand."