Documents obtained by Tes reveal the Department for Education asked Ofqual how it could put a better spin on the boost to A-level grades received by private schools this summer.
In correspondence released under the freedom of information act, the DfE tells the exams regulator that ministers and special advisers had "significant concerns" about how to "explain" the performance of independent schools after this year's grades were revealed.
A chain of results day emails shows how an official within the department asked for Ofqual's assistance in finding something "to say that helps".
---
Ofqual: Regulator told DfE it did not have capacity to analyse results
Results: Private schools get higher A* rise
U-turn: Teacher grades to be used for GCSE and A-levels after results fall out
---
The documents shed new light on the fallout from this year's exams controversy, which saw Ofqual U-turn and abandon its moderated A-level grades after widespread criticism.
When A-level results, based on an Ofqual algorithm, were first published in August, they showed that private schools had seen the proportion of grades A and above rise by more than double the rate of all types of state school.
Correspondence between the DfE and Ofqual on results day reveals how concerned the government was about this and how the two organisations discussed how to respond publicly – including the response it gave to a query from Tes.
An email titled "private schools" and marked as being of high importance was sent to senior Ofqual staff from the DfE's Qualifications Division at 1.36pm on A-level results day.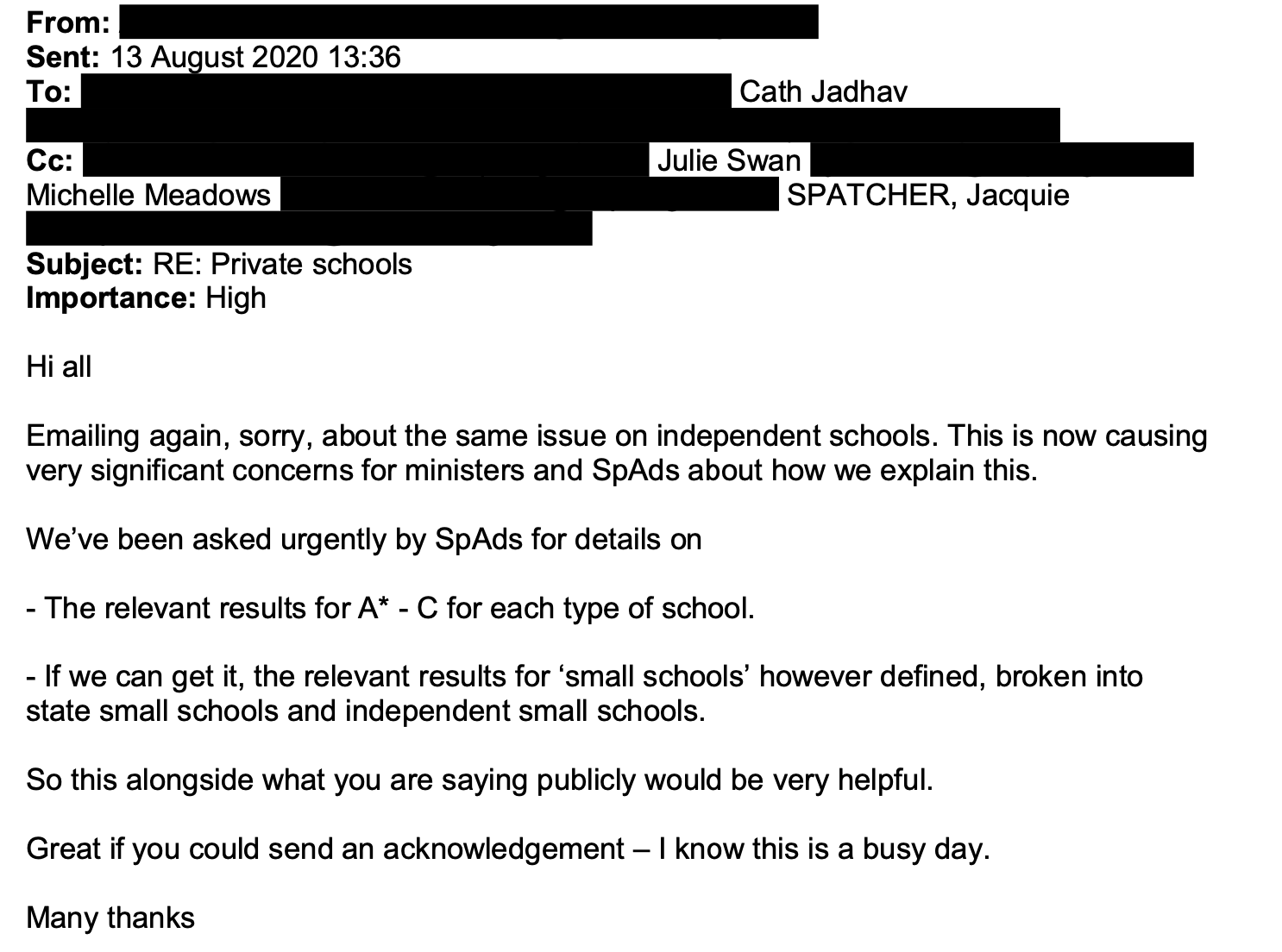 It said: "Emailing again, sorry, about the same issue on independent schools. This is now causing very significant concerns for ministers and Spads about how we explain this.
"We've been asked urgently by Spads for details on
the relevant results for A*-C for each type of school [and] if we can get it, the relevant results for 'small schools' however defined, broken into state small schools and independent small schools."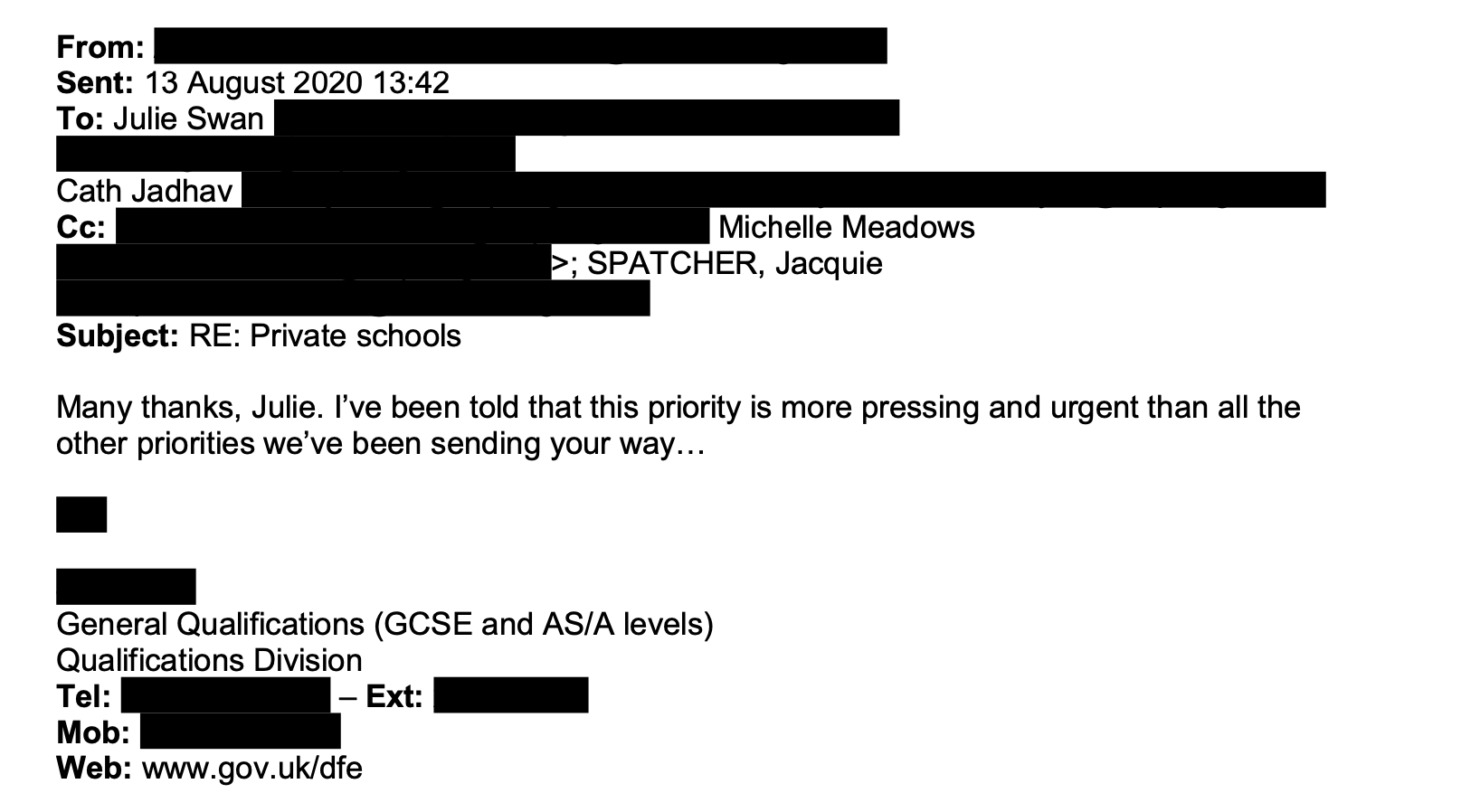 Ofqual was told in another email minutes later that "this priority is more pressing and urgent than all the other priorities we've been sending your way".
And in another email also titled "private schools" sent at 3.44pm the same afternoon, a DfE official asked Ofqual staff for what could be said to help in the presentation of the situation.
The DfE appears to suggest pointing out that the A-level gains seen by schools with small cohorts – disproportionately private schools – did not lead to "losses" for other schools; it was not a zero-sum game.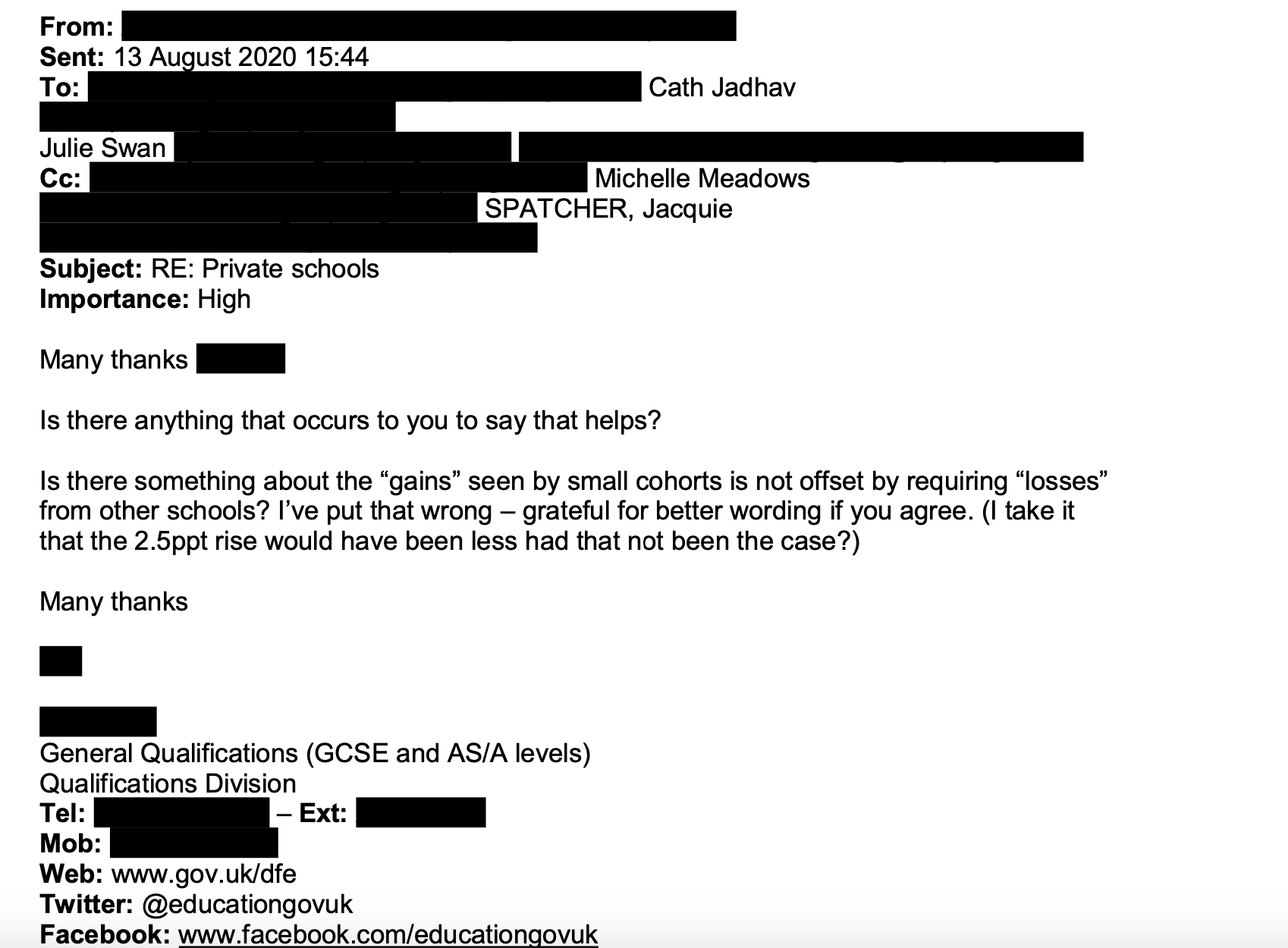 It says: "Is there anything that occurs to you to say that helps?
"Is there something about the 'gains' seen by small cohorts is not offset by requiring 'losses' from other schools? I've put that wrong – grateful for better wording if you agree."
Ofqual's deputy chief regulator Michelle Meadows replied to tell the DfE that this was true and that the "larger centres will not have been disadvantaged in absolute terms".
On A-level results day, Ofqual data showed that the percentage of A levels scoring an A or A* rose by 4.7 percentage points in independent schools this year, from 43.9 per cent in 2019 to 48.6 per cent in 2020.
This rise was more than double that of any seen in the state sector. For comprehensives, the proportion of pupils achieving the top grade rose by 2 pp, in academies by 1.7 pp, and in grammars by 1.2 pp.
The fall out from results day led to Ofqual abandoning its algorithm and using centre-assessed grades from schools and colleges for all GCSE and A-level results – unless its moderated grades were higher.
The correspondence between Ofqual and the DfE also shows how the regulator shared with the department the response it had for a Tes question about why private schools had got larger increases in A grades compared with last year.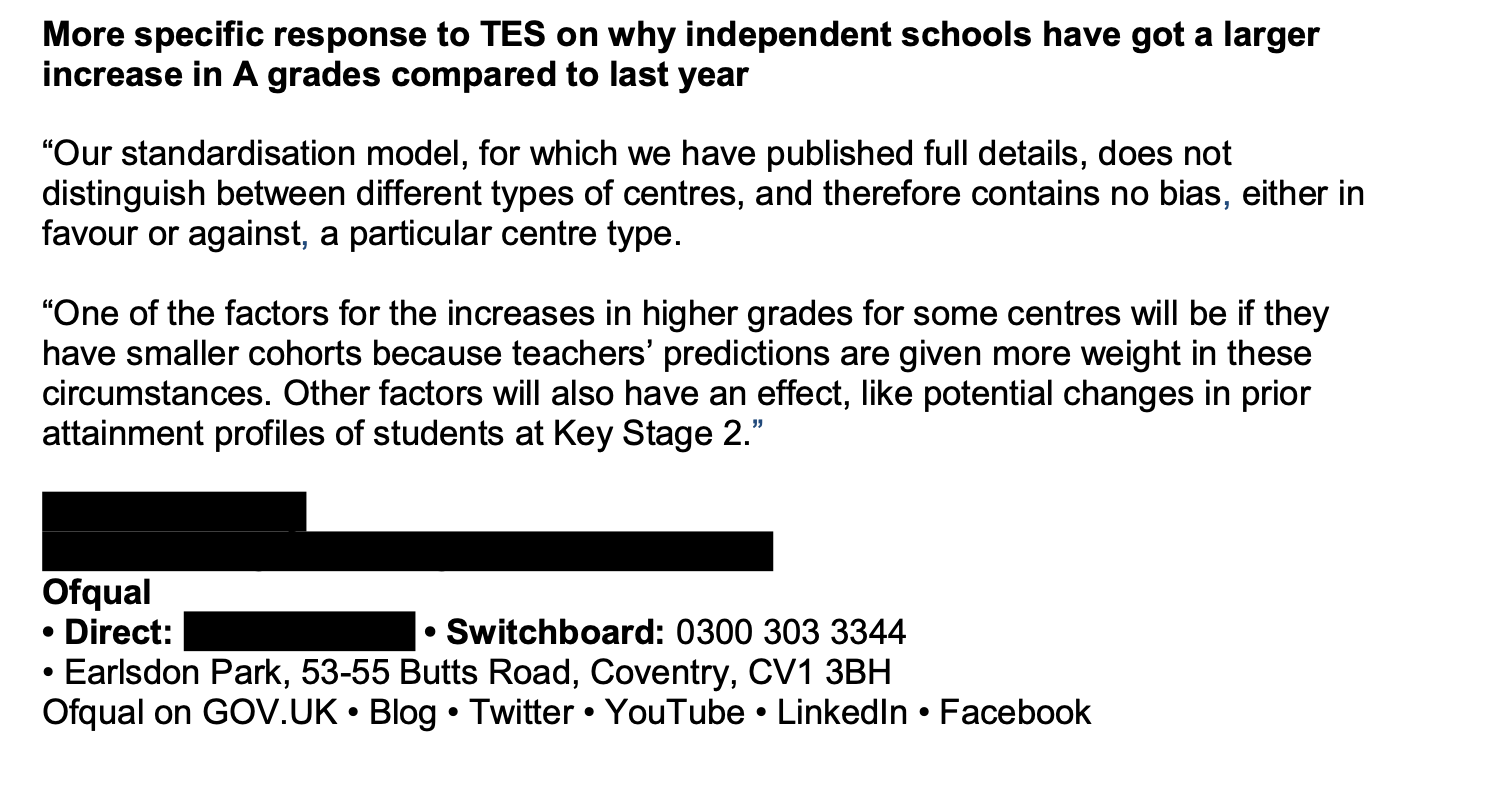 And emails show that Ofqual also told the department that it did not have the capacity to analyse A-level results at school level.