A group of south London students have used the London Underground to make a powerful and subversive statement about exclusions on GCSE results day.
A Tube map from "school to prison" could be seen on Northern Line trains, shining a spotlight on the number of pupils permanently excluded from school each day.
GCSE results day protest
The satirical poster shows a direct line from "sent out of class", stopping at "permanent exclusion" and with "prison" as its final destination.
The line also includes the stops "empathy", "support" and "success" – all of which are "closed indefinitely".

Accompanying the "school to prison line" was the following message from the young activists:  
"While most pupils across the country are excitedly awaiting news about their future, thousands remain left behind. Every day, 35 students (a full classroom) are permanently excluded from school. Only one per cent of them will go on to get the five good GCSEs they need to succeed. It is the most disadvantaged children who are disproportionately punished by the system. We deserve better."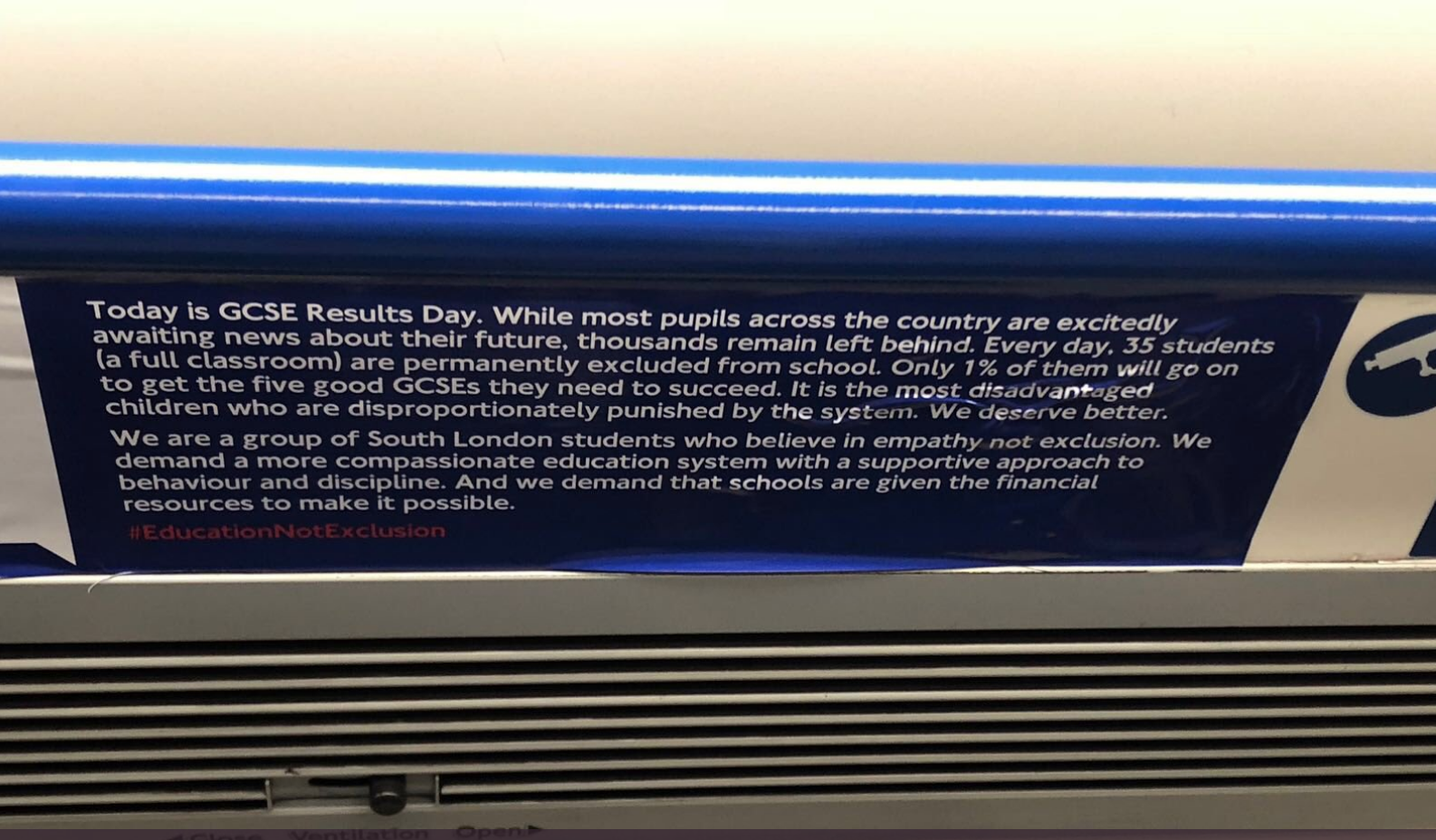 Thousands of people took to social media this morning to share the pictures with the hashtag #EducationNotExclusion, and express their admiration for the pop-up protest.
"School to prison line" - powerful protest stickers on the Northern Line this morning, drawing attention to reduced life chances for those permanently excluded from school #gcseresultsday #educationnotexclusion pic.twitter.com/Ml1YBjrPVk

— Samira Shackle (@samirashackle) August 23, 2018
Check out the Northern Line this morning. Young people demanding #EducationNotExclusion on #gcseresultsday 👏 💯💯 pic.twitter.com/Um7dHkj5ho

— #BlackLivesMatterUK (@ukblm) August 23, 2018
Saw this on the northern line this morning. What a great reminder in #GCSEresultsday that more needs to be done to provide a supportive approach to behaviour and discipline of pupils in school. #EducationNotExclusion

And remember, you are not a letter, you are YOU, not a U x pic.twitter.com/UWRahtcmNh

— Nicola Thorp (@nicolathorp_) August 23, 2018
This is LIT 🔥 South London students are killing it. Fo sho we need more compassion in our education system. Such an crucial reminder that thousands of students are already screwed by #gcseresultday #EducationNotExclusion https://t.co/Z6spE3pb4q

— The Advocacy Academy (@AdvocacyAcademy) August 23, 2018
GET ON TO THE NORTHERN LINE to see this sick abolitionist ad-hack #GCSEresultsday #EducationNotExclusion pic.twitter.com/jgsuvu9ldb

— molly rose 🌱🌻✨ (@MollyRoseBell) August 23, 2018