The government is reinstating a series of cash incentives for teacher trainees as recruitment plateaus in the wake of the Covid crisis.
Less than a year ago, after reducing or scrapping postgraduate bursaries for all eligible subjects in 2021-22, the Department for Education argued that failing to slash the financial incentives would have been indefensible, given the rise in applications sparked by the pandemic.
But it has now U-turned on the cut for certain subjects – reinstating bursaries for some that were stripped of their allowances last year (see table below).
---
Comment: Walker: Teacher development and recruitment are key
DfE: Teaching 'surge' justifies 'radical' bursary cuts
Exclusive: Teacher training bursaries 'cut by 50%'
Coronavirus: Lockdown teacher training applications leap by a third
---
The DfE will also be increasing bursary awards for other subjects that saw cuts in 2021-22, including biology and languages.
Writing for Tes today, the new schools minister, Robin Walker, said the move was being taken to "help us attract and retain excellent teachers, while making sure every teacher has the opportunity to progress in their careers".
The decision comes amid signs that the teacher recruitment boom sparked by the pandemic may be coming to an end.
Bursary changes
Back in 2020-21, chemistry, computing, maths, physics, biology, languages and classics trainees could all apply for bursaries of £26,000.
But the offer changed dramatically for the 2021-22 cohort as the Covid crisis sparked a boom in teacher recruitment. Bursaries for chemistry, computing, maths and physics trainees were reduced to £24,000, while languages and classics students were eligible for just £10,000.
Meanwhile, incentives for biology trainees were slashed to £7,000 – less than a third of the previous year's allowance.
The remainder of subjects eligible for bursaries in 2020-21 were excluded in 2021-22. These included geography, design and technology, English, art and design, business studies, history, music, religious education, and primary with maths.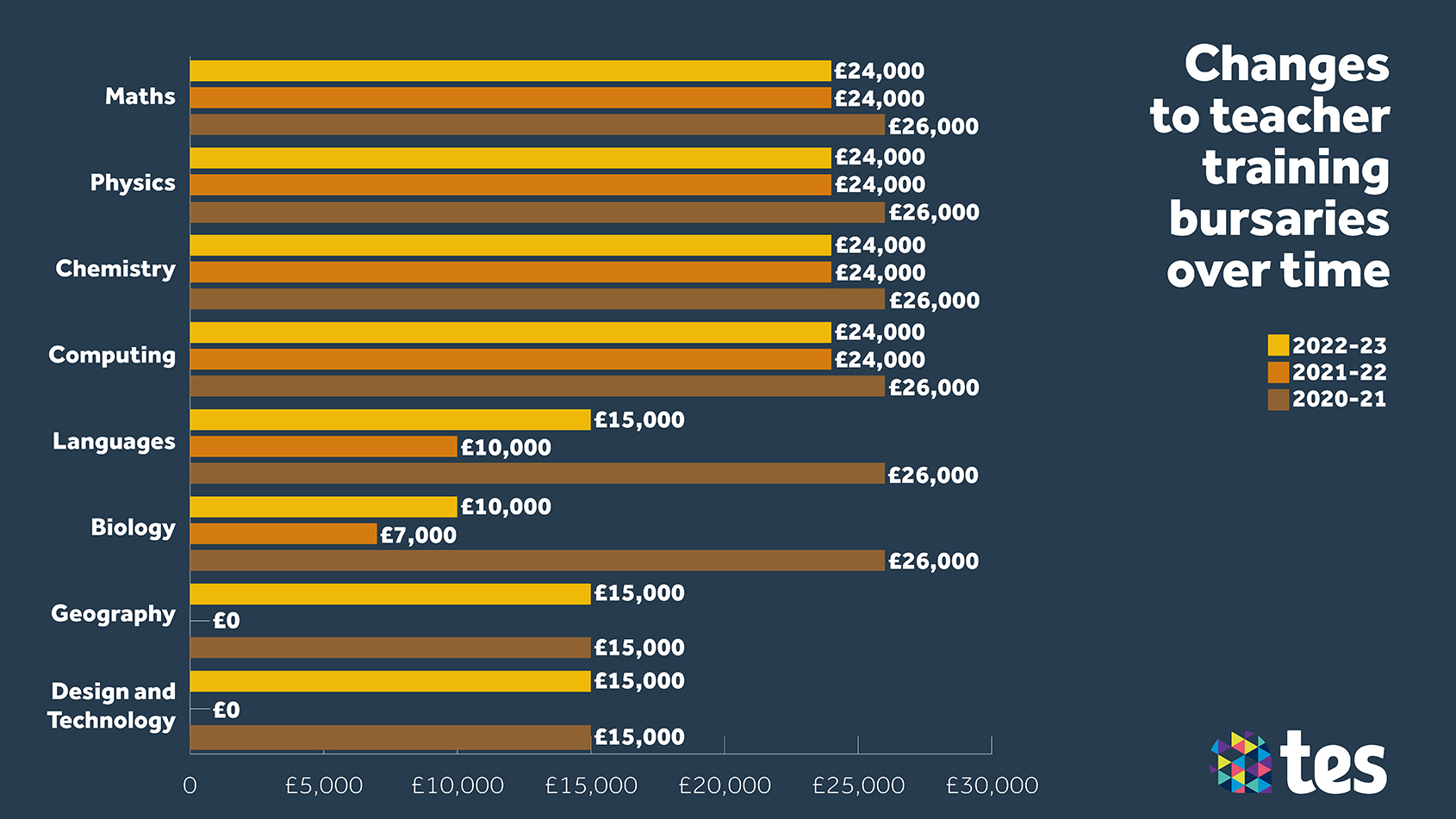 'Short-term boom'
Shortly after the DfE cut bursaries for the 2021-22 academic year, recruitment goals at secondary level were exceeded for the first time since 2012-13, with the number of new entrants amounting to 106 per cent of the target set by the Teacher Supply Model.
The model estimates how many new teachers are needed to enter the teaching profession two years in advance – and, by extension, estimates how many postgraduate trainees are needed to start ITT courses in the year ahead.
But experts have been warning throughout the Covid crisis that recruitment trends in teaching may only amount to a "short-term" boom.
And Ucas figures, released in July, pointed to a crucial turning point for the data, as the number of people applying for places on teacher training courses dipped year-on-year for the first time since the Covid pandemic forced schools to close in March 2020.
Reinstated
Now, the DfE has said it will be reinstating or boosting bursaries for a range of subjects in 2022-23.
Geography and design and technology, which were stripped of their cash incentives in 2021-22, will offer £15,000 to trainees next year.
Meanwhile, bursaries for languages, including ancient languages such as Latin, will rise from £10,000 to £15,000.
And the biology bursary, which was cut from £26,000 to £7,000 in 2021-22, will rise slightly to £10,000.
However cash incentives for maths, physics, chemistry and computing will remain the same, at £24,000 – which is £2,000 less than the amount on offer in 2020-21.
And there will be no increase for any other subjects that had their allowances cut back to zero last year, including English, art and design, business studies, history, music, religious education and primary with maths.
The boost to the bursary package, worth £129 million, follows last week's announcement from the prime minister that maths and science teachers will receive premiums of up to £3,000 each to help "address teacher supply challenges and improve teacher quality".
The move was criticised as a U-turn after the government announced it would be scrapping a similar early-career payment scheme last year.
Reflecting on one of his own particularly influential teachers, Mr Ardler, who helped to keep him motivated when he dropped to bottom set maths, Mr Walker said today that the development of the workforce – including support staff, teachers and leaders – would be "right at the top" of his priorities.
"We need more Mr Ardlers – more talented, committed individuals who can literally transform a person's life – to work alongside the thousands already in classrooms and to help us make sure every child can leave this pandemic in the rear-view mirror and look to the future with optimism," he wrote.