What do you think the building pictured above is?
A new high-tech science facility? Or if you've spotted the red slides, a huge, adult-playground? Or, if you're feeling imaginative, it could be an evil genius' lair, or perhaps the settling place for a spaceship?
It is, in fact, a school. 
It doesn't look like any any school you've seen before, does it? And that's because it's not like other schools.
This is what Green School New Zealand will look like when it opens its doors to pupils in February 2020. It's currently being built across 100 acres in Taranaki, a community on the western side of the country's North Island. 
 
So what makes it so special? Other than, of course, it's appearance? Green School – as the name suggests – has environmental sustainability at its core. The building itself will be made out of sustainable, local materials: the school's driveway will be made out of concrete from highways that's already been shredded, and the food the children eat will be grown on top of the school's car park. 
Across the curriculum, overarching themes of sustainability are present. There are "traditional subjects" but lessons about the environment – and how to preserve it – are dominant. Interwoven within this are an emphasis on traditional and indigenous cultures. Children will be taught, for example, how the Māori people have respect for the land. 
Karan Khemka, the director of the Green School Support Office, explains: "Let's think for a moment think about a grain of rice. You can study that in biology, right? How do you grow rice, but you can also study that as an anthropological or societal issue too. Why are some societies rice-eating societies? Why are some wheat-eating societies? If you're a rice society how does that impact on how the village lays itself out? It can impact on everything from marriage traditions to allocation of land. 
"In other words, you can explode out one very small environmental issue like water usage or rice, and turn it into a sociological issue or anthropological issue, or historical issue," he says. 
It's a unique approach to education. And it didn't take much convincing for incoming headteacher Chris Edwards to sign up to it. 
"It is visionary, it is essential. I was utterly captivated to be honest and signed on the dotted line straight away."
"There is core, there is burning sun and it's sustainability. Teaching is done through that lens. So much flares out of it, like social justice issues. You know, the poorest areas are hit the most by environmental issues? And young people are looking to deal in a pragmatic and visionary way with them," he says. 
There's certainly the appetite for a heightened focus on environmental sustainability within education at the moment. The teacher group with Extinction Rebellion – who brought London to a halt a few weeks ago – has been vocal about what they say is the absence of the "appropriate level of content" about climate change currently on the curriculum. 
Green School New Zealand will put this issue at the heart of everything it does. It's not the first school to do so. Green School Bali – founded by husband and wife team John and Cynthia Hardy – has been educating pupils in this way for the last 10 years. 
"Green School Bali is phenomenal at taking very simple things and exploring them in this multi-disciplinary way, which does make the students much more aware of the sustainability challenges we face and much more respectful of many of these native traditions.
"We've proven ourselves that these schools are not a gimmick. We offer real education and children leave more joyful, more aware of the choices they make and the implications those choices have on the world," says Khemka.
It sounds too good to be true. And in a way, it is – both Green School Bali and New Zealand are independent schools. If you want your child to experience this "visionary education", it's going to cost you around $14,000 a year.
But, Khemka insists, doors can be opened for those who can't afford the fees. Around 8 per cent of the pupils in Bali are on full scholarships, and are from the local Balinese community – a model they're intending to replicate in New Zealand. 
And after school, the teachers host 350 Balinese students from the local villages on-campus to provide English and science classes – something that's severely lacking in their local schools. 
The students, in their own way, also help those less fortunate. A group of former students are behind a movement called Bye Bye Plastic Bags which campaigns for an end of all plastic bags. Two other pupils founded Nalu, a fashion brand which for every four products they sell provides a school uniform for a child in need of one.  
Green School New Zealand's founders, Taranaki couple Michael and Rachel Parrett, are more than aware of their Bali equivalent, and the achievements of those who attended it. It's where they sent their own children.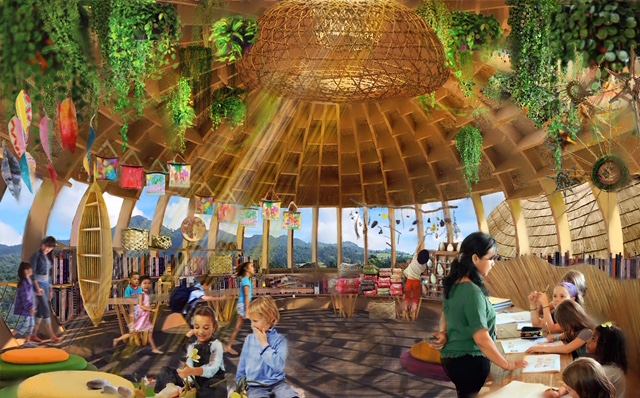 Teachers from around the world clearly believe in this new approach, too. Edwards, says that so far he's received more than 320 applications from staff – for just 20 places.
So how does one secure such a teaching post? Does there need to be a passion for the environment? A history of sustainable living?
Not necessarily, says Edwards: "I've got a literary degree from Oxford, I didn't study environmental science, I don't come from the kind of background people expect. But as I've got older, I've seen the same things everyone else, that's one of the reasons I'm at UWCSEA (his current school in Singapore), I came out here from England because this school has a huge sustainability drive.
"I'll be looking for people who have come to the party like me a little later than others. Overall, they need to pragmatic people with great subject knowledge and there are things you can learn on the job. First and foremost, they need to be a great teacher," he says.