"What I get most frustrated about is complacency and mediocrity. I don't understand why anyone thinks that good is good enough," says North Warwickshire and South Leicestershire College principal and chief executive Marion Plant. "All my life I have been hard on myself, my parents have always driven me to be better, and I still want to get better."
Nobody could accuse Plant of being complacent. In addition to her college role, she is also the chief executive of the Midlands Academies Trust, which sponsors four secondary schools; a trustee of the Edge Foundation and is on the board of Church of England Education. 
---
Background:  Colleges ticked off for 'over-optimistic' forecasts
Tes magazine: How WorldSkills trainers could raise standards across FE
Listen: Can WorldSkills transform education?
---
Showing faith in FE
As if that was not enough, Plant is the co-chair of Faith and Belief in FE, a board member of the Leicester and Leicestershire Local Enterprise Partnership, and chair of the skills business group for the Coventry and Warwickshire Local Enterprise Partnership.
She's the deputy chair of WorldSkills UK, too, and also chairs the WorldSkills UK remuneration committee. What gives her the motivation to tackle all of those tasks?
"I want to make sure that I'm personally stretching every day. I might be towards the twilight years of my career, but there isn't a day where I'm not learning new things, taking new ideas back and making it all benefit the people I serve. That motivates me, that's what keeps me going," she says. 
Of course, it helps to have a strong support network outside of the office, too – Plant has been married to husband John for 36 years, and has two sons and three grandchildren, who, she says, are "the absolute pride of my life".
Family is clearly important to her – she talks of having a wonderful childhood and the emphasis that her parents, both academics, placed on education. Raised in Sierra Leone and Zambia, she attended a Zambian government-run school, and then a Domincian convent school run by German Dominican nuns. It was a disciplined education and she thrived – she was head of house, and regularly achieved the highest set of results in class. But post-16 education in Zambia simply didn't exist, she says, and so she came to the UK to live with her godparents and study A levels. 
First taste of college life
She wanted to be a children's nurse and planned to train at Alder Hey Children's Hospital in Liverpool – but her father encouraged her to consider university. She was accepted to the University of Manchester, and was in the first cohort of degree nursing students at the university. 
She then turned to midwifery – which she calls an absolute privilege – before spending seven years as health visitor in Birmingham. 
It was in Birmingham that she got her first taste of further education when she was approached to do some lecturing at Handsworth College – which is now part of South and City College Birmingham.
"My first lecture was teaching return-to-learn adults about contraception," she laughs. "I loved it, and they seemed to like me. I taught mainly women: returners with all the baggage and challenges they've had to overcome to get back into learning, but with all the motivation that matches the challenge. They didn't have to be there but they were determined to do something about their futures and their families' futures. I loved that."
Moving into management
Quite quickly, Plant transferred into management at North Birmingham College before a family move to Leicestershire saw her become deputy principal at North Warwickshire College. Within six months, the principal left, and she was encouraged to apply for the job and was "utterly thrilled" to get it. 
The college has come under scrutiny in the past few years. A financial notice to improve was issued in October 2018, and the FE commissioner published a report in March 2019. 
The report praised the college for the "quality of the governing body and, in particular, the chair and the vice chairs", and the growth in age 16 to 18 recruitment despite declining demographics. However, it said that financial forecasting was "over-optimistic", staff costs were high and the executive team needed more experience in "quality improvement".
But optimism is something Plant prides herself on. "I'm an optimist, you have to understand that [...] despite the ups and downs of being a college principal in the current climate, we've had our challenges, it's not been a bed of roses, I absolutely love being a college principal and leading a community of staff and students in the endeavour to improve opportunities."
The power of WorldSkills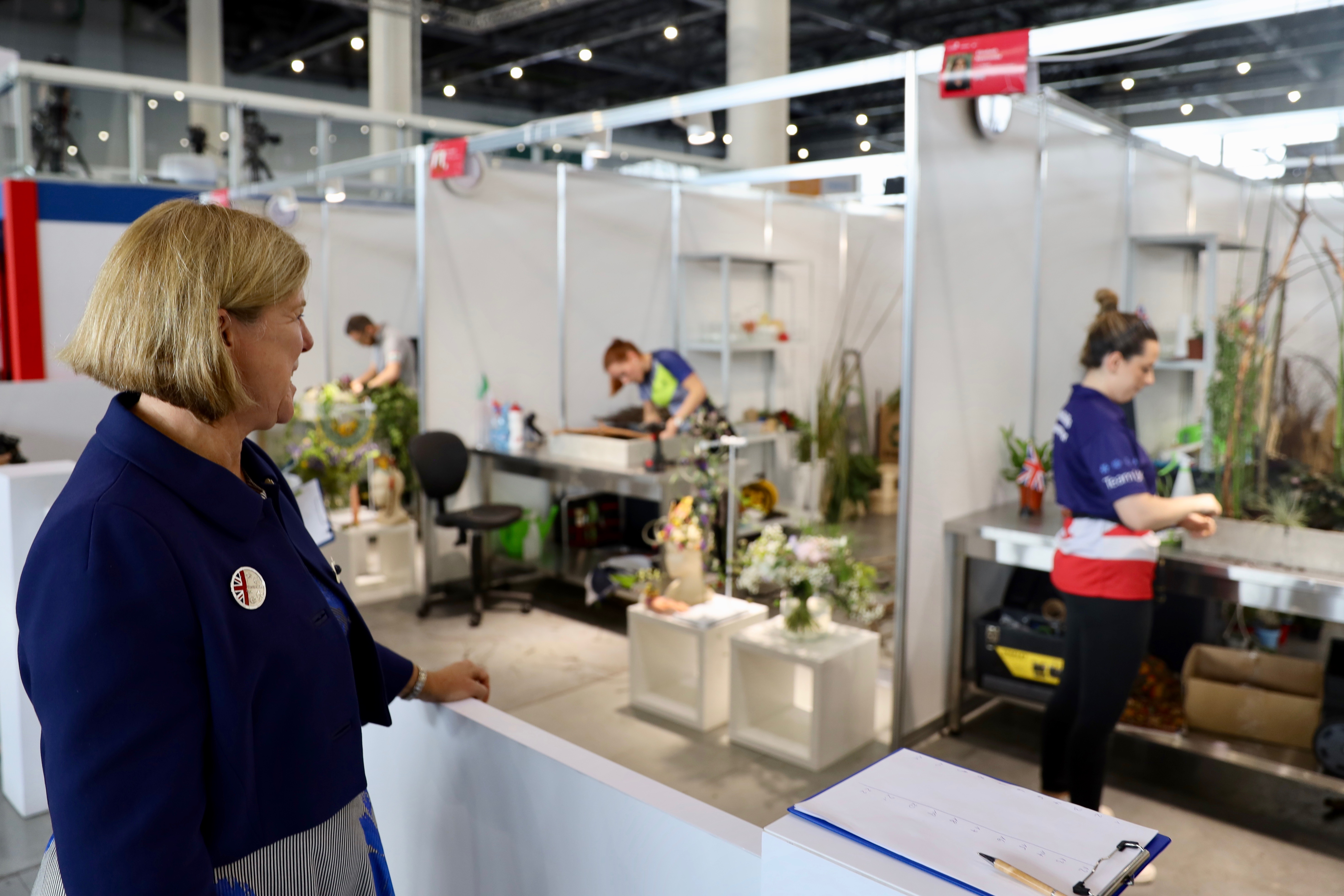 Plant sees WorldSkills as key to providing those opportunities to her students. At North Warwickshire and South Leicestershire College, the international standards of excellence and competitions are deeply embedded, and competitions are part of the corporate strategy and teaching and learning approach. All students are encouraged to participate – although Plant is keen to stress that they're not forced. The college was the first to pilot the competition for entry-level students – which has now been rolled out nationally as the inclusive skills competition in the UK. 
Her faith in the power of WorldSkills may not be surprising given that she's deputy chair of WorldSkills UK, but it certainly is convincing. 
"There are young people who have never left Nuneaton, and they're going to London or Birmingham to compete – that's life-changing. Why wouldn't you want every single young person you have responsibility towards to have that opportunity?" she asks. 
"Colleges are under a lot of pressure financially. It can feel like a hard slog, and you can almost at times get so focused on money that you lose sight of the fact that your core business is teaching, learning and assessment. I think competitions refocus on you on that and refocus you. We've always had a very good quality – we have other issues – but this keeps us refreshed."
Facing the challenges 
Funding is an obvious issue –  but not the only challenge that Plant is determined to tackle. The first is staff recruitment. "We train students to be ready for work, so in areas like engineering we have to replicate industry standards, and we need staff who are industry-focused. It's difficult to get them."
She cites GCSE resits for English and maths, too, saying that they're not just a logistical challenge – her college has 1,500 students resitting this year – but a teaching challenge, too. And then, Plant says, there's one more problem: how do we start to train people for jobs that don't yet exist?
"Historically, teachers are givers of knowledge. That role is going to change. It can feel threatening for teachers, but what's the role of the teacher in the future? It's going to be much more about inspiring young people to problem-solve," she says. "How do we prepare our workforce for this way of teaching?"
Plant says she's not disheartened by the never-ending list of things that need tackling: "The challenges are the challenges, and it's all moving in the right direction. FE will change, I really think that."
That eternal optimism never wavers. "You just have to be an optimist. I would have found the job a lot harder if I wasn't. I was brought up to be optimistic, and to always see the best side of life."