Edexcel is probing a leak relating to an A-level maths exam which was sat by pupils today. 
Pearson, the firm which operates the board, said it was "investigating" after blacked out images of two exam questions from Edexcel's maths paper 3 appeared on Twitter last night.
The board has also seen two petitions launched this week complaining about the difficulty of other A-level maths papers.
The Student Room website has images of the tweets in question. Tweets accompanying the images reportedly offered the whole paper for sale for £70.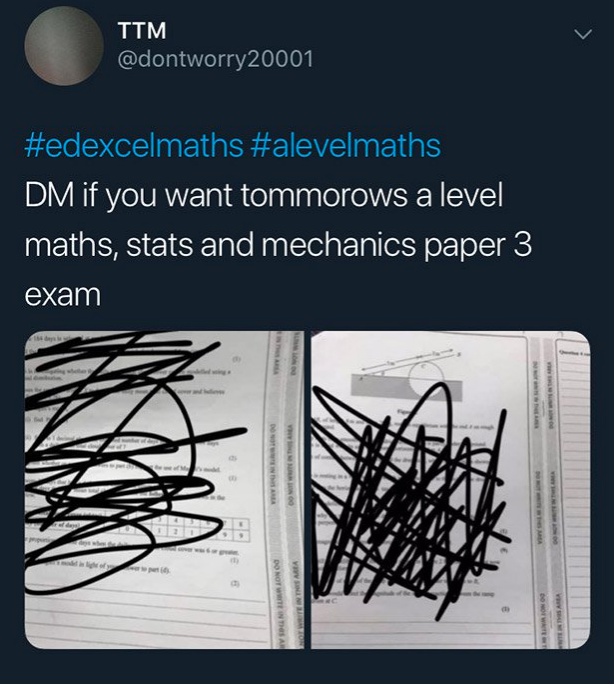 In a statement Pearson said: "We are aware that an individual circulated blacked out images of two exam questions on social media ahead of today's A-level maths exam.
"We are investigating the source of this. All students should be reassured we have well-established processes in place to ensure no-one will be advantaged or disadvantaged, and this paper will not have to be re-sat."
Today's leak comes against a backdrop of growing concern about fake exams circulating on social media – as Tes has revealed, individuals are posting photos of past papers with the date doctored, to try to con candidates into parting with cash.
Edexcel A-level maths papers were also leaked in 2017 and 2018: in April, Pearson announced that it had made progress in their investigations into both cases.
The latest leak comes at the end of a torrid week for Edexcel.
On Tuesday it was forced to defend a GCSE maths question that involved working out the number of calories in a breakfast, after coming in for criticism on social media.
It also admitted to using a GCSE maths question that is almost identical to one from an AQA revision textbook.
And thousands of pupils who sat A-level maths papers on 5 and 12 June have signed an online petition calling for "extremely difficult and unreasonable" papers to be marked with special consideration.
Almost 11,000 pupils have signed Hannah Smith's petition regarding Edexcel's pure mathematics A Level, calling for the exam to be marked fairly "in order to give us a chance at our future".
A further petition against the exams by Kamil Zelechowski gained almost 3,000 signatures. The petition says students' hopes of gaining university places had been "shattered".
Some pupils felt the experience had had a detrimental impact on their mental health. One Twitter user Lucy, who sat the paper, said: "As the number of students suffering from mental health issues is increasing, why would you make the exams so hard?"
In a statement Pearson said: "Candidates should be reassured that the paper reflects the spec, and that we set the grade boundaries for each exam paper each year.
"This ensures a fair system, so that students of the same ability will be awarded the same grade in different years, even if there are differences in the demand of papers. We wish the very best of luck to all students taking their remaining exams."