Britons rank schools as the top priority to remain open during a second national lockdown, according to a new poll.
The results, published today by YouGov, show 57 per cent of people asked chose schools and nurseries as the sector they want prioritising for keeping open in the event of another lockdown.
This was followed by universities, while pubs came last in the list of the 10 types of establishments YouGov asked about.
---
Lockdown: Teaching union calls for secondary schools to close in two-week circuit breaker
Covid: Figures show ninefold increase in infections among secondary school age pupils 
Revealed: SAGE warning over schools spreading Covid
---
The poll shows that another 13 per cent of respondents had keeping schools and nurseries open as their second-highest priority.
YouGov asked the public which of 10 types of establishment they would prioritise for keeping open during a second national lockdown.
The 57 per cent choosing schools as the top priority was much higher than any other category.
The poll also found that men, who YouGov previously found did less homeschooling than women during the last national lockdown, were not as concerned about keeping schools and nurseries open. Around two-thirds (63 per cent) list them as their first or second choice, compared with three-quarters of women (76 per cent).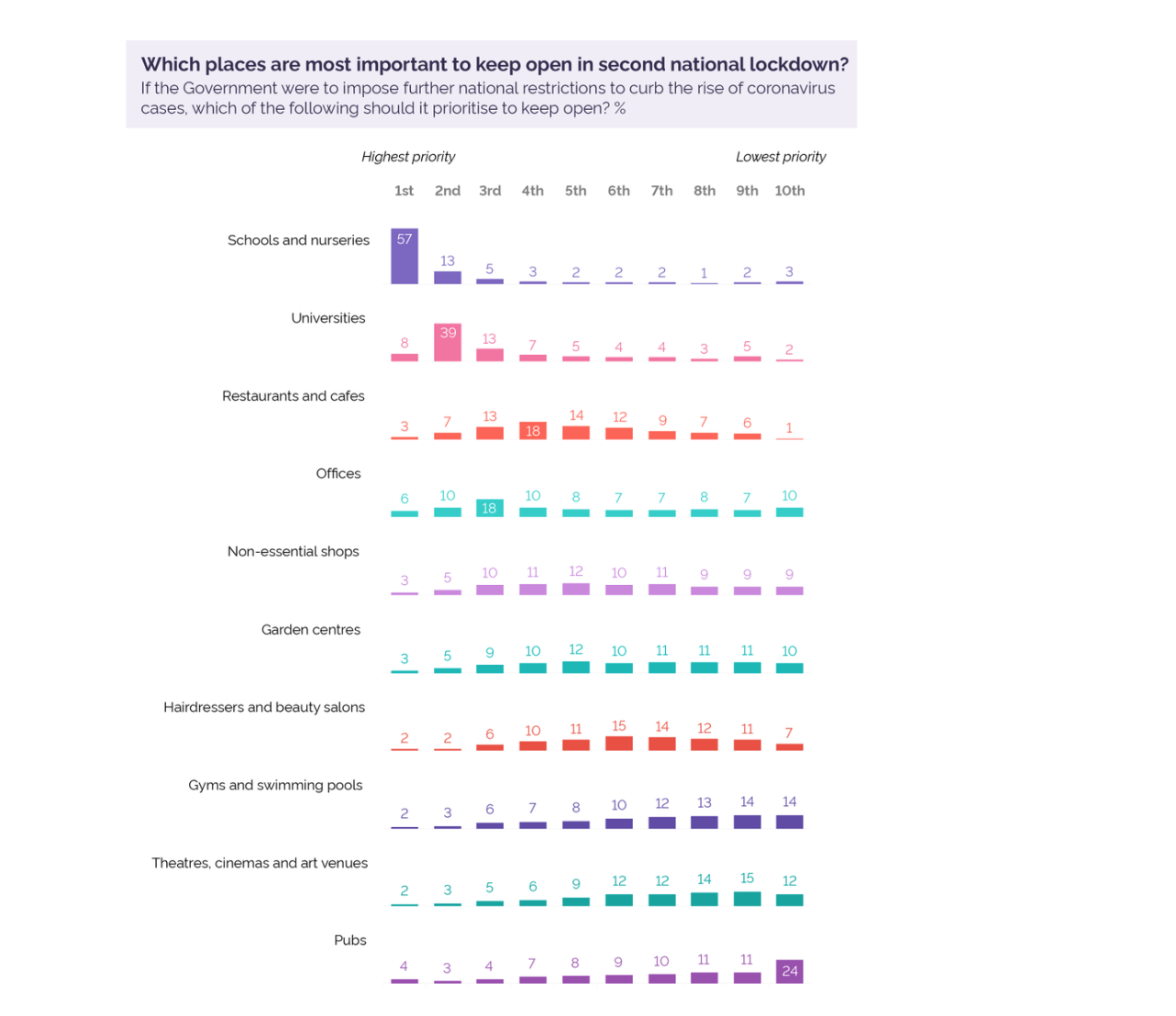 YouGov's poll of a representative sample of 1,641 British adults took place on 22 and 23 September.
Since then, the government has faced more calls for a two-week circuit breaker lockdown to include the closure of schools and colleges.
Both the NEU teaching union and the UCU called for this circuit breaker lockdown after new figures showed a ninefold increase in the Covid infection rate of secondary pupils.
At a government briefing last week, prime minister Boris Johnson did not rule out a national circuit breaker lockdown but said that targeting local restriction in parts of the country with higher infection rates was a better approach.