There has been a fall in the number of parents appealing after failing to get pupils into their chosen secondary school for the first time since data collection started in 2015, data published by the Department for Education has revealed.
A total of 36,743 appeals were lodged by parents against secondary school admission decisions in the academic year 2020-21 – which equated to 5.1 per cent of total admissions.
This represented a fall of 15 per cent compared with 2019-20, when 43,299 admission appeals were lodged, representing 6 per cent of total admissions.
---
Comment: School admissions: could an overhaul solve inequality?
Related: Big 5.1% drop in number of new primary pupils for 2021
Analysis: Fewer parents get preferred primary school place in a fifth of areas
---
The decline is especially notable given the overall number of secondary admissions in England was down by just 0.1 per cent.
The number of secondary school place appeals heard also fell, with 29,871 appeals brought before a panel, representing 4.1 per cent of new admissions, compared with 35,648 (4.9 per cent of new admissions) appeals heard in 2019-20.
This reverses the steady increase in appeals lodged and heard from parents seen since data was first collected by the DfE in 2015-16.
One in five appeals (6,000) against secondary school place allocations were successful, down from 7,901 (22.2 per cent) in 2019-20.
The number of successful appeals has been falling since 2015-16 when data was first collected.
Meanwhile, the number of appeals by parents over primary school places has continued to fall: 16,781 appeals were made by parents last year, which equated to 2.1 per cent of total admissions, compared with 19,032 in 2019-20 (2.3 per cent of admissions).
Regional breakdown
Schools in the North West continue to attract the highest number of appeals as a proportion of admissions, with 6.8 per cent of 92,574 allocated secondary school places contested by parents and 3.1 per cent of 100,958 primary school admissions appealed. 
Secondary school places in the South East are contested by an equal number of parents with 6.8 per cent (of 112,873 admissions) places appealed. For primary schools, the West Midlands has the second-highest proportion of appeals lodged. 
However, the highest proportion of appeals of secondary school places that were successful was in the East Midlands, where more than a quarter (27.5 per cent) of the 2,768 parent complaints over school places that were heard were upheld.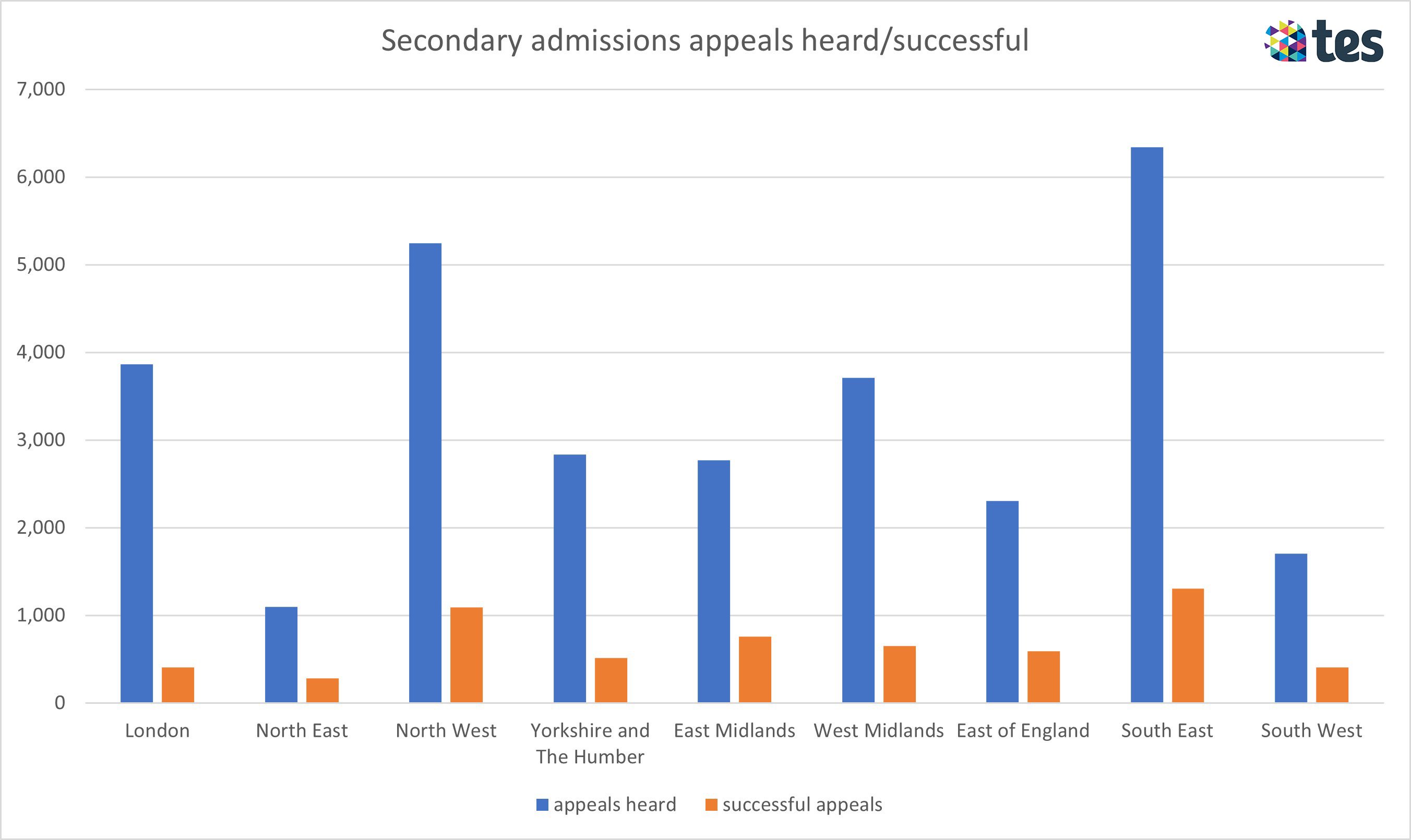 And the highest proportion of appeals that succeeded for primary school admissions was in the North East, with more than a quarter (26.5) of appeals heard resulting in a change of school place allocation.