For students all over the country, GCSE results day marks the culmination of years of study and weeks of revision. 
Due to the global pandemic, there is still some uncertainty about exactly how the exams process for 2021 will work. 
However, we do know when the GCSE 2021 exam results will be released. 
When is GCSE results day 2021?
GCSE results day will be Friday 26 August 2021 in England and Wales.
In Scotland, National 5 exams have been cancelled and replaced with teacher assessment and coursework. Results day will be Tuesday 10 August. You can find out more about the SQA National 5 courses by visiting the SQA website. 
What time are the GCSE results released?
Usually, students will be able to collect their results from their school or college in the morning from 8am. Some schools may stagger this time or email out results instead.
How will the 2021 GCSEs be calculated?
Unlike in 2020, GCSE students will be required to sit formal exams during May and June 2021, with the results from those exams and any coursework being used to generate a 1-9 grade. 
In 2020, the GCSE grades in England and Wales were due to be calculated using two pieces of data provided to exam boards by schools and colleges: the centre assessment grade and the student's rank order position were combined to give an overall grade. 
Centre assessment grade: This is the grade schools think students would have likely achieved if teaching, learning and exams had happened. To arrive at a student's centre assessment grade, schools and colleges will consider things like classwork, homework, assignments, mock exams, coursework and general progress. Schools do not need to submit any work or supporting evidence, but this might be required if exam boards have any queries.
Following uproar and a U-turn over the process for awarding qualifications in Scotland, the rank order position element of the calculation was removed in England, meaning GCSE students were given their centre assessment grade only.
WATCH: Ofqual explains 2020 grading
Understanding 9-1 GCSE grades
For the fourth year, the GCSEs will be graded from 1 to 9 rather than A* to G. Although it's difficult to map the two grading structures exactly, the Department for Education issued the following table: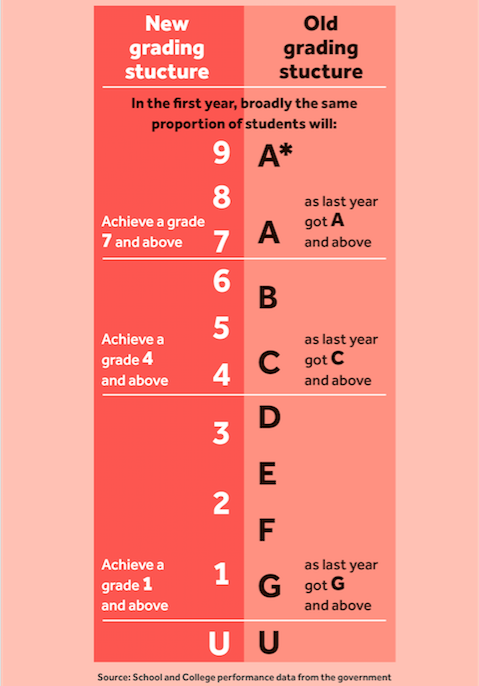 Find out more about the new grading system. 
The way schools are judged has also changed to rely less on the number of children reaching grade C or above.
Schools will use a system called Progress 8 to measure how much progress a student has made during their time at the school.
Find out more on the Progress 8 system.
Collecting GCSE results
Students are normally able to collect their results from their school or college in the morning, usually from 8am.
It is advisable for students to bring with them any acceptance letters and the relevant contact details for any sixth form or college that they're interested in attending, along with identification.
Those who are unable to collect their results in person can request in advance to receive them via email. These will be available from 8am. To receive your results via email, speak to your school or college.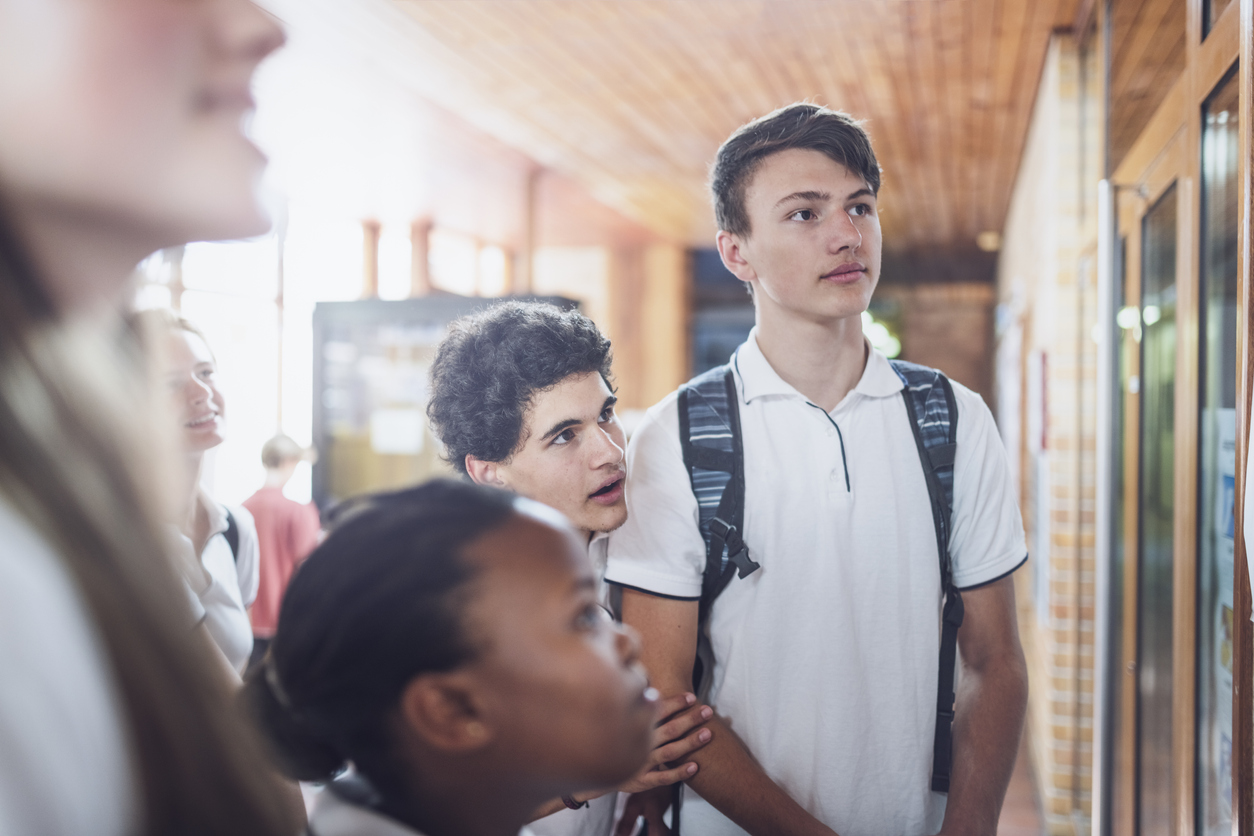 What happens if a student needs to retake an exam? 
Students who are unhappy with their English language and mathematics results are likely to have an opportunity to resit in November, but this has not yet been confirmed.
All other subjects may be entered again in the summer 2022 examination series.
Moving on to A levels
For many students, GCSE results day marks the end of one era and the beginning of the next. Entry into a FE college or sixth form means a step up in study and a whittling down of subjects taken.
Here Callum Jacobs looks at how to make the transition from GCSEs to A levels.
What if students miss out on the grades they need for their next step?
If a student has missed out on the grades that they needed to enrol on to the next course they had planned to do, the best way forward is to get in contact with the education provider (be that college or sixth-form, etc) and inform them of what grades have been achieved, and, if applicable, update them with the extenuating circumstances.
If the student has their offer withdrawn due to failure to secure their entry grades, then the student should contact other providers to see if they have spaces.
Often, it is easier for the student to physically visit the sixth form or college they wish to apply to rather than calling or emailing due to the fact that during the holidays many education establishments will not be fully staffed.
Can students appeal GCSE grades?
As usual, students will be able to appeal their grades. Schools can use our guide to appeals to help decide whether to appeal and how to start the process.
Top tips for students collecting GCSE results
If students are going to school to collect their results, there are a few things that they might find helpful to have with them. These are:
Mobile phone

Pen/pencil

Notepad/writing paper

Money

College/sixth-form paperwork
It would be wise to check with your school for specific procedures and if results collection will be staggered. 
If students encounter any problems on the day, their teachers will be available to help.
How can I follow GCSE results day 2021 on Tes?
We'll be following proceedings closely on the day so bookmark this page or check tes.com or our GCSE hub. We'll also be covering results day on Twitter and Facebook.