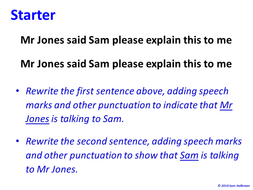 Direct speech - punctuation starter activity
A quick revision of the guidelines for punctuating direct speech, used to remind students of how to incorporate quotes/ dialogue in a creative writing task. It's in Powerpoint format; simply copy and paste into your own existing Powerpoint for a ready-to-use starter activity.
If you find this useful, please leave a review to spread the word!
Read more