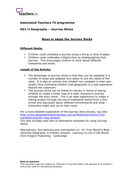 Teachers TV: Journey sticks
Inspirational Key Stage 2 geography specialist, Jane Whittle, leads her class on a magical journey through the school's own woods, in 'KS1/2 Geography'.
The aim of the lesson is to create a map of their route but first, the children explore the woods picking up reminders of their experience along the way - leaves, moss, bottle tops, and so on which they fix to their own personal 'journey sticks'.
Armed with sellotape, drawing pins and tons of enthusiasm, Jane and her class explore the personal nature of geography, the countryside code and elements of map-making.
About this resource
Info
Created: Jun 22, 2010
Updated: Feb 8, 2018
Other resources by this author
Three teachers share Great Lesson Ideas to boost pupils' writing skills - and all the resources you need to use these ideas. The Super Sentence is ...
Teachers TV
Primary teachers share three of their best lesson ideas about data handling in Key Stage 2 maths. At Cuffley School, Year 3 turn data about their f...
Teachers TV
In Great Lesson Ideas, teachers at Eleanor Palmer School, London, demonstrate fun primary maths games. Headteacher, Kate Frood, and her enthusiasti...
Teachers TV
Popular paid resources
A fun, yet challenging, quiz to end the academic year with for KS3, 4 and even 5. Contains rounds on... *The School Year - questions about events a...
scoob_a
A mixed pack of resources - for half price!
mathsmutt
A mixed pack of resources - for half price!
mathsmutt
New resources
This lesson plan aims to make students pay more attention to what they eat: to think about the ingredients, how to understand them, and how they ar...
digilab-uniroma1
Initial thoughts on planning a Year 1 unit based on the new framework for Mathematics. This unit is data handling.
mxer25
Outline pictures of Grannie Island and Grandma Mainland in a Word Document. I created the pictures in Paint to use for a display of children's writ...
cathyd
Updated resources
Three Great Lesson Ideas for primary geography which are simple, fun and easy to replicate. The Bingo Game involves each group having two cards wit...
Teachers TV
A Buddhist story helps a Year 2 class understand how they can be reflective in Primary RE. At Wolsey House Primary, Leicester, pupils look at some ...
Teachers TV
5 detailed lessons covering the key elements of art (pattern, line, shape, tone, colour). Looking at well known and unusual famous Scandinavian Art...
teachallenjoy