As the coronavirus pandemic continues, and schools battle with teacher and student absences, you and your staff are likely to be blending in-school and online learning for some time to come. Schools will remain under pressure to continue giving all students the best possible learning experience.
We know this is anything but easy for teachers who are trying to split their attention, and time, between students in the classroom and those working remotely. Our classroom management software, Class Charts has a range of tools that will help your staff to ensure that every student receives high quality education, and create continuity between home and remote learning. 
Setting work for remote-learning students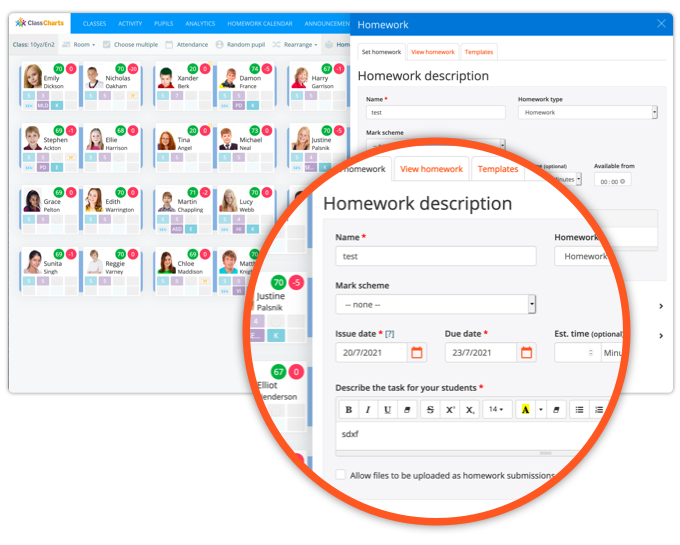 Our lesson planning tools give your staff the ability to assign different work to at-home and in-class students. Staff can collate, set and review homework and provide feedback to at-home students – all through their student accounts. Students can submit homework files as attachments via their student accounts, via their browser or their apps. Even if students are on a phased return to school, teachers can continue to monitor and accept homework from students, helping them to feel part of the school environment.

Communicating two-ways with students and parents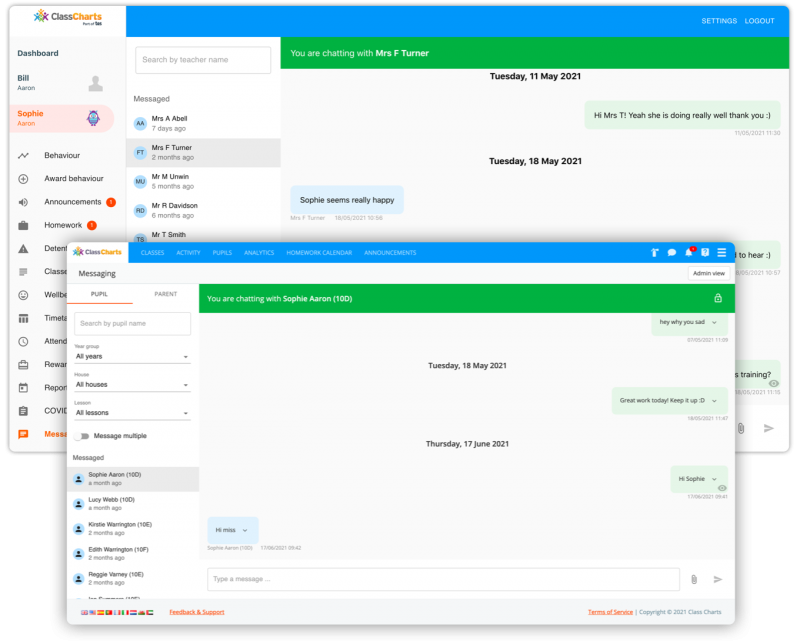 Our teacher-parent-student communications tools offer easy two-way communication between teachers and students, and teachers and parents; so students can ask questions, if they're having difficulty with a homework task or to clarify what is expected, and get help when they need it, and parents and teachers can work together to provide the best possible support. Teachers can also praise students who have completed work to a high standard.
Teachers can create message threads with any parent or pupil who has a Class Charts account. It can either be a generic message or relate to an individual action ie, behaviour incident, wellbeing submission, detention. Parents and students have a dedicated message centre in their accounts and teachers can see if the message has been read.
One-way announcements can also be sent straight to parents and students to share important information, for the whole school, year or class, for example. 
Arrange a quick no-obligation demonstration to see how we're helping other schools like yours.
Recognising positive student behaviour
The behaviour module in Class Charts enables teachers to recognise positive student behaviour by awarding points, that can be saved up to 'purchase' rewards. These points can be awarded to students both in school and at-home to encourage positive behaviours, through their student accounts. 
Communicating wellbeing concerns
In these uncertain times, wellbeing has become a higher priority than ever before. When students are at home it's much more difficult to check how they are, and even when pupils are in school it can still be hard to really know how they're feeling. Our pupil wellbeing module enables students to select how they're feeling, and staff to safely and securely communicate any concerns or issues. Parents and teachers can also submit information on a pupil's wellbeing.
To see how Class Charts can help you to blend home and in-school learning, improve communication, recognise positive behaviour and monitor wellbeing, get in touch with us today.
 
Discover more software and support to keep your school running during the coronavirus pandemic.