In these ever-changing times, the key to keeping your school running smoothly is your ability to create a safe environment for everyone that reduces the risk of coronavirus spreading through your community.
Whether you're supporting the children of key workers and vulnerable pupils in school while other students learn from home, co-ordinating a phased return to help control infections, or focusing on measures to keep all staff and pupils in school, being able to manage these complexities by easily adapting your timetable will be central to your success.
Our powerful timetabling software, Edval Timetable, can help you with implementing a safe, socially distanced timetable, contact tracing, scheduling a phased return to school and staggering start, break and lunch times.
Arrange a quick no-obligation demonstration to see how we're helping other schools like yours.
Solving the puzzle of timetabling
Your school timetable is the 'backbone' of your school, it's more than just which room staff and students go to and when, it either supports or hinders teaching. It underpins the experience of students, teachers and even parents. 
While often described as a difficult puzzle, timetabling doesn't have to be that way. Our suite of timetabling software provides powerful solutions designed to tackle even the most complex timetable.
Edval Timetable will help you to quickly move classes around and assign different teachers to new areas. If some teachers need more flexibility in their teaching schedules, such as only working certain days or hours, this can be factored in before your timetable is adjusted. If you need to add cleaning time between classes, again this can easily be factored in.
We've also added additional, innovative features to support you to tackle coronavirus requirements.
Implementing social distancing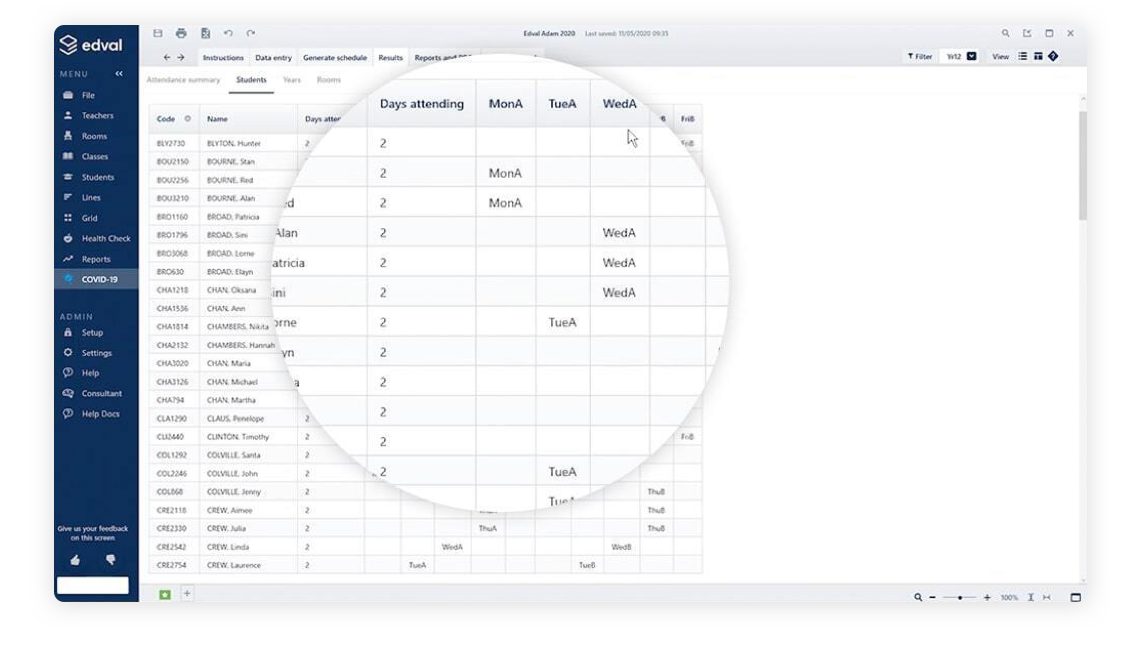 To ensure proper social distancing is followed, our social distance scheduling feature can help you to implement social distancing requirements without having to completely re-write your timetable. It can also help you to create student group bubbles.
Contact tracing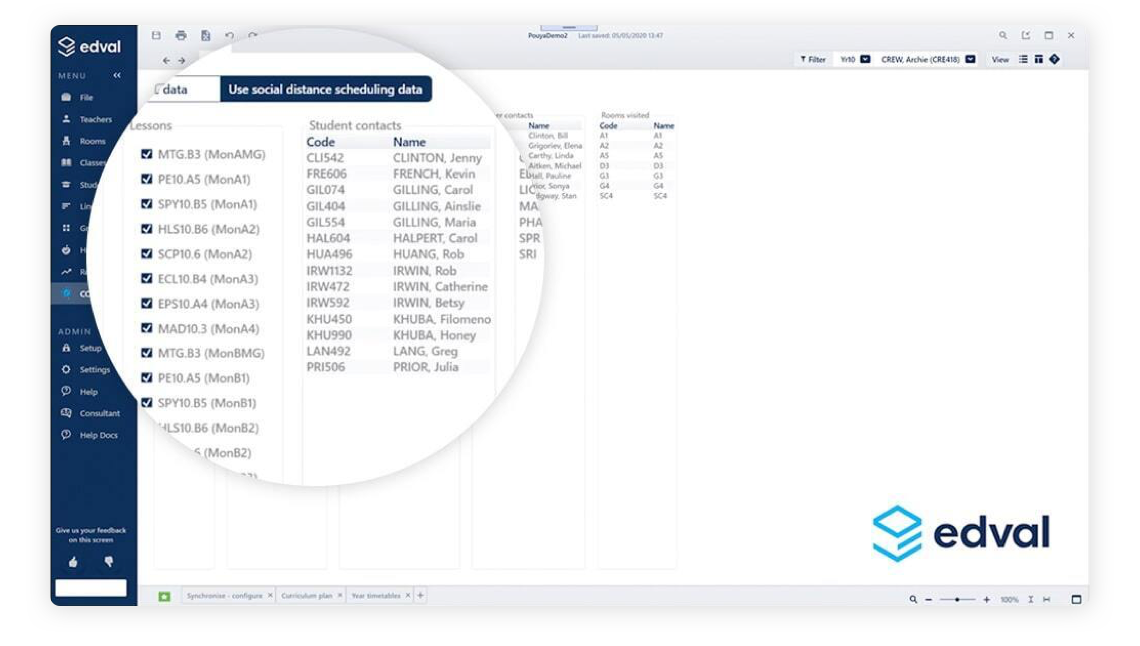 Our contact trace assistant easily allows you to minimise further infection if a student attending school contracts coronavirus. With this feature enabled, you can easily generate a report detailing which other pupils, teachers and rooms they were in contact with within the timetable.
Staggering student attendance
One approach to managing social distancing is to stagger students attendance according to year level. This might mean that your senior year groups attend every day, while other year groups attend one day at a time, or some year groups may return, while others remain at home. Our staggered return feature allows you to create a timetable which supports all these variations.
If, like many schools, you decide to operate staggered timings for pupils starting, lesson times, breaks or lunches, our software can manage the complexity this creates with coordinating movement around school and teacher and classroom availability.
Get set up and start benefitting
It's easy to get going with Edval Timetable, with all training and set-up done remotely. It takes just three days of training to be fully up to speed, with classes already loaded into the system, and our timetabling experts are always available to provide extra help. 
To see how Edval Timetable can help your school to simplify the complex task of timetabling, implement social distancing and contact tracing, and stagger student attendance, get in touch with us today.
Discover more software and support to keep your school running during the coronavirus pandemic.