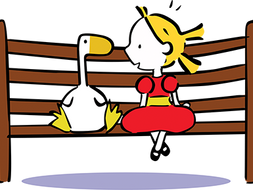 'Goose' by Laura Wall. Irregular plural nouns, comprehension, 'oo' sounds and goose craft.
Lesson plan and all resources to teach a lesson on the lovely story 'Goose' by Laura Wall. The bundle includes:
lesson plan
comprehension true or false PPT (press the buzzer)
worksheets for sorting 'oo' sounds
PPT to practise/learn producing irregular plural nouns (adapted from a PPT template by trummy13 with thanks).
I hope the resources help!
Read more