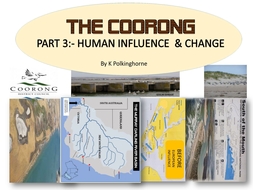 ABORIGINAL AND EUROPEAN SETTLEMENT IN THE COORONG OF SOUTH AUSTRALIA
Aboriginal groups occupied the Coorong area least 5000 years before European settlers arrived. Unlike most other Aboriginal groups in Australia the Coorong Aboriginal people were able to establish permanent campsites. The main area was at Parnka Point. This study will show the geographical advantage of this location - on the shores of the Coorong; within reach of the lakes; with easy access to the enclosing dunes that would later be named "The Younghusband Peninsula"; and with access to both fresh and salt water environments. The arrival of European settlers (began with Dr. Rankine in 1849) greatly impacted this Aboriginal way of life. Unlike the Aboriginal people who worked within the environment, the European settlers were environment modifiers. They converted natural bush-land into introduced cropland. They introduced new hard-hooved animals (cattle, horses, sheep) on to sensitive sandy areas. These animals damaged fresh water soaks - a major source of fresh water for Aboriginal groups. In addition the unintentional impact of European diseases devastated Aboriginal people. What had been a secure environment for Aboriginal people of the Coorong became untenable as their food gathering resources became restricted. Follow through this history which is, in essence, an example of cultural conflict. This unit is aimed at Secondary levels in Aboriginal Studies; Environmental studies and Geography.
Read more
About this resource
Info
Created: Jan 25, 2017
Report a problem
Creative Commons "Sharealike"