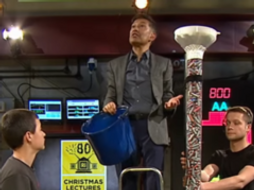 Batteries- KS2 teaching resources based on the Ri CHRISTMAS LECTURES 2016
Lecture 3: Fully charged
Teachers' notes
Key Stage 2 (7-11 year olds)
Lecture 3 of 3 // Supercharged: Fuelling the future
CHRISTMAS LECTURES 2016

The CHRISTMAS LECTURES at the Royal Institution were started by Michael Faraday in 1825, and are now broadcast on national television every year. They are the UK's flagship science series.
Saiful Islam investigates one of the most important challenges facing humankind – how to generate energy without destroying the planet in the process. A fascinating and stimulating celebration of the stuff that quite literally makes the universe tick, from power for our homes, fuel for our cars and making the most important machine of them all work, the human body.

The Underpinning Big Idea
• Batteries store energy

Children will be able to work scientifically by:
• Gathering, recording, classifying and presenting data in a variety of ways to help in answering questions

Children will learn:
• To associate the brightness of a lamp or the volume of a buzzer with the number and voltage of cells used in the circuit
• To understand the uses and implications of science, today and for the future
Cross-curricular opportunities:
• Numeracy – interpreting graphs
• Literacy- listening attentively to others, seeking clarification and detail.
Read more