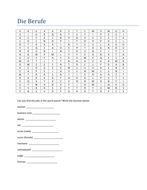 Berufe wordsearch
Wordsearch based on the topic of jobs. Useful as a wrap-up exercise or for cover work.
This resource is designed for US teachers. View UK version .
Categories & Grades
Other resources by this author
Worksheet based on the perfect tense with postcard writing activity at the end. To be used in conjunction with Echo 2 Unit 1
chriskelly81
Self assessment form for pupils to fill in when thinking about their own performance in a year/term.
chriskelly81
Vocabulary list from Zeitgeist chapter: Armut und Reichtum
chriskelly81
Popular paid resources
Start every German lesson with a quick revision of past, present and future and inversion by giving them one verb to conjugate. For students that a...
jusch12
Powerpoint introducing various ways of greeting people in German and how to answer the question 'wie geht's?'. Includes listening exercise.
CrookedSteeple
Lesson introducing rooms in the house, including a guessing-game for the starter, a match-up, a reading activity, battleships for speaking practice...
hasslethehog
New resources
Quiz quiz trade cards for internet activities with gern and nicht gern and frequency phrases
nilex
This resource introduces 14 pets with a range of practice activities. It introduces the question 'Hast du ein Haustier?' and a range of possible an...
cgazzal
Reading and writing resources to support "in meinem Leben" and "Mein Vorbild". Easy to print and edit. Can be used as classwork...
rooney33
Updated resources
It is with great pleasure we are uploading our marking policy, after many meetings and hours of thought, this is the student friendly version we pr...
GarciaWeston-LanguageResources
This resource introduces and practises seven key phrases which students can use at a railway station in German.
ftbnemesis
This is a complete set of resources which are designed to be taught alongside AQA Stimmt! GCSE German (Higher) - Kapitel 5 - Wo übernachten wir? - ...
ftbnemesis