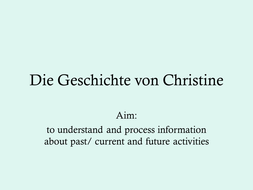 Christine's story
Made-up story on topic Health and Fitness covering past, present, future tenses; comes with multiple choice for reading comprehension and verb table plus extension task.
About this resource
Info
Created: Nov 20, 2009
Updated: Aug 19, 2015
This resource is designed for US teachers. View UK version .
Categories & Grades
Other resources by this author
Following the introduction resource, these 2 cover up to chapter 5. Given the students have the same edition, I could work with page numbers. Tasks...
brettl
One of the AQA KS5 German choices for Literature. - As I couldn't find much on the book per se, only some material around the topic, I have done so...
brettl
The material covers the final chapters 6-8 and follows on from the previous uploads. Included this time also some web links for furher research, an...
brettl
Popular paid resources
All four of my task cards in German at 50% off! Accusative and Dative Review Present Tense Verbs - Verben All about me (Icebreaker) German Task Car...
ninatutor
This German worksheet is a great review for students on recognizing weak nouns. The worksheet features three parts: Matching up the German weak nou...
ninatutor
This worksheet allows students to review the most common German prepositions in the Accusative, Dative and Genitive. The worksheet is comprised of ...
ninatutor
New resources
Quiz quiz trade cards for internet activities with gern and nicht gern and frequency phrases
nilex
This resource introduces 14 pets with a range of practice activities. It introduces the question 'Hast du ein Haustier?' and a range of possible an...
cgazzal
Reading and writing resources to support "in meinem Leben" and "Mein Vorbild". Easy to print and edit. Can be used as classwork...
rooney33
Updated resources
Basic PPT with the AQA Literary Texts from German Spec 1+2 papers for the new spec GCSE. Includes answers from the markschemes and key ideas are hi...
lydiadavies
A GREAT REFERENCE RESOURCE FOR SUPPORTING LEARNING IN YOUR CLASSROOM! Create an instant reference resource for students focusing on essential GERMA...
LivelyLearningClassroom
THREE CONJUGATION WORKBOOKS TO HELP YOUR STUDENTS GET TO GRIPS WITH CONJUGATING REGULAR GERMAN VERBS IN THE PRESENT, PERFECT AND IMPERFECT TENSE - ...
LivelyLearningClassroom