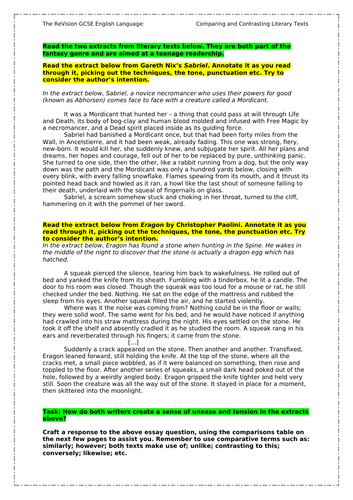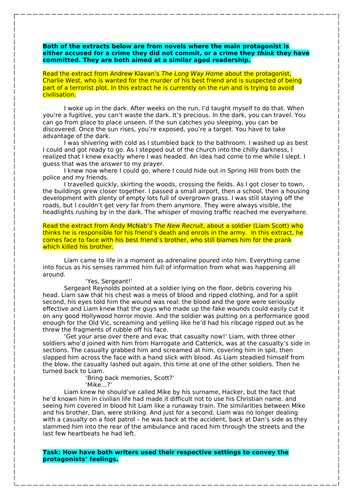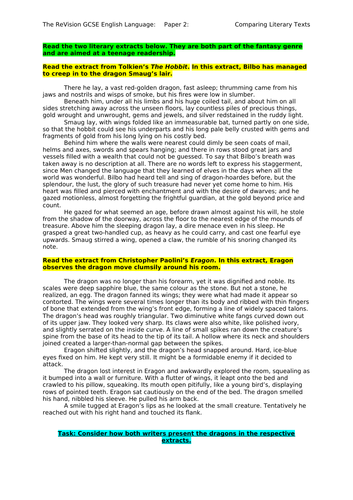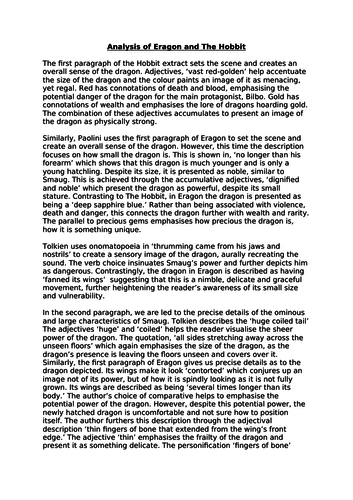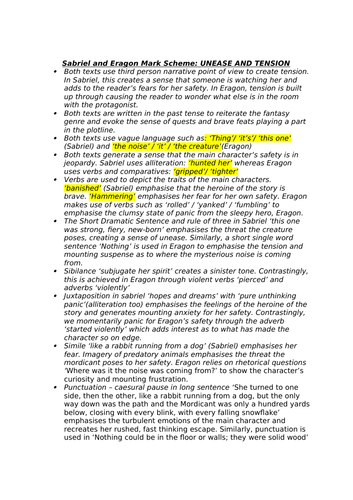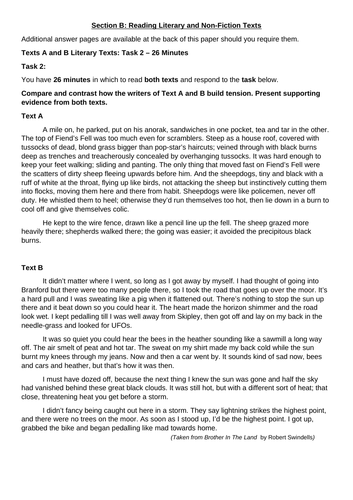 CCEA GCSE ENGLISH LANGUAGE: Paper 2, Section B (Unit 4): Comparison of Literary Texts.
The first resource is an extract from Eragon and an extract from Sabriel which are both fantasy books aimed at a similar aged readership. Students should work through both extracts, annotating them in class (possibly in small groups) and then should complete the compare/contrast grid included. This should be discussed in class so that students can add to their lists before completing the sample question.
The second resource is an extract from The New Recruit and an extract from The Long Way Home which are war/thriller excerpts.
This is to be used as either a class test or a homework to check student understanding of what they have learnt so far about comparing literary texts.
The third resource is an extract from The Hobbit and an extract from Eragon which both contain encounters with dragons. It would be good to use this as a class discussion or mock piece as both dragons are very different. Despite the potential danger of Sapphira she is still young and clumsy, but Smaug is evil and sticks to the traditional dragon lore.
The fourth resource is a sample analysis of The Hobbit and Eragon. I would usually give students something like this and ask them to use Triple Impact Marking e.g. Colour in all quotations yellow; write TS beside the topic sentences; Look for words and phrases which show awareness of authorial intention e.g. 'Tolkien presents'; Write QT in the margin every time the question terms are used; Highlight all techniques in pink e.g. tone, narrative P.O.V., simile, metaphor, verb choices, dialogue, punctuation, structure etc.; Highlight all explanations in green; double underline any references to intended impact on the audience.
Anything that isn't there but should be, the students have to add in as they annotate the piece as if they are the examiners.
5th resource is a fake PPQ on Hunger Games and Great Gatsby, comparing district 12 to how the Valley of ashes is presented.
6th: sense of a run down place
7th: Building tension and threat
Creative Commons "Sharealike"
Something went wrong, please try again later.
This is a fantastic resource! Thank you for sharing.
great resource . thanks for the share
Great resource! Thanks for sharing free of charge !
Thank you for sharing.
Report this resourceto let us know if it violates our terms and conditions.
Our customer service team will review your report and will be in touch.