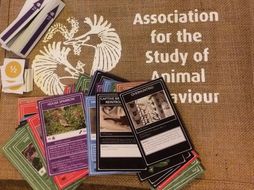 Eco-Divo: A card game - Build a food web using UK species. Learn about ecosystems & biodiversity.
Eco-Divo is an educational card game you can play in two ways. Learn about ecosystems and biodiversity. Explore the fascinating natural history of organisms in the United Kingdom. Discover species interactions, human impacts and diversity while competing or collaborating in building a fascinating food web. Classify diverse species within their groups. Look out for special animal behaviours that will add a twist to the show. This game can be played with or without a teacher and with family and friends.

Will you unfold an intricate food relationship or destroy the ecosystem?

This game it suited to A level students and Higher Level GCSE students. Instructions for the game are found within the pack of cards. Also included is a starter or plenary activity worksheet with answers.

Acknowledgements: Created by Cedric Tan, Ada Grabowska, David Pigot and Alison Poole, University of Oxford
Visual designs by Celeste Tan. Many thanks to Cedric Tan for developing this game on behalf of ASAB and to Amy Hong, Kiyono Sekii, Jennifer Spencer and Kim Jacobsen for their suggestions on improving the preliminary version of the game. We are always looking to improve our resources and a specific feedback form can be found here https://goo.gl/BZKcXr Thank you for your time.
Read more