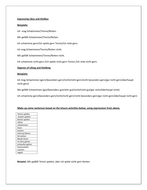 Expressing likes and dislikes
The handout summarizes languages needed to express likes and dislikes using "mir gefällt", "gern" and "mögen". This is linked to expressing degrees of liking and disliking. The activity gets students to contrast which hobbies they like and which they don't like.
About this resource
Info
Created: Apr 30, 2010
Updated: Aug 19, 2015
This resource is designed for US teachers. View UK version .
Other resources by this author
This webquest is designed for use outside the classroom, but could also be used as an additional resource for cover. It incorporates ICT use throug...
SusanneW
A webquest centered around information collection on the author Ingril Noll. It involves some traditional reading comprehension; but also challengi...
SusanneW
A role play activity with reference to sizes, colors and patterns in German
SusanneW
Popular paid resources
All my best selling German Worksheets on Grammar in one bundle at 50% off! 1.Adjective Endings 2. Comparatives and Superlatives 3. Conjunctions 4. ...
ninatutor
10 Resources

15% off

$9.95

$

8.46
This worksheet allows students to review the most common German prepositions in the Accusative, Dative and Genitive. The worksheet is comprised of ...
ninatutor
This German worksheet is a great review for students on recognizing weak nouns. The worksheet features three parts: Matching up the German weak nou...
ninatutor
New resources
Quiz quiz trade cards for internet activities with gern and nicht gern and frequency phrases
nilex
This resource introduces 14 pets with a range of practice activities. It introduces the question 'Hast du ein Haustier?' and a range of possible an...
cgazzal
Reading and writing resources to support "in meinem Leben" and "Mein Vorbild". Easy to print and edit. Can be used as classwork...
rooney33
Updated resources
A GREAT REFERENCE RESOURCE FOR SUPPORTING LEARNING IN YOUR CLASSROOM! Create an instant reference resource for students focusing on essential GERMA...
LivelyLearningClassroom
THREE CONJUGATION WORKBOOKS TO HELP YOUR STUDENTS GET TO GRIPS WITH CONJUGATING REGULAR GERMAN VERBS IN THE PRESENT, PERFECT AND IMPERFECT TENSE - ...
LivelyLearningClassroom
TEN DIFFERENTIATED WORD SEARCHES WITH ANSWER KEY to help your students get to grips with reading and writing in GERMAN from the very beginning of t...
LivelyLearningClassroom