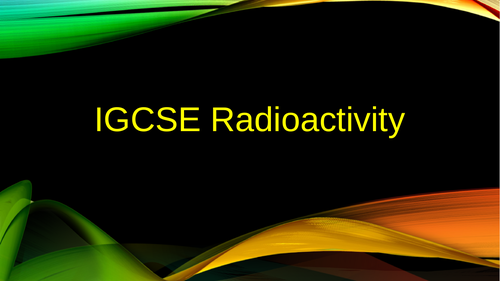 ICGSE Radioactivity, animated powerpoint. Unstable nuclei, alpha/beta/gamma decay, decay equations, half-life, Ba-137m experiment, radioisotope uses, ionisation smoke detector, carbon-dating, background radiation, harmful effects of radiation, safety precautions. 34 slides.
Creative Commons "Sharealike"
Very detailed and easy to follow slides. I love Physics in my high school days and this is a refresher for me. Great ppt, I am sure it will be of help for those studying for IGCSE.
Very informative Powerpoint. It includes in-depth knowledge and content for IGCSE level Physics, though it may also benefit those in higher education. Saves lots of research time as mostly everything is included in this PowerPoint. Overall, great work!
Really helpful for both the students and teachers. I downloaded it and shared it with all my students. They like it. Appreciate the efforts of the Author. Highly recommended to download and use it.
I downloaded this as we're currently stuck in transit and can't get my daughter to school. So trying to keep her caught up with GCSE physics. <br /> <br /> This was a really useful resource and I was surprised into how much depth and detail JerryFrog went into. <br /> <br /> A lot of what was a mystery at Physics A-Level 30 years ago suddenly became clear - and it was surprisingly easy to explain the vast majority of it to my daughter AND have an informed 2-way conversation as a result.<br /> <br /> One thing that did throw me was that I didn't know what the N:Z ratio was and it would have been useful to have had that explained in the notes. <br /> <br /> Great job!
Report this resourceto let us know if it violates our terms and conditions.
Our customer service team will review your report and will be in touch.