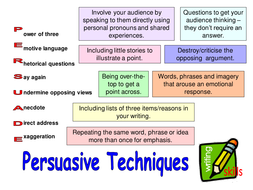 TES PICKS
Persuasive Techniques: Lessons and activities
The resource contains a powerpoint presentation covering persuasive writing techniques, with notes in the booklet/worksheets. I started lesson one with persuasive techniques bingo (from Teachit) to illustrate the range of rhetorical techniques before focusing students on the 8 techniques in the PERSUADE mnemonic.
About this resource
Info
Created: Feb 17, 2009
Updated: Mar 24, 2017
This resource is designed for UK teachers. View US version .
Other resources by this author
Explore how Shakespeare builds the theme of Conflict in the early acts of the play. The Powerpoint presentation also looks at context and language ...
steffih
This resource recaps the differences between writing to explain and writing to inform. Originally written to help students pass test questions for ...
steffih
The PowerPoint covers persuasive writing techniques; with notes on the handout.
steffih
Popular paid resources
You are purchasing a 20 page booklet with a range of short practice questions. There are examples of every single question on both papers, with fou...
laurajholder
10 fully resourced lessons to prepare students for the AQA English Language Paper 2, Section A exam: 'Writer's Viewpoints and Perspectives'. This r...
RojoResources
Children loved making pizzas at our Italian pizza class. Resources have been exported from an Activ-primary flip-chart. (Which also includes Italia...
jreadshaw
Updated resources
Get the children to write their own school report. Includes tips and advice which can be removed afterwards. Could be printed on A3 paper. If you l...
davlae
Complete unit on non-chronological reports aimed at KS2 pupils using a 3 stage approach including learning a model text; innovating and inventing. ...
Mrsfionaholmes
Complex Sentences Writing and Grammar / SPaG fun: 40 printable sentence-formation activity cards (colour and black and white versions). A flexible ...
FullShelf