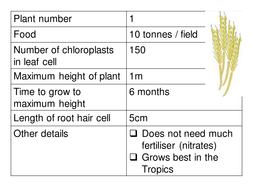 Photosynthesis lesson - develop higher level thinking - deciding which plant to feed the world
This is a lesson that is designed to develop higher level thinking on photosynthesis. This could be used at KS3 or GCSE and would fit into a scheme of work where the students have previously covered photosynthesis. In this lesson students are introduced to the thoughts of Thomas Malthus who said that resources (e.g. food) limit the growth of the population. Students are then given a task where they need to compare four plants and decide which plant they would recommend to farmers to grow. They need to justify their choice by referring to data from the sheets - such as saying that plants with longer root hairs will absorb more water and minerals or that plants with a greater density of chloroplasts would photosynthesis at a greater rate (assuming that CO2 etc are not limiting). Please rate this resource and leave feedback.
Read more
Report a problem
Categories & Grades
Creative Commons "Sharealike"