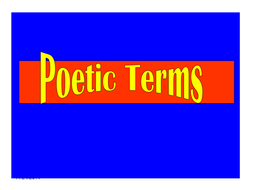 Poetic techniques connect 4
This PowerPoint contains all the resources needed to make a game of Poetry Connect 4. The first grid is a game mat with examples of similies, metaphors, personification and alliteration, and the second is the cards. We play in 4s (2 vs. 2), with students
This resource is designed for US teachers. View UK version .
Categories & Grades
Other resources by this author
I am using this ppt of activities to introduce fractions with my lower ability Maths class this term. The worksheets and activities focus on findin...
Christianne
This Powerpoint includes task cards, word problems and homework activities to support children to understand the vocabulary of addition and subtrac...
Christianne
This pack includes task cards and resources to support children to understand the properties of 2D and 3D shapes, different types of angles and mea...
Christianne
Popular paid resources
10 fully resourced lessons to prepare students for the AQA English Language Paper 2, Section A exam: 'Writer's Viewpoints and Perspectives'. This r...
RojoResources
Children loved making pizzas at our Italian pizza class. Resources have been exported from an Activ-primary flip-chart. (Which also includes Italia...
jreadshaw
This detailed, differentiated and fully resourced lesson explores the themes of fate and free will in Act 1 Scene 5 from Romeo and Juliet, Shakespe...
Lead_Practitioner
Updated resources
This grammar packet covers 16 rules for writing numerals according to standard conventions. It also helps students practice using active voice (and...
inquiringmind44
A Grade GCSE English Literature Essay on the poem 'next to god of course america i' by E.E. Cummings. The essay is around 1600 words.
biggles1230
In this lesson we explore Romeo's use of language as he meets Juliet for the first time and how she responds to his use of religious imagery. Using...
Lead_Practitioner