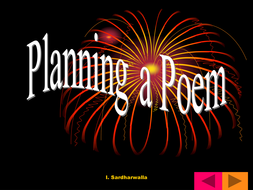 Poetry: Planning frame
Process of planning for writing a poem. Collecting senses word, figurative language, words and phrases linked with the theme.
This resource is designed for US teachers. View UK version .
Other resources by this author
1. Interactive Comprehension spinner: Reading comprehension tool which may be used for a whole class, group or an individual. May be linked to a sp...
iffatsardharwalla
Punctuation Face: Visual aid to encourage pupils of KS2 and KS3 to use punctuation and to independently move onto higher level punctuations. The ai...
iffatsardharwalla
These videos are designed for whole class, small groups and individual work and are aimed at KS1, KS2, KS3. A suffix is a letter or a group of lett...
iffatsardharwalla
Popular paid resources
These 'Library Challenge' cards were made for my class library, but they could be used in a school library as well. The idea was just to get the ch...
sh2810
A complete 12 week scheme of work that is fully resourced and differentiated. Contains powerpoint lessons, medium term plan, text extracts and samp...
stebbingk05
This is a hugely popular revision tool for the Y6 Reading SATS test! Get ready for the 2018 KS2 reading assessments with this SATS Question Generat...
KS2History
New resources
Today, we are going to talk about artificial intelligence. It is supposedly the future. Artificial intelligence, or AI, is intelligence displayed b...
NewsFlashEnglish
A detailed Revision Powerpoint on the whole play. Please also see my range of Richard II bundles and resources. Save money with Big Cat Bundles ! P...
tallybarnett
The plague is a disease that killed millions of people across Europe during the Middle Ages. It became known as the Black Death. It appears the kil...
NewsFlashEnglish
Updated resources
An engaging lesson exploring unseen poetry. MA/ HA Includes: Brain dump exploring the symbolism of birds Guided annotation of the poem to aid indep...
lhowellpratt
Engaging resources targeted at HA/ MA Y9/Y10. Focuses on imagery and language in 'I wanna be yours' by Cooper Clarke. Starter linking images to the...
lhowellpratt
Excellent to use just before the exam - can easily be tweaked to be about any character or theme - this one is for Eric. Use with any ability to he...
gthorpe1982