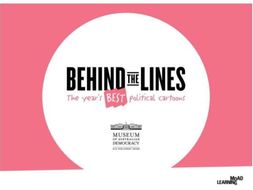 TES PICKS
Political Cartooning Resources
Explore a range of political cartooning resources from the Museum of Australian Democracy. These resources assist students to understand more about political cartooning. All resources link to Australian Curriculum areas, including HASS, Civics and Citizenship, History, English, Visual arts or Media arts.
Explore more here: https://moadoph.gov.au/learning/resources/political-cartooning/
About this resource
Info
Created: Aug 15, 2017
Updated: Feb 22, 2018
Other resources by this author
'Getting It Together: From Colonies to Federation' is a middle years resource provided by the Museum of Australian Democracy. This extensive resour...
MoADLearning
Use this crossword to explore content and themes relevant to civics and citizenship and Australian history. Challenge your student's knowledge of k...
MoADLearning
Designed for use by teachers as professional development, this interview unpacks objects which align with content in the Australian Curriculum. Tea...
MoADLearning
Popular paid resources
As part of the Jamaica Hidden Histories project this video focuses on the Jamaican sculpture, George' Fowokan' Kelly. In April 2014 Fowokan shared ...
tuareg
A bundle of exciting Art lessons and support info for the start of the new academic year in Australia and New Zealand. Good luck to all Australian ...
StartEducation
8 Resources

5% off

$27.08

$

25.73
Updated resources
This project will focus on different French-speaking and British artists. The children will learn about who the artists are, where they are from an...
sofs888
This unit of work was designed for KS3 and includes background information on tulips as a Turkish cultural symbol. The project develops through dra...
amimamim