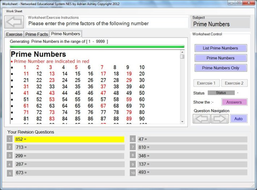 Prime Numbers
About this resource
Info
Created: Apr 13, 2016
Other resources by this author
http://www.learningkeystages.co.uk/Robotics/Robotics.html Robotic designs may be interesting for student interested in design technology Autocad pr...
AdrianAshley
Integer Long Division Mathematic computer software
AdrianAshley
Popular paid resources
I created this code breaking maths lesson for an Ofsted observation. The children thoroughly enjoyed it and had so much fun (whilst still learning)...
jodieclayton
26 worksheets, sutable for year 3/4 to dip into regarding word problems and puzzles. Updated March 2018.
dave_orritt
This is a fun, engaging and creative lesson with shape. The lesson has been successfully used to apply knowledge of shapes in a year 2 setting. Chi...
rehanafazil
Updated resources
This resource will help pupils to understand the number bonds to 10 (number pairs). The resource contains:- - A colourful and fully editable 61 sli...
Krazikas
This resource is to help pupils with number recognition and counting from 1 to 10. The colourful and fully editable PowerPoint contains 30 highly v...
Krazikas
This eBook contains contains 400 questions for totalling Australian coins. Useful for identifying the coins as part of a project about Australia, o...
mathsmutt