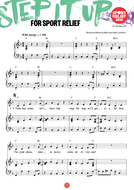 TES PICKS
Step it up for Sport Relief 2018: Video and Sheet Music
Download the sheet music for this year's Sport Relief Schools' Song.
Read more
Other resources by this author
Use this PowerPoint to help you deliver a Sport Relief assembly in your school. It will help pupils understand why they are fundraising and inspire...
Sport_Relief
Quick and easy fundraising activities to run with your students this Sport Relief.
Sport_Relief
Key Stage 2 topic map packed with cross-curricular activity ideas to help develop your pupils understanding of Precious and life in South Africa.
Sport_Relief
Popular paid resources
All the resources you will need to successfully deliver the Unit BTEC 1 module
hindlebank
Some great resources to help with Unit 2 Btec music requirements
hindlebank
Some helpful resources to aid understanding of units 3 and 4
hindlebank
Updated resources
otation England Squad Hunt. If you have access to Musical Contexts I used the football notation resource and had students hunt for the the football...
chdurham93
Luigi Russolo, quotes by the Italian artist on his painting art & music in Futurism - free art-resource for pupils, students, teachers Russolo'...
Matrozenhof
A basic summary of the 3 different Film Music pieces for the new Edexcel AS and A level Music course. Elfman: Batman Returns Portman: The Duchess H...
k_tewkesbury1