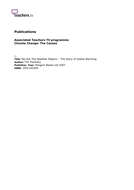 Teachers TV: Climate Change - The Causes
This programme is aimed at pupils at the higher end of KS3, and provides an introduction to the topic of climate change at KS4. An overview of the following concepts is included: the balance between energy reaching and leaving the earth; naturally occurring greenhouse gases; natural variations in climate; industrialisation and population growth; use of fossil fuels; carbon dioxide emissions; the greenhouse effect; carbon sinks and deforestation; and positive feedback mechanisms. The programme also considers the reasons why climate change can appear to be controversial, looks at how scientists ensure their research is valid, and explains some of the moral and political dilemmas posed by climate change. The programme is richly illustrated, with animations explaining many of the processes involved, and striking natural history footage.
Read more
Report a problem
Creative Commons "NoDerivatives"