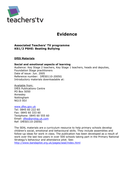 Teachers TV: KS3/4 PSHE - Alcohol Stories
How alcohol affected the lives of four young people.This programme focuses on four young people, each with a story to tell about their personal experience of alcohol, and how it can change a person's life. Marcio arrived from Angola with his grandmother three years ago; following her death he turned to drink, looking to forget his problems; Tasha contracted a sexually transmitted infection after drinking too much at a party; Curtis damaged his chances for a career as a professional snooker player by drinking too much; Becky struggled with alcoholism through her teenage years.
Read more
Report a problem
Creative Commons "NoDerivatives"