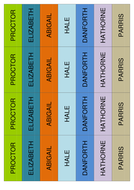 The Crucible CAT - Speaking & Listening Assignment
www.tes.co.uk/gcseenglishlanguage

For Unit 3, Part a - Extended reading controlled assessment - The Crucible. Speaking and Listening task, Includes questions for preparation for the debate, as well as an explanation of the assessment objectives. Also includes a character sheet for assignment of roles.
Read more