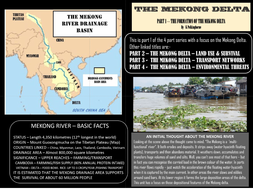 THE MEKONG DELTA SERIES - PART 1 DELTA FORMATION
River studies are included in many curriculum statements. Deltas are usually included in depositional sections. In terms of area, land use and significance the Mekong delta deserves recognition. The basics of formation are covered in this unit which is part 1 of a 4 part series.The delta is recognised as the significant "end section" of the Mekong River Basin. Largely formed over the past 6000 years this delta is subject to change both natural and human-induced. This unit can standalone or it can form the foundation of the following 3 titles which consider land use, transport networks and future problems (global warming and dam construction within the Mekong Basin )The attachment pages, with a choice of colour or black and white, require answers about formation but also pose questions that are dealt with in more details in the later 3 titles. Maps and photographs are included to assist understanding and provide discussion possibilities when projected.
Read more
Report a problem
Creative Commons "Sharealike"