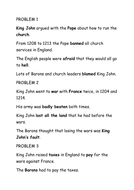 The problems of King John
PLEASE FEEL FREE TO COMMENT ON THIS RESOURCE - ESPECIALLY IF YOU DOWNLOAD IT. There are 5 problems facing King John (written in the logical order). Each problem has 4 statements and each problem shows how King John clashed with the Barons. I cut the 4 statements for each problem up and put them into envelopes. Split the class into groups and have them first re-arrange the statements and then copy them into their books. The statements indicate reaosn why the Brons wanted KJ to sign the Magna Carta.
Read more
Report a problem
Creative Commons "Sharealike"