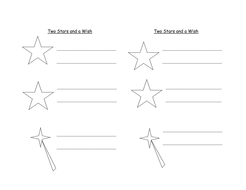 Two Stars and a Wish
Two Stars and a Wish is a sheet where children can evaluate their own or their peers' work. They state 2 things which they like or which are good, and one thing which could have been better. It encourages self and peer evaluation. Useful in elementary grades.
About this resource
Info
Created: Oct 25, 2007
Updated: Aug 19, 2015
This resource is designed for US teachers. View UK version .
Other resources by this author
This is an assembly I wrote for the children leaving KS1 and going to KS2, but this could be adapted. The assembly starts with the Final Countdown ...
tussy26
A humorous assembly for the end of Year 6. Some ideas of a structure which might help you get started. Includes a grand entrance to Justin Timberla...
tussy26
A PowerPoint presentation to share with children in either Key Stage. To develop their understanding of the meaning of the cross, dove and fish in ...
tussy26
Popular paid resources
These 'Library Challenge' cards were made for my class library, but they could be used in a school library as well. The idea was just to get the ch...
sh2810
A complete 12 week scheme of work that is fully resourced and differentiated. Contains powerpoint lessons, medium term plan, text extracts and samp...
stebbingk05
This is a hugely popular revision tool for the Y6 Reading SATS test! Get ready for the 2018 KS2 reading assessments with this SATS Question Generat...
KS2History
New resources
Today, we are going to talk about artificial intelligence. It is supposedly the future. Artificial intelligence, or AI, is intelligence displayed b...
NewsFlashEnglish
A detailed Revision Powerpoint on the whole play. Please also see my range of Richard II bundles and resources. Save money with Big Cat Bundles ! P...
tallybarnett
The plague is a disease that killed millions of people across Europe during the Middle Ages. It became known as the Black Death. It appears the kil...
NewsFlashEnglish
Updated resources
This is a good task for getting students to 'follow-up' your marking to show that they're responding to your marking efforts and are making expecte...
chirpyandcheerful
A ppt. detailing how to approach the OCR AS LIT Paper 2 exam - 1984 and Streetcar, Includes critical quotes - key ideas example paragraphs. Excelle...
gthorpe1982
PPT to use as a warm up on the day of GCSE Literature Paper 2 - AN INSPECTOR CALLS ; POWER AND CONFLICT; and UNSEEN poetry all covered with *exempl...
gthorpe1982