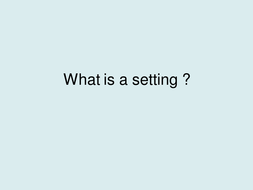 What is a setting ?
PowerPoint that helps with focused work on setting the scene in a story or piece of writing.
About this resource
Info
Created: Jul 5, 2011
Updated: Aug 19, 2015
This resource is designed for US teachers. View UK version .
Other resources by this author
Simple activity to get the students thinking about where forces act.
njonesford
Examples of how to write a recipe with a good example and a bad one to compare and contrast.
njonesford
A text to edit and spot all the mistakes, with punctuation, grammar and use of capital letters.
njonesford
Popular paid resources
These 'Library Challenge' cards were made for my class library, but they could be used in a school library as well. The idea was just to get the ch...
sh2810
A complete 12 week scheme of work that is fully resourced and differentiated. Contains powerpoint lessons, medium term plan, text extracts and samp...
stebbingk05
This is a hugely popular revision tool for the Y6 Reading SATS test! Get ready for the 2018 KS2 reading assessments with this SATS Question Generat...
KS2History
New resources
Today, we are going to talk about artificial intelligence. It is supposedly the future. Artificial intelligence, or AI, is intelligence displayed b...
NewsFlashEnglish
A detailed Revision Powerpoint on the whole play. Please also see my range of Richard II bundles and resources. Save money with Big Cat Bundles ! P...
tallybarnett
The plague is a disease that killed millions of people across Europe during the Middle Ages. It became known as the Black Death. It appears the kil...
NewsFlashEnglish
Updated resources
This unit of work is aimed at the NCFE Certificate in English Level 2 The unit is designed to encourage students to produce 4 pieces of work based ...
MilyFawcett
PowerPoint covering the whole of Willy Russell's Blood Brothers. Used with top set Y10 to teach AQA Literature Paper 2. Lessons all resourced and r...
Aimsnapfall
This is a full unit of work created specifically for SATs focusing on reading comprehension skills. There are 10 lessons including resources, works...
NHickton