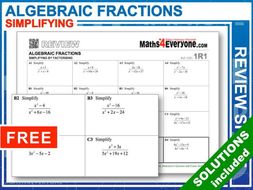 TES PICKS
Algebraic Fractions, Simplifying (GCSE 9-1 Summary)
This worksheet contains the full range of exam-type questions that require students to simplify algebraic fractions by factorising. Questions gradually increase in difficulty with the last row being particularly challenging.
Click --> https://tes.com/.../Revision to see the list of GCSE Revision Sheets on more than 30 other topics.
--
These sheets are great to use in class or as a homework. They are also excellent for one-to-one tuition and for interventions.
Answers are included.
About this resource
Info
Created: Dec 20, 2017
Updated: May 19, 2018