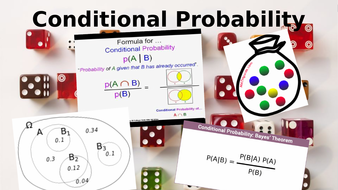 Conditional Probability (visual method)
This is my powerpoint introducing conditional probability using a visual method and fractions. The formula P(A∩B) = P(A|B) x P(B) is introduced through this method and referred to, but not used as part of the calculations (the idea is for pupils to understand where this comes from). Starts off by basic filling in Venn diagrams and moving on to given that statements - some tricky questions within Venn diagrams and one tree diagram question. I would suggest breaking up the powerpoint with questions at various stages.
Read more
Report a problem
Categories & Grades
Creative Commons "Sharealike"